Oh, Paper Street Books and Comics how I love you.  This box is one of my favorites, and it is perfect for all kinds of book lovers and fandom lovers.  The different plans that Paper Street offers are "Comic Addict", "Book Addict", and "Book Warrior".  The "Comic Addict" and "Book Addict" plans are $27+shipping bi-monthly, and the "Book Warrior" plan is $43+shipping bi-monthly.  Order Paper Street here: https://paperstbooks.cratejoy.com/
The box that I am reviewing in this post is a special edition box that they featured in September 2016 called the "Mages and Sorcerers Box".  This box cost as much as the "Book Warrior" plan and was promised to come with a graphic novel and a new young adult novel.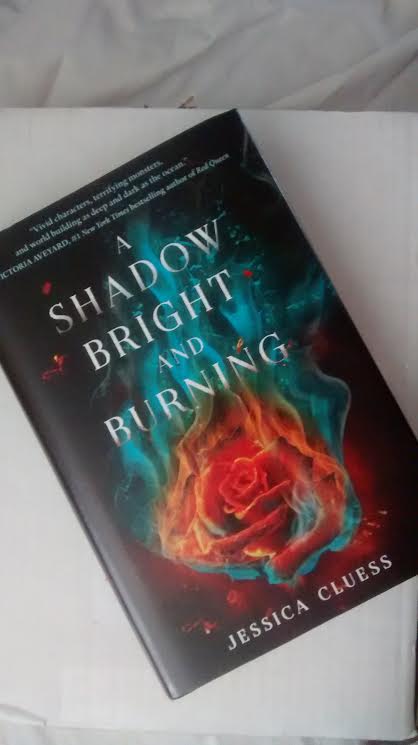 The first item included was a hardcover copy of "A Shadow Bright and Burning".  This novel is under the genre of young adult, but Paper Street has just announced that after this box they will only be including adult novels.  I am very excited to read this book as it involves a lot of magic and fantasy, and it sounds like an amazing read.  Here is the Amazon blurb for the novel:
"I am Henrietta Howel.
The first female sorcerer in hundreds of years.
The prophesied one.
Or am I?
Henrietta Howel can burst into flames.
Forced to reveal her power to save a friend, she's shocked when instead of being executed, she's invited to train as one of Her Majesty's royal sorcerers.
Thrust into the glamour of Victorian London, Henrietta is declared the chosen one, the girl who will defeat the Ancients, bloodthirsty demons terrorizing humanity. She also meets her fellow sorcerer trainees, handsome young men eager to test her power and her heart. One will challenge her. One will fight for her. One will betray her.
But Henrietta Howel is not the chosen one.
As she plays a dangerous game of deception, she discovers that the sorcerers have their own secrets to protect. With battle looming, what does it mean to not be the one? And how much will she risk to save the city—and the one she loves?
 
Exhilarating and gripping, Jessica Cluess's spellbinding fantasy introduces a powerful, unforgettably heroine, and a world filled with magic, romance, and betrayal. Hand to fans of Libba Bray, Sarah J. Maas, and Cassandra Clare."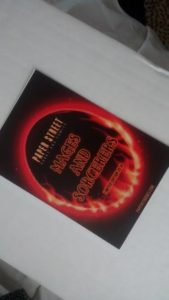 A small insert was also included with the name of the theme on the front, and a description of the items on the back. This is always a nice touch to help the subscriber know exactly what they received, and where the items came from.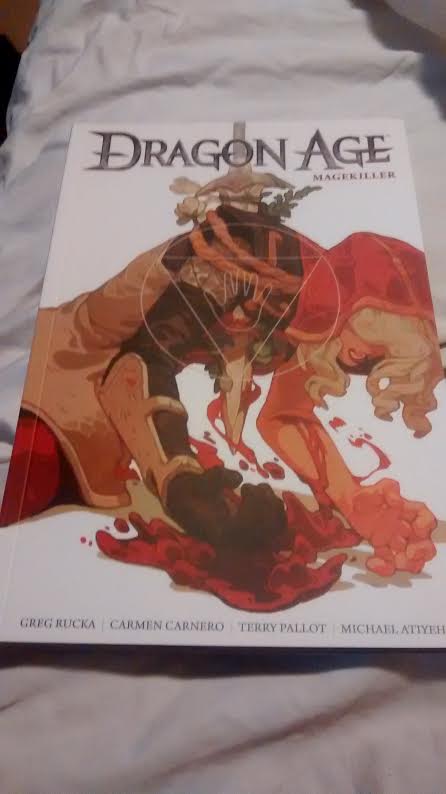 The graphic novel included was "Dragon Age: Magekiller".  This graphic novel is a spin-off of the Dragon Age world, and the art is gorgeous.  It fits perfectly with the theme of the box, and is in pristine condition.  Amazon blurb:
"Tessa and Marius are mercenary partners united by an unbreakable bond and compelled to eliminate those who use magic to hurt others. When they betray a powerful patron who intended to kill them once their job was completed, they're forced to run and join the Inquisition. With the breach in the sky tearing the world apart, there's more to fear than Venatori and an angry former employer. Can Tessa, Marius, and the Inquisition overcome the greatest threat Thedas has ever faced!?"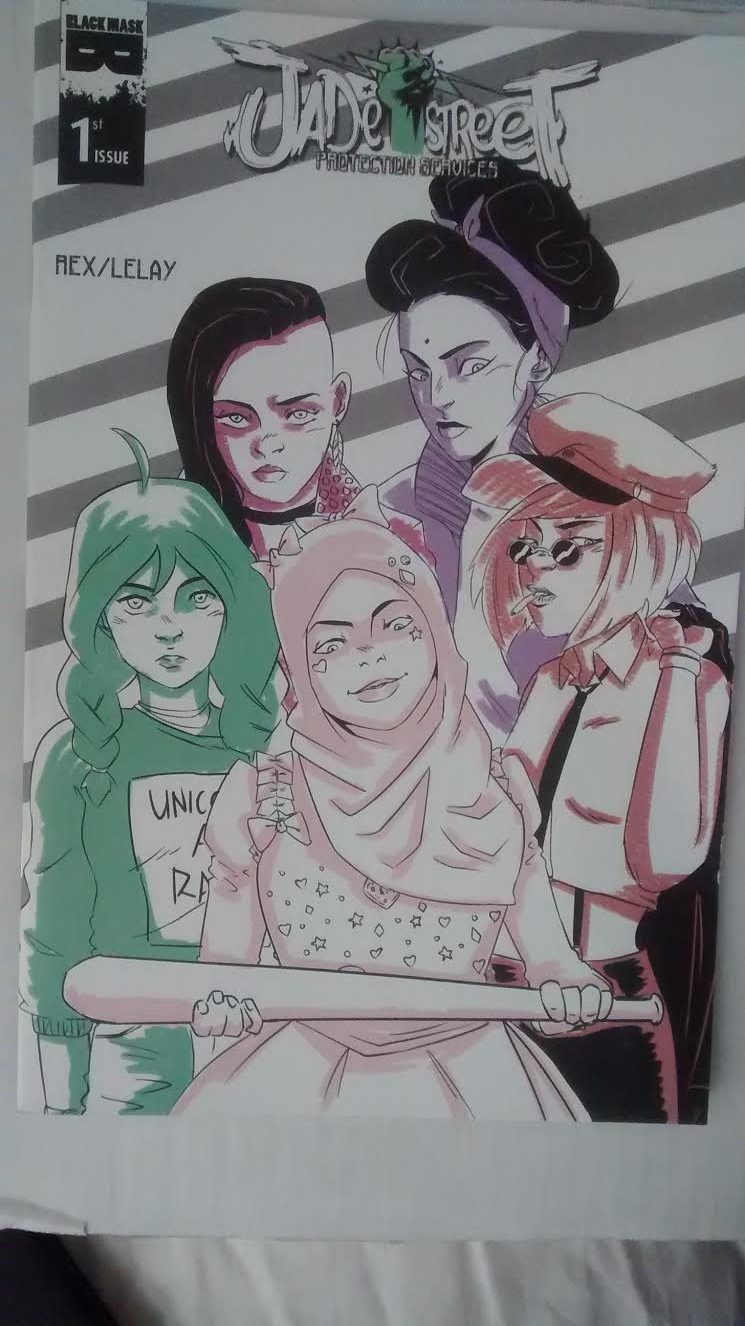 SUPRISE!  In this box we also received an extra comic!  This comic is one issue in the series "Jade Street Protection Services".  I am already almost done with this comic, and I am in love with it.  It is a perfect, feminist – style comic that portrays characters from all backgrounds.  It couldn't be more down my alley.  Amazon Blurb:
"In this new series that mashes The Breakfast Club with Sailor Moon, Kai, Saba, Noemi, Divya, and Emma are (bad) students at Matsdotter Academy, an elite private school for magical girls. When they all meet for the first time in a totally unfair detention, these punk rock witch delinquents cut class and discover the fates Matsdotter has in store for them are even more sinister than they suspected. With JSPS, the creative team of writer Katy Rex, penciler/inker Fabian Lelay, colorist Mara Jayne Carpenter, and series cover artists Annie Wu and Kiki Jenkins channel Black Mask's edgy, subversive sensibility into a whipsmart adventure for delinquents young and old."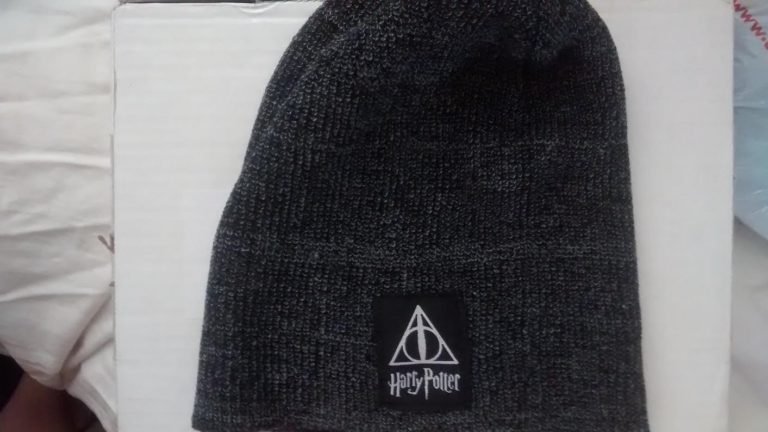 Also included was a Harry Potter and the Deathly Hallows beanie, and, believe me, I will be wearing this until it turns to threads.  It is great quality, and I just eat up anything that has something to do with Harry Potter.
The next items included were art pieces made specifically for Paper Street by an artist by the name of Kayleigh Causton.  She is an artist that I am using in my own October box, and I LOVE her artwork.  Included here is a sticker and 6×9 poster of Morrigan from Dragon Age.  It is gorgeous, and I love it, and that's it.  You can visit Kayleigh here: https://www.etsy.com/shop/KavonIllustration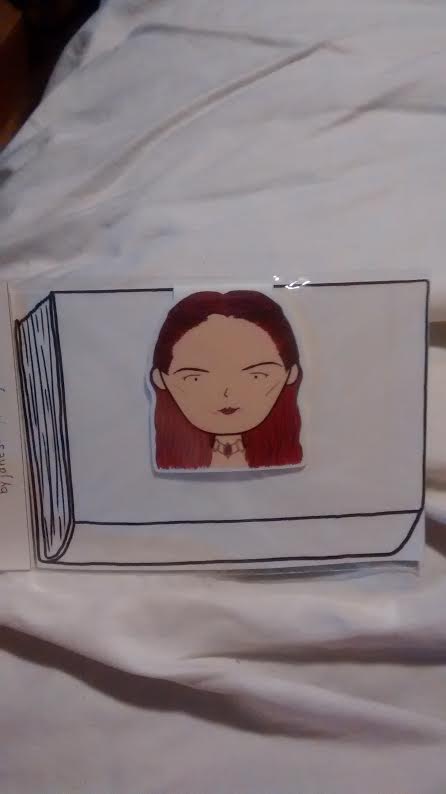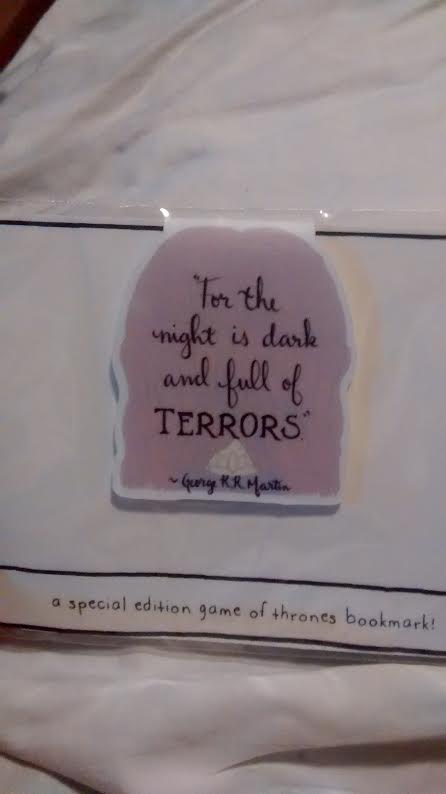 The last item included in the box was a magnetic bookmark of Melisandre from Game of Thrones!  The bookmark was made by Jane's Tiny Things, and I actually have quite a few of her items.  She shows up frequently in subscription boxes, but I can never have enough bookmarks.  You can visit Jane's shop here: https://www.etsy.com/shop/JanesTinyThings
All in all, this box rocked.  It showed me some amazing new novels that I wouldn't have picked up otherwise, and I love how Paper Street tries to send graphic novels that aren't under Marvel or DC.  This box is a great fandom box, but it is also a box that is great if you would like to try new graphic novels and trade novels that you might not try otherwise.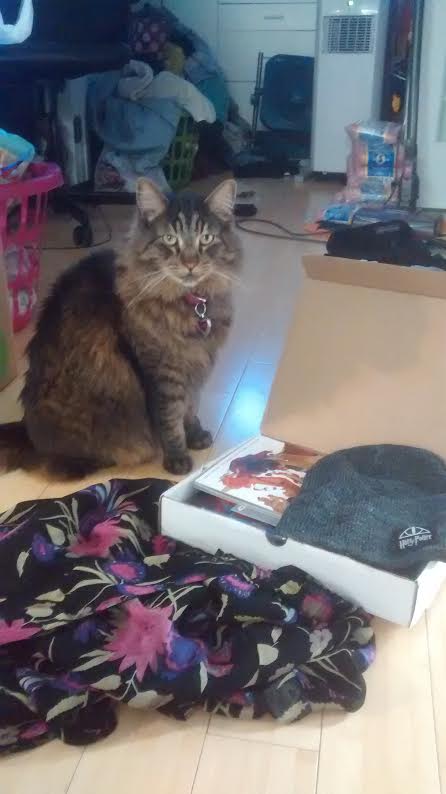 Also, kitty approves and that is good enough for me.
Save