I had the honor of reviewing The October/November Book Warrior box.
The Book Warrior box includes everything from both the Book Addict & Comic Addicts boxes for a great price of $43 per month with discounts for multi-month subscriptions.
Book Addict & Comic Addict boxes are $27 per month also with discounts for multi-month subscriptions.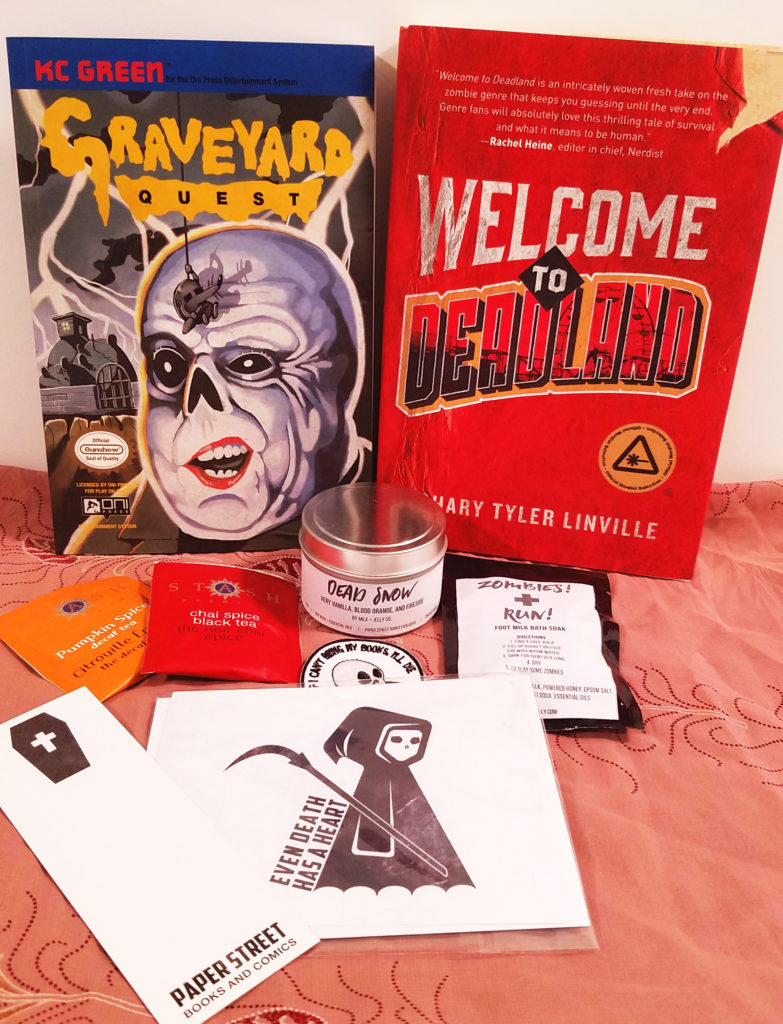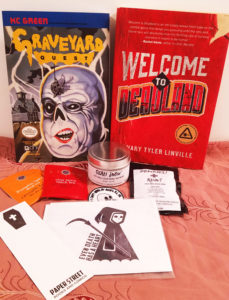 Paper Street Books & Comics is a bi-monthly mystery book box for those who are obsessed with reading! It is for readers who are adventurous, imaginative and definitely not afraid to explore. We offer both graphic novels and adult fiction, featuring books that are quirky and humorous and sometimes thrilling! These can be in the Sci-Fi, Fantasy,  and HORROR genres from indie and mainstream publishers!
Welcome to Deadland by Zachary Tyler Linville
I am normally not into the Zombie-type book genre but, this one was a nice surprise. It's  story with zombies but it isn't a story about zombies. I haven't gotten all the way through it yet but, have been enjoying the read quite well.
Graveyard Quest by KC Green and Allison Shabet
What a nice addition to this box. It's a funny read with underlying philosophical touches that make it a great graphic novel to spend your time on.
Dead Snow Inspired Candle by Milk + Jelly
This candle smells AMAZING! It is a layered candle with Very Vanilla on top, Blood Orange in the middle & Fireside on the bottom.
If I Can't Bring My Books I'll Die patch design by Paper Street
So cute and I already sewed it onto my personal book bag.
Book Thief Quote Notecard design by Paper Street
Can't wait to send this to a zombie book loving friend of mine.
Zombies! Run! Foot Milk Bath Soak by Milk + Jelly
I think next time I sit down to read some more Deadland, I'll have to soak my feet too. Talk about immersing yourself in a story, haha
Stash Premium Teas in Pumpkin Spice & Chai Spice Black
I love me some tea and both of these were great. I'm not a huge pumpkin spice lover but I was pleasantly surprised how wonderful it tasted. Chai spice is the first chai tea I've tried and, I have a feeling, it may become a new favorite.
All in all this was a box I enjoyed a lot. Paper Street really knows how to cater to their audience.