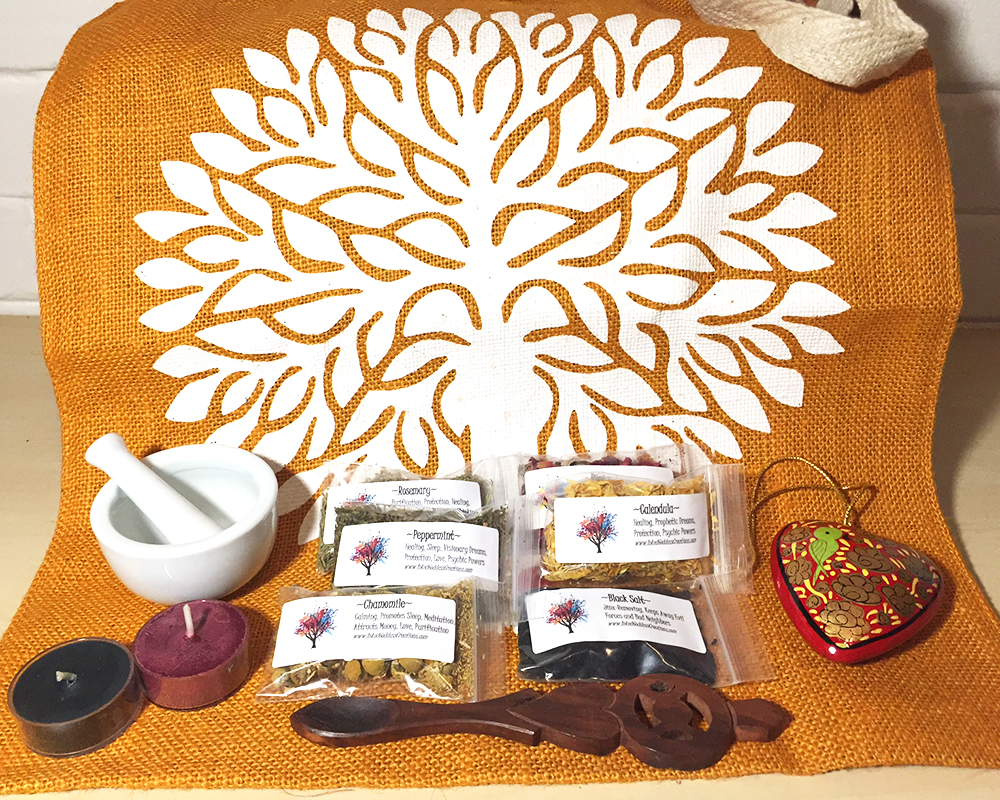 Mystical Mojo is a premiere monthly subscription box that is designed to invoke your soulful transformation, spark positive energy, and delivers mystical items to help guide you through your spiritual journey. Mystical Mojo offers two plans:
Mega Mojo Box: $45/month plus shipping
Crystal Mojo Box: $15/month plus shipping
Shipping in the US is $6, to Canada is $16, and to the UK is $20.
To subscribe, visit mysticalmojobox.com
The box I've received was the November's Kitchen Witchery Mega Mojo box and it was sent to me for a review. I was excited and delighted to have been given the opportunity to review Mystical Mojo and the theme for this month couldn't be any more perfect since my poor, newish apartment was looking pretty sad these days.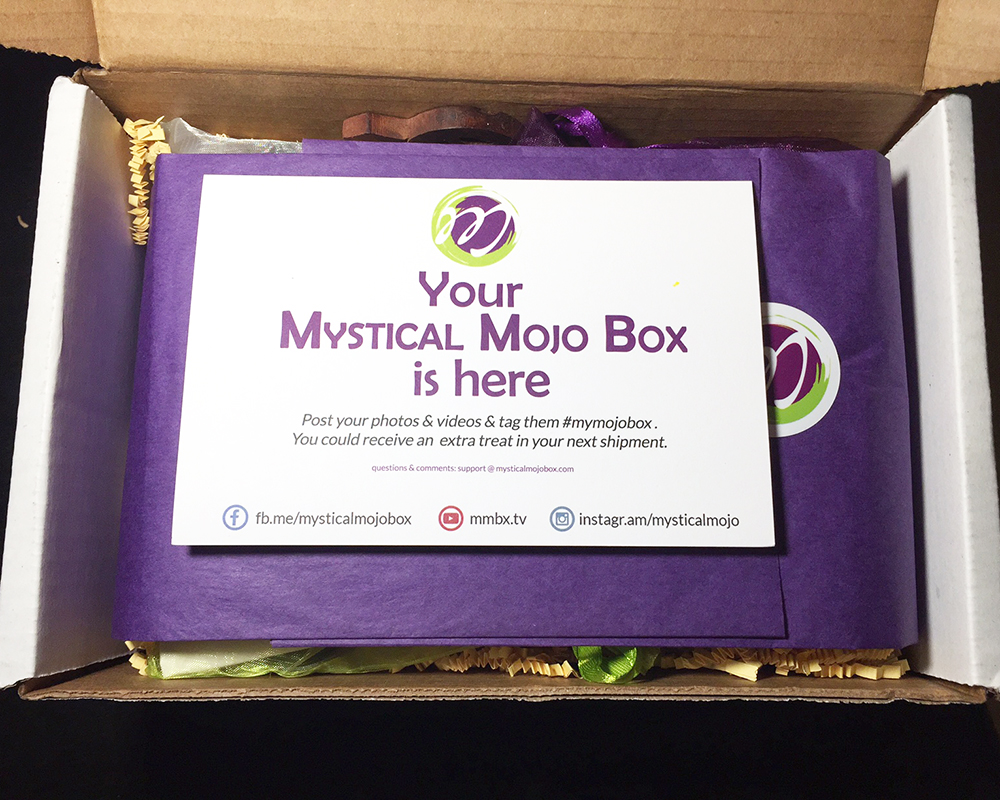 Upon receiving the box, the first impression was holy smokes was this box packed and wrapped so pretty! The box was wrapped in a beautiful purple tissue paper and sealed with the Mystical Mojo logo. Which reminds me that I need to step up on my wrapping game. I was also grazed with a lovely aroma, a scent that brought me back to my teenage years when I was obsessed with incense.
Since the theme was Kitchen Witchery, along with the product list was a description of what a Kitchen Witchery is:
"Kitchen Witchery is not some elaborate ritual or spell. By changing the way you view food, its preparation, and its consumption, you have a magical opportunity at hand. Taking the time to prepare something with your own hands, and infusing every dish with intent and will, lends sacredness to the meal."
Poisoned Apple & Witches Brew Tealights by The Chamber Door LLC.
It was definitely the scent that I was hit right away when I opened the box and I'm obsessed with it! The candles weren't too strong and I can't stop smelling it! It is made with 100% soy wax with lead-free wicks and quality fragrance oils. The Poisoned Apple was a blend of crisp apples with a touch of sweet vanilla while the Witches Brew was a blend of patchouli, cinnamon, and cedar wood. This set would have been perfect for those who are a big fan of Snow White or would like to enhance their fairy tale reading.
Kitchen Witch Herb Set by Inked Goddess Creations
I was impressed by the amount of herbs I've received in this box and a great variety may I add! This is perfect for those who are starting off with the practice and will need some herbs to add to their cupboard! The set includes Peppermint, Chamomille, Rose, Calendula, Rosemary, and Black Salt. I look forward to making some potions with these or even adding them to my soap/candle making nights!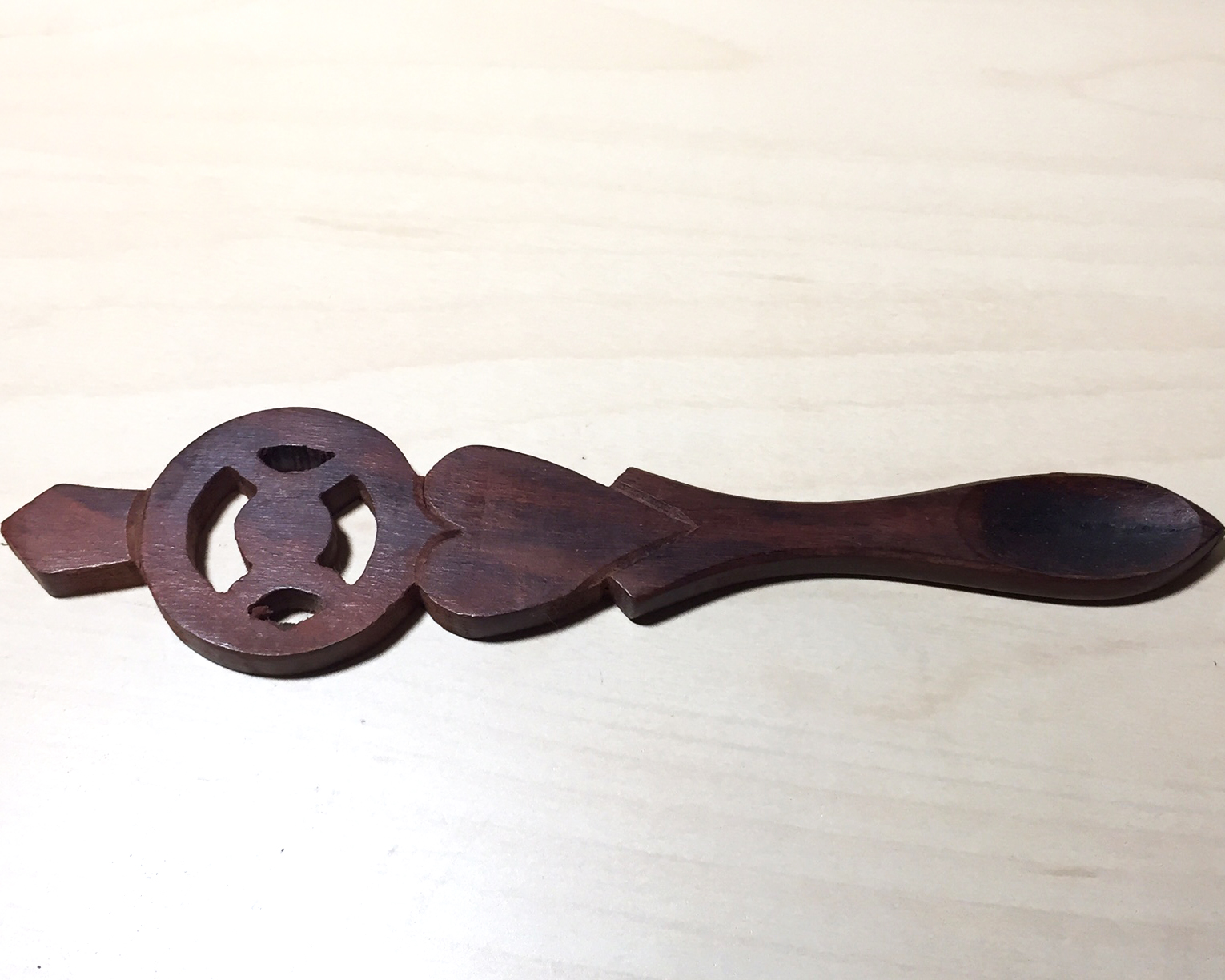 Triple Moon Wood Spoon
This spoon is perfect to decorate your kitchen and/or use it to blend and mix some magical herbs. It is carved with the Triple moon and heart symbol. I think the design of the spoon is gorgeous so for now, I'll be using this spoon for decoration purpose.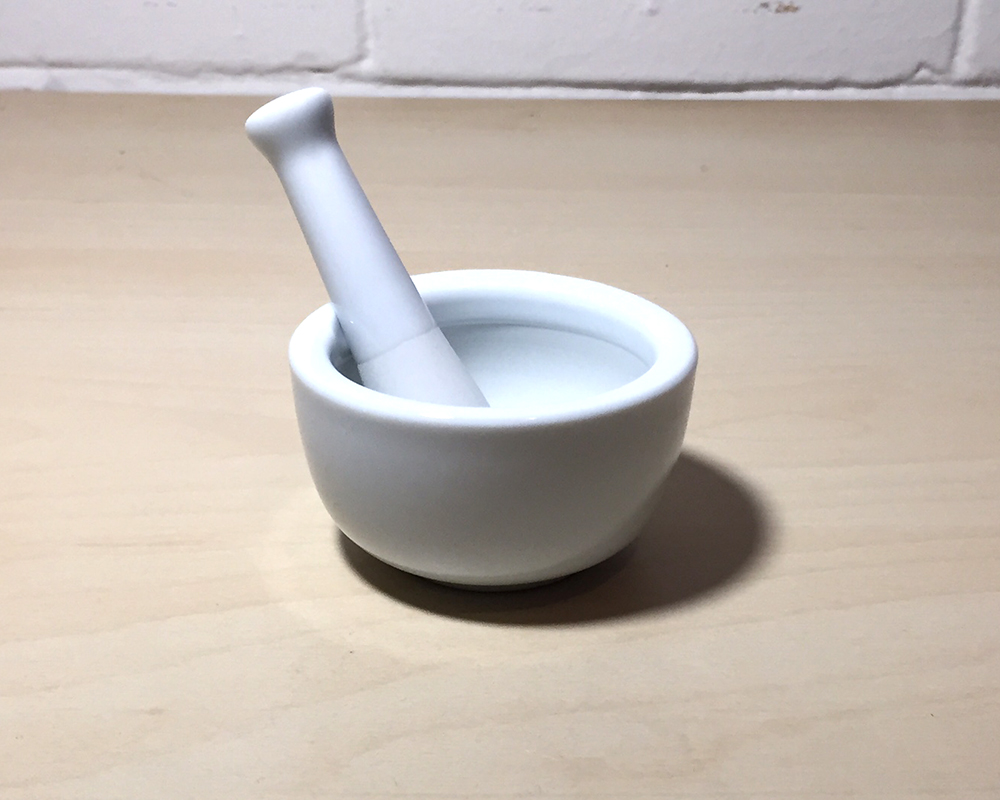 Ceramic Mortar and Pestle Set
I was excited to finally receive my own set! The ceramic mortar and pestle set is used to grind many herbs while still keeping their freshness. It is also a great way to connect to the power of the herbs that are being used since you are working on them with your own hands.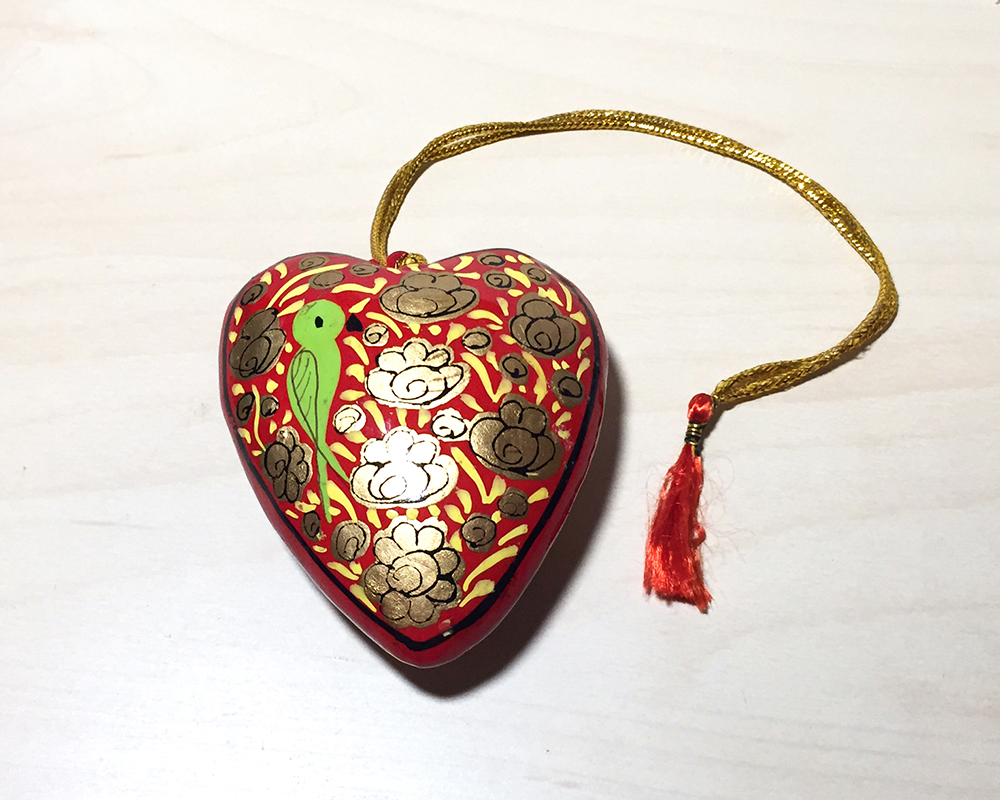 Papier Mache Heart Ornament
This ornament is so adorable! It is used as a little reminder to prepare your meals, always add a dash of LOVE to your concoctions. The design is painted on both side of the ornament and is about the size of my palm. As much as I love the heart ornament, I know my mom would love it more and she is the best at adding a dash of love to her cooking. It is perfect for her!
Tree of Life shopping bag by MatrBoomie
Lastly, the big item in the box is a beautiful bag fair-trade jute bag made in India. This bag is huge and it is perfect to shop at farmers markets or even carry your books and snacks to the park! I live close to a grocery store and our city has banned plastic bags that are less than 2.25 ml thick so I'm looking forward to finally using a more sustainable bag during my grocery trips!
I also wanted to add how great it was that there was a zipper compartment in the bag! It's important for me to have some sort of pocket as I tend to lose my keys, phone, and wallet all the time! 
Final thoughts: Being my first experience with Mystical Mojo, I was truly impressed with their Mega Mojo plan. Their service is perfect for those who practice the New Age Spirituality or a beginner who is interested in learning to connect more intuitively with themselves and their surroundings. Mystical Mojo did a beautiful job with the curation, presentation, and overall, adding positive energy to each box. If you like this box, visit mysticalmojobox.com to subscribe!