Charmed Bookshelf is a brand new book subscription that sends out New Age books and items to compliment the reading materials.  There are three different subscription types to choose from – the "Enchant" box ($37 + shipping/month), the "Enlighten" box ($37 + shipping/month), or a box that sends everything from the first two boxes ($69 + shipping/month).
Purchase the box here: https://www.charmedbookshelf.com/subscribe/
The "Enchant" box is more centered on Wiccan/Pagan reading material and items, while the "Enlighten" box is more centered on crystals, chakras, yoga, etc. and it is a great plan for those who are just starting to discover New Age subjects.
The box itself arrives in a simple white box with the company's logo on the front with the shipping label.  I absolutely love the logo, and as soon as I saw this on my doorstep, I couldn't help but squeal with excitement.
Upon opening, the items were wrapped nicely in grey paper shreds and black tissue paper.  I could tell that the owner put great care into making sure that each item was packaging properly, and that immediately made me fall in love with the box.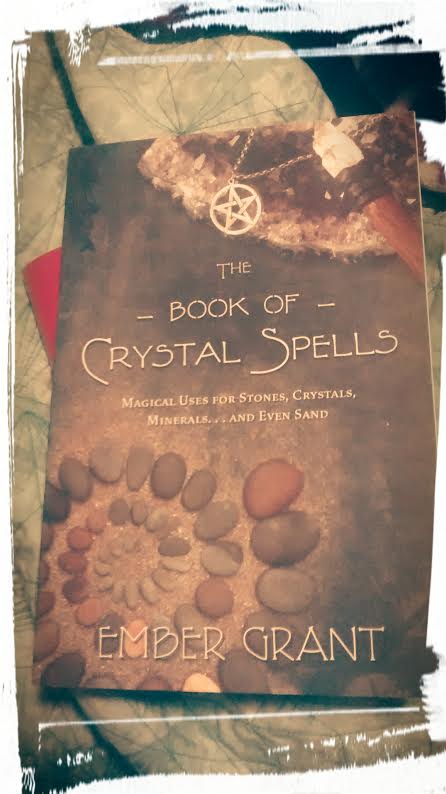 The book included in this month's Enchant box was The Book of Crystal Spells by Ember Grant.  Being a certified crystal healer myself, I was very excited to receive this book.  It is a book that I don't already have, and I was excited to learn that it gives you different spells to use with different stones, and that it even helps you to enchant your stone jewelry for different purposes.  There were specific spells for different necessities, such as finding success or love, and I found that it was great for beginners as well as seasoned professionals.
That being said, the extra items included were of course…crystals!
The first crystal included was a full size Selenite tower.  This stone is necessary for any crystal magick, and I was happy to see it included in the box.  It is very high quality, and these towers can generally be pricey when bought separately.  That made buying this box worth it on its own.
The next stones include were 5 quarts crystals points – which are very important to go along with the book included because there is an entire section on the different meanings of crystal points.  While reading that section I was able to identify the types of crystal points that I received, and it was nice to discover what their meanings were.
The rest of the stones included were a Black Obsidian stone, Moss Agate, Rose Quartz, Red Tiger Eye, and Red Jasper.  These stones are simple tumbled stones, and they are just beautiful.  They are commonly used in the book for the different spells, and I think they are a great starter stone set.
Overall, I could tell that this box was meticulously crafted, and I liked being able to receive a book with a lot of the tools needed to use it.  If you are looking to expand your New Age book collection, then this box is the way to go!
Save