They say the best subscription boxes fill a need. I think the best subscription boxes are fun! And Bonjour Jolie is both. I never have to run out at the last minute for feminine products, and I get some fun surprises to help me through "that time of the month."
Bonjour Jolie ships monthly and starts at $16 (plus $6.50 for shipping in US). There are countless customizations you can make to your box, your first choice being – do you want the full box, which includes feminine products and pampering items like packets of pain relievers, sweets, tea, and bath and body items and of course, chocolate; or just the pampering products without the feminine items.
Next, you select what combination of tampons, pads, and/or liners you'd like. Every woman is different, and Bonjour Jolie allows you to select what works for you.
After that, select for dietary or allergy restrictions. They can customize your box to include sugar-free, gluten-free, organic, nut-free, caffeine-free or vegan items (with varying extra fees on some). I chose the organic option, which added $4.99. Bonjour Jolie ships worldwide. Here's what I received in the October box:
Bonjour Jolie ships in a nondescript white box, so no one needs to know that your monthly lifesaver has arrived! A product insert lists each item included, along with the retail value.
The box was full of items to help get through my least favorite 5-7 days.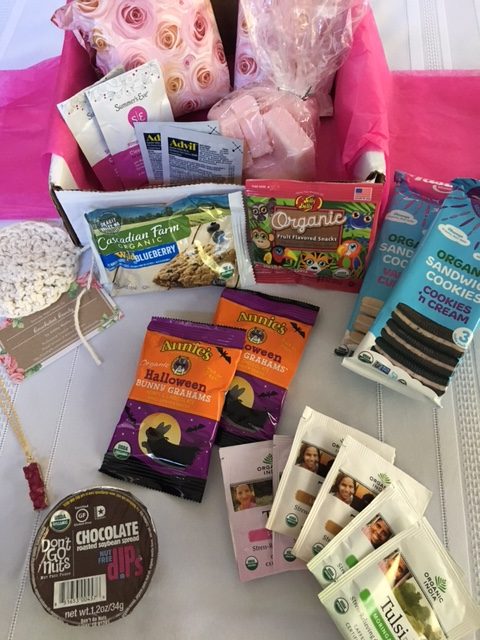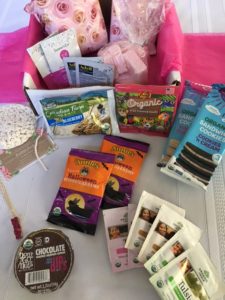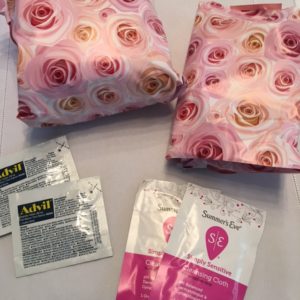 First, the essentials. 25 individual feminine products in a combination of my choosing, 2 Summer's Eve cleansing cloths, and 2 packs of Advil. Perfect to throw in my handbag.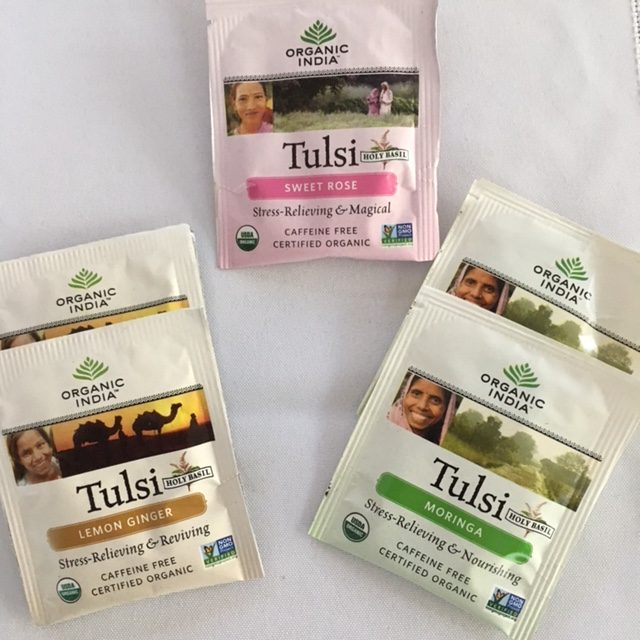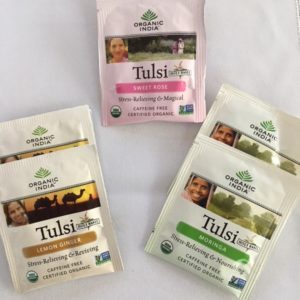 I drink a lot of tea, and was happy to see three different varieties that I'd never tried before: Lemon Ginger, Moringa, and Sweet Rose. I love to make tea and really allow myself that time to de-stress and relax, and these varieties were a treat.
The special gift in this box was a Pink Druzy Necklace from Helping Hands Handmade. It's a handcrafted, gold-leafed druzy stone pendant on an imitation gold chain. It was cute, but I don't wear much jewelry and gave it to my daughter (who loved it). The pamper items were a crocheted face scrubbie from Crocheted Candy, and sugar scrub cubes from From Our Hearth. Both were wonderful items for the bath – I use the scrubbie with a face wash in the shower, and the sugar scrub cubes are a delightful cleanser in the bath.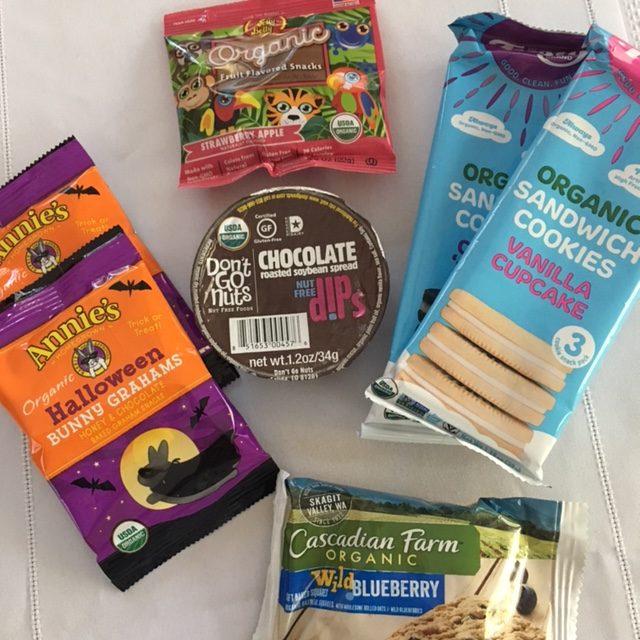 And now, the treats! Each snack included was organic, as I had ordered. I especially loved the organic sandwich cookies, and the kids enjoyed the other items in their school lunches.
I paid $27.49 for the box, including shipping. The retail cost of the items listed on the card came to $28.98. The card does not list the feminine products, cleansing wipes, or Advil packs, so I feel that I received much more than I paid, which is always a nice bonus with a subscription box.
I appreciate that this subscription allows me the peace of mind of knowing I always have the products I need available, when I need them. And I can scratch that off my list of things to do. I'm also looking forward to getting their First Period Box for my daughter when the time comes.
I still don't look forward to "that time of the month," but I do look forward to receiving my Bonjour Jolie box each month!