RenovateCRATE is a new monthly curated box of modern home decor, housewares, and essentials. Each month, subscribers receive 4-6 unique products based on a different theme for a fresh look.
Available Plans:
month by month: $39.95/month + $3.95 shipping
3 month pre-pay: $38/month + $3.95 shipping
6 month pre-pay: $37/month + $3.95 shipping
Shipping costs above are for US addresses only. Shipping cost to Canada is $19.95 per box.
The April box is kitchen-themed! My kitchen is my favorite room in my house, so I was excited to dig into the products.
I didn't know it at the time, but this sticker was a clue as to what was inside. The handwritten welcome is a nice touch!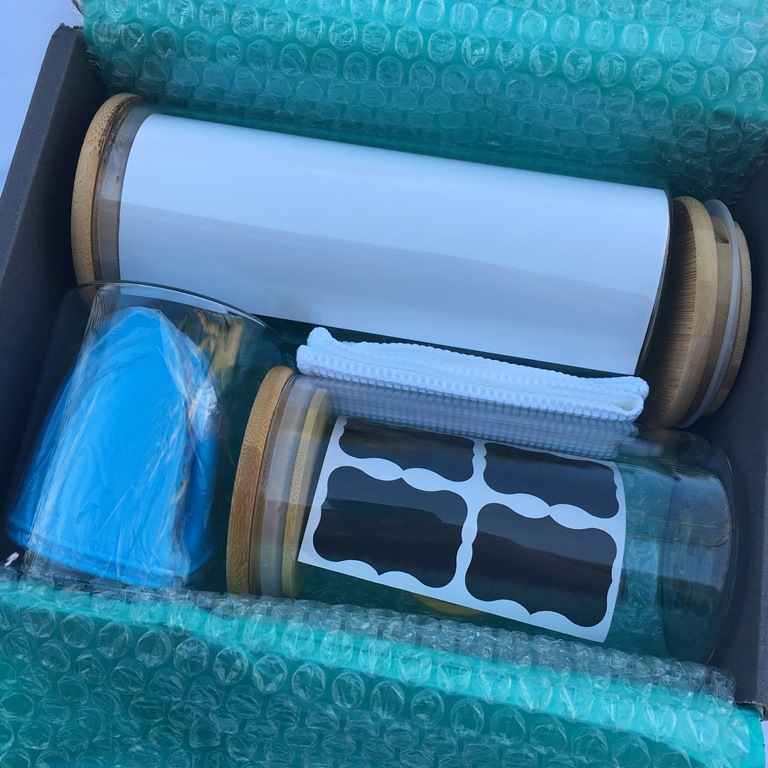 The first item I noticed was the set of three glass canisters!  I was impressed that they made it in one piece (nice packing, RenovateCRATE!).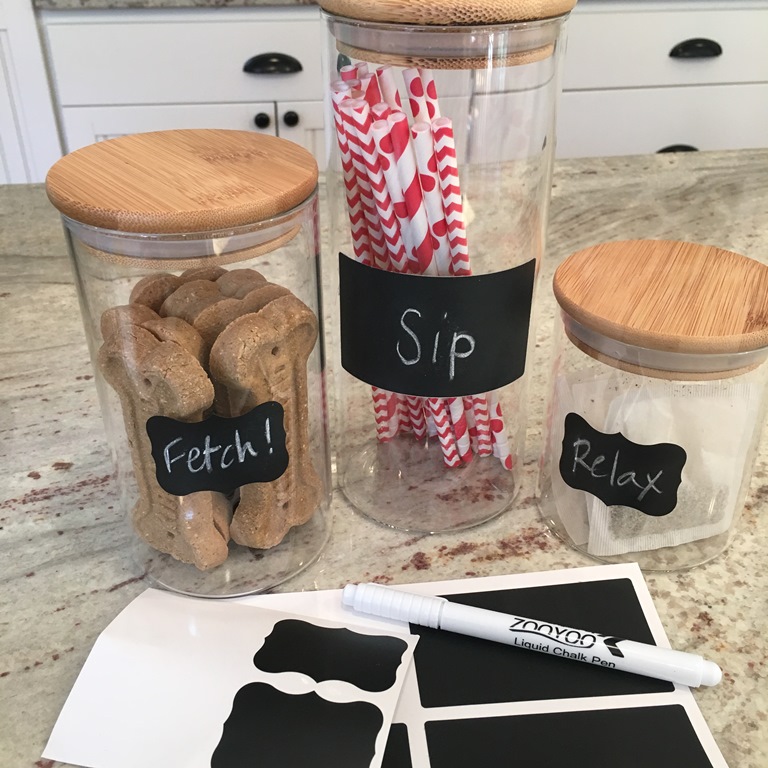 The canisters came in three sizes and featured bamboo lids, which seal them airtight for food storage. I am currently using them for dog treats, straws, and tea.  These are three things that I like to have on the countertop for convenience, and now they look great in the containers. A fun inclusion was the chalkboard labels and chalk markers, which added a trendy touch to the canisters. At first, I labeled them "dog treats," "straws," and "tea," but realized how obvious that was.  I thought action words would be more fun. When I decide to change the contents, the chalk easily wipes away with a wet paper towel. I love the curation and the creativity of the canisters, labels, and markers, and they alone are worth the price of the box to me.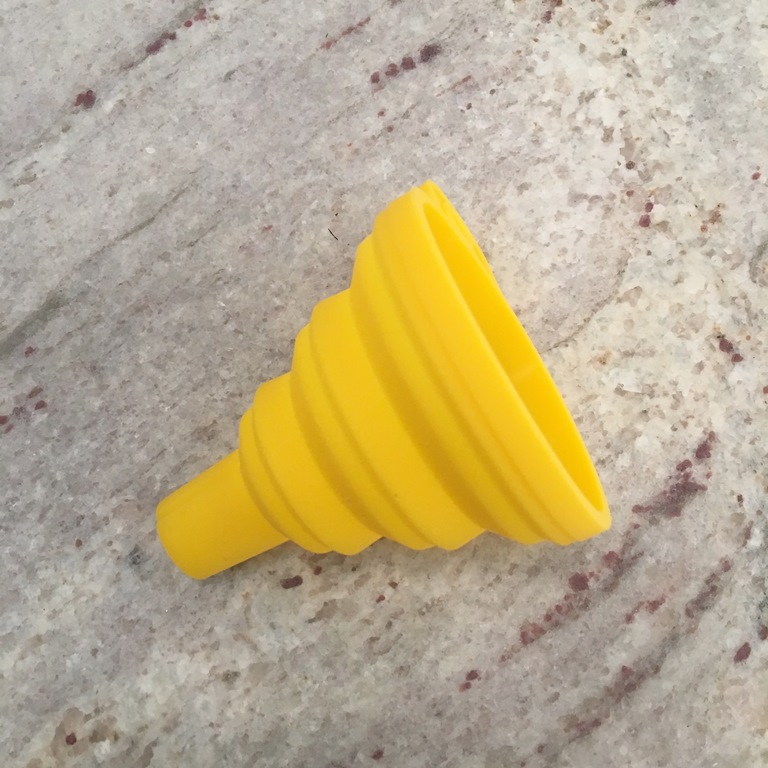 Another great item was this collapsible silicone funnel. It fits in my kitchen drawers better than the regular plastic one I currently have.  I also really like that it collapses, because it fits a wide variety of container openings.
Also included in this box were two silicone oven mitts. I wish they were a little bigger, as you can't fit your whole hand in, and they are a little difficult to grab items securely. But perhaps the best feature is that they are washable. I don't know about you, but my oven mitts get food on them all of the time and don't wash well in the laundry. When I pulled these out of the RenovateCRATE, I immediately threw away my nasty old oven mitts!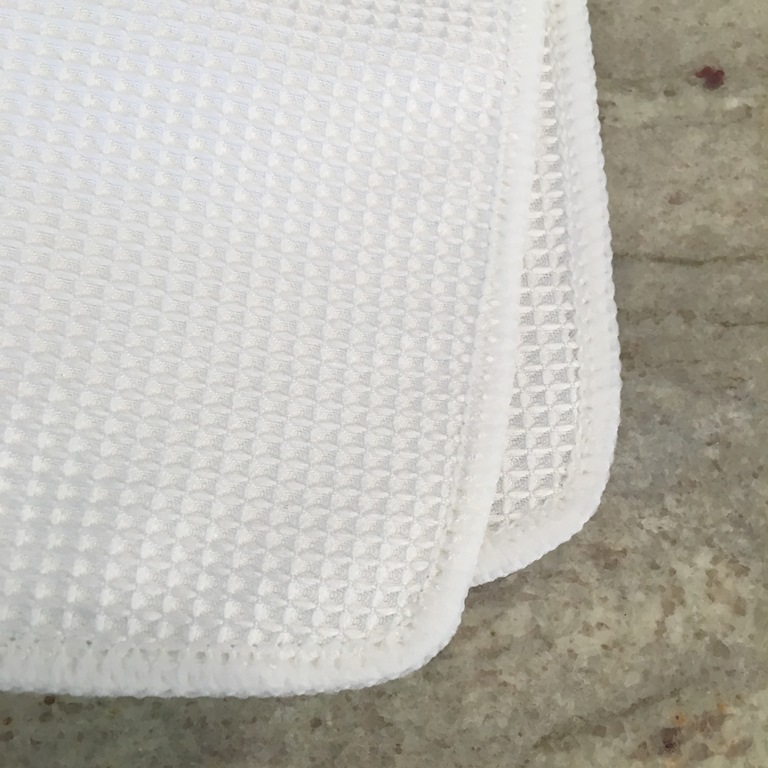 Also included in the April RenovateCRATE was this fast-drying waffle weave towel.  I've been using it to dry dishes that come out of the dishwasher a little wet. It's the perfect size to clean the inside of the kids' cups before I stack them and put them away.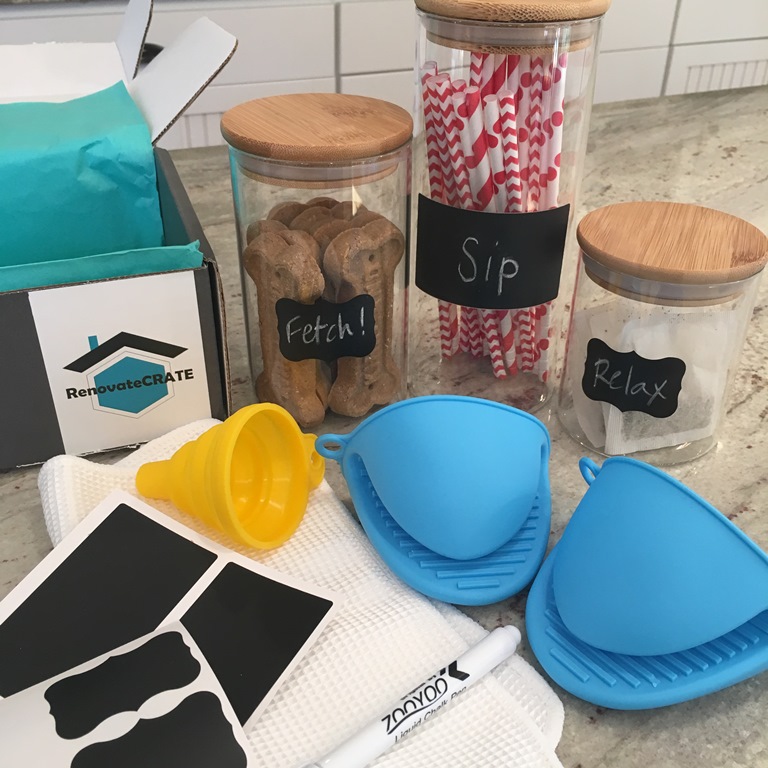 Final thought: Overall, I thought that RenovateCRATE made some great product selections!  The surprise is all that I hope for when opening any subscription box. I especially liked the creative outlet provided by the chalkboard labels and marker.  I also found all of the products to be useful and high-quality. RenovateCRATE indicates that the retail value of the items inside the box totals $70, so it's a good value and would make a great gift! (Ahem, hubby, are you reading this? Mother's Day is right around the corner!)
RenovateCRATE is currently offering a 10% off offer if you sign up for their newsletter in the popup on their website, or by using the code 10LAUNCH at checkout.