IsThereAnyDeal is a website that provides you with the ability to compare the costs of games offered by various platforms and provide its price and any suitable bargains.
It includes a comprehensive list of games, pricing, and further information. The platform gives a brief pricing summary of all the items in the Steam shop that it has found on any given page.
It gives gamers access to the finest deals available from the official retailers. It provides you with the pricing history of a certain game. Also, It alerts you to hold off on purchasing the game until the price drops further.
In addition, you can filter the sorts of discounts you wish to see, such as giveaways, bundles, coupons, etc. You are given the ability to sort the game list according to various categories. You may add games to your cart and purchase the game straight from this website.
However, there are several downsides to using this platform. They have made it clear on their website that they are not accountable for the material presented there. That caveat means that any information provided may already be out of date. Plus, you may not be able to distinguish current information from outdated information.
Besides, the platform is only limited to gaming products; you can't find other products. Also, IsThereAnyDeal has no primary application or web extension, which restricts you to only use the website.
These shortcomings compel us to further check for platforms that work similarly to IsThereAnyDeal or are more advanced.
Best IsThereAnyDeal Alternatives
CheapShark is a free website that lets you access the greatest deals on digital game downloads for PCs.
They monitor the pricing of games across various platforms and retailers, including Steam GOG, GreenManGaming, and Humble Bundle.
They organize their listings by a retailer, allow you to explore and filter every bargain, and offer a simple search feature for finding certain titles. In addition, they give away free games regularly.
You can sign up to receive price notifications via email whenever a new deal occurs.
CheapShark ranks transactions based on several criteria. Some of them include how recent the sale is, the game's Metacritic score, the extent of the discount provided, and how new the game itself is.
One of the most important requirements for retailers is that they have direct contact with the producers and creators of the games they offer.
Unlike IsThereAnyDeal, on this website, you will never find any unscrupulous key resellers; only genuine distributors will be listed there. Thus, you should not worry about your safety when visiting any of the businesses.
Certain retailers pay a commission when you purchase a game through a link on the platform's website. Buying video games via CheapShark is a great way to lend direct support to the site.
CheapShark gives developers the ability to utilize its pricing data on their apps or websites by providing a public API that is fully documented. The only requirement for using the API is to direct customers to discounts using CheapShark links; otherwise, it is free.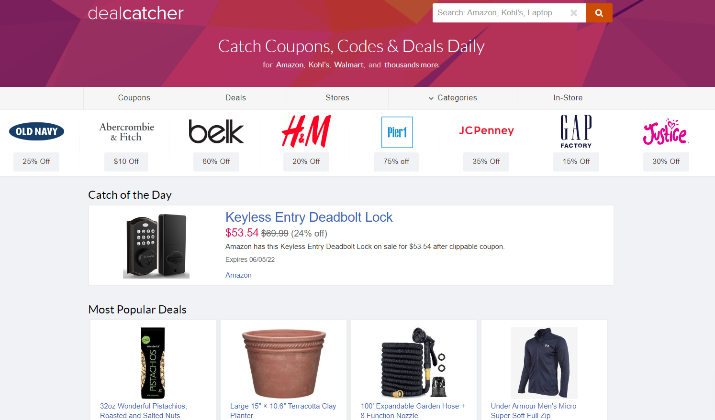 DealCatcher is another alternative to IsThereAnyDeal. It is a free online community that assists consumers in reducing their shopping expenses and making more informed purchases.
You will be able to locate online coupons, promotions, reviews, rebates, and products such as video games, consoles, etc.
The site's team will continue to make updates throughout the day. Its sole purpose is to provide you with the resources you want to locate the most advantageous online offers.
DealCatcher does not actively engage in the retail sale of any of the featured items on the website. You can get in touch with the merchant's support staff if you have questions regarding shipping pricing or the availability of certain products.
DealCatcher has over six million monthly page visitors while promoting the online bargains of over 4000 retailers. It has been highlighted in The Wall Street Journal, ABC's The View, Yahoo Internet Life, and USA Today.
Unlike IsThereAnyDeal, this website will provide you with the best prices, coupon deals, and various other forms of discount offer from Kohls, Best Buy, Target, Home Depot, and other retailers.
Those who wish to receive real-time updates on the bargains and discounts offered here can sign up for immediate email alerts.
You may search for the lowest price on various items by using the "Compare Prices" option. This will allow you to find the cheapest deal quickly.
The search engine that allows you to compare prices will provide all of the most up-to-date pricing for products sold on the most visited websites.
Additionally, suppose you input a given item or manufacturer SKU in the search box on the homepage. In that case, the search engine will instantly compare prices on your behalf.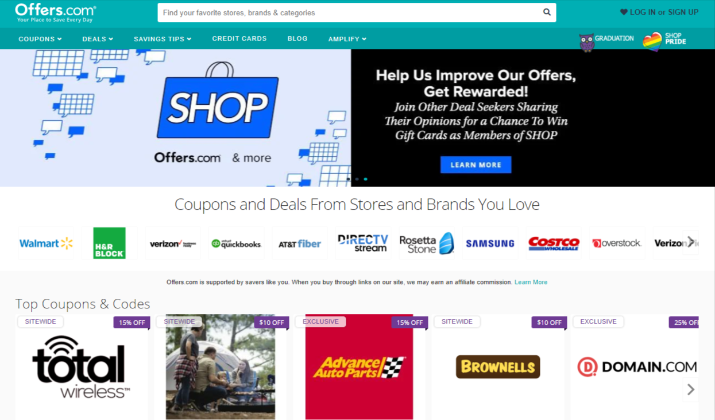 Offers.com is a free and unique site that gathers the most desirable deals from various websites and compiles them onto a single platform.
Every day, they bring you the most recent coupon codes, discounts, product deals, and other offers from more than 20,000 online retailers and brands, including Eastbay, Walmart, Amazon, and more.
It has hundreds of offer categories, ranging from gaming, traveling, fitness memberships, technological goods, and fashion.
The platform employs a unique combination of technology and human attentiveness to guarantee that each offer is of the highest quality.
Its committed staff of over 60 professionals works around the clock to discover, update, and test fantastic offers while simultaneously filtering out stale bargains and fake coupon codes.
Unlike IsThereAnyDeal, you will discover carefully curated and specialized offers for key holidays such as Cyber Monday, Black Friday, Memorial Day, and many more at their Holiday Savings Center.
Take advantage of the finest options this platform offers to save money by using unique coupons, limited-time offers, and seasonal promos.
Slickdeals allows you to search for great coupons and deals, and it is completely free to use.
It offers a diverse selection of goods and services to its customers. The most popular ones include video games, televisions, computers, home items, technology products, health and beauty products, products for children, entertainment, travel, and many other things.
Additionally, you can subscribe to get deal notifications using the email subscription plan. The website serves millions of clients each month.
Unlike IsThereAnyDeal, its operation is fascinating since it publishes offers and discounts following a voting system where community members discuss, rate, and evaluate deals and coupons.
If you want to get the best deals anywhere or purchase products, download the extension for Chrome, Firefox, or Edge and use it. Besides, it supports application versions for Android and Apple.
If you want to save even more, purchase through Slickdeals and you'll earn points that you can turn into PayPal credit for your favorite stores.
Gocdkeys is a free platform that allows you to compare the pricing of video games on your personal computer, Xbox One, PlayStation 4, or other console in a variety of the finest online stores that are now accessible.
Thousands of players from all over the world continue to use this website when making their day-to-day purchases.
Compared to IsThereAnyDeal, you will be able to locate the lowest prices for the vast majority of video games on any platform, including Blizzard, Origin, Steam, and Uplay, by using its search engine.
At the moment, it provides a vast selection of shops, broken down geographically, in which you may purchase their preferred video games at the most competitive costs. Every store abides by applicable laws, offers complete and total security, and accepts payments using reliable methods.
Nevertheless, Gocdkeys provides a way of shop evaluation. You may read comments about many aspects of the stores, including the amount of time it takes to dispatch orders and the different payment methods accepted.
Although Gocdkeys is primarily a digital marketplace for PCs, offering games in the form of CD keys or digital keys compatible with various platforms, it also compares official stores that sell the physical copies of games for Xbox One and PS4.
Keep in mind that Gocdkeys does not engage in direct sales of any goods or services. Instead, it merely links you to online retailers after which you can complete the purchase of the desired video game or other items.
Despite this, the website includes a "contact" section. You can reach out to the company for assistance if a problem arises with one of the online retailers.
DLCompare is a free website that allows you to compare prices and find the best deals on video games (including those for the newest and older generations of consoles and PC), game cards, downloadable content, and software.
You can choose the item you want, check out the pricing offered by their linked stores, and then download it from the most convenient one.
DLCompare can identify and present the lowest prices available, including specialized sales because it works with many online stores. Since different retailers are not subject to the same VAT system, the pricing of goods sold by these retailers might differ based on their location.
The fluctuation in the value of currencies, such as that which exists between the dollar and the euro, might be another element that contributes to the pricing differences that exist between various retailers.
The suppression of pirate activity in developing nations typically results in decreased prices. Lastly, some retailers do not have any operating agreement with the publishers, which gives them the ability to set the price at any level they choose without any cap.
Suppose you notice a price listed for a certain product. In that case, it indicates that you can use it in your location. The site will only offer you the cheapest rates for items that can be downloaded and played in your location.
Unlike IsThereAnyDeal, the platform has introduced a Rewards Program. This allows customers to earn CD Keys and Gamecards by carrying out certain tasks, such as rating one of the items on the website or leaving a remark on one of the games.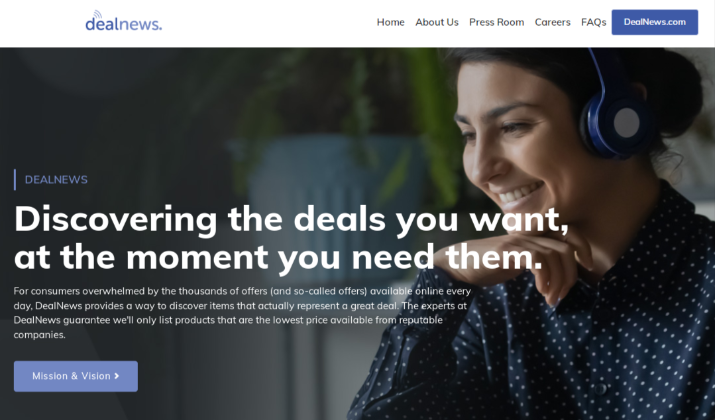 DealNews is a free platform founded in 1997 by two friends who wanted to share the incredible discounts they had discovered with the rest of the world. Since then, the firm has expanded to employ more than one hundred people worldwide.
You'll find the best deals that satisfy your needs. Each day, it features over 300 of the finest discounts on the internet. It receives more than 17 million viewers every month. Both Apple and Android users may utilize the platform's app.
DealNews does not engage in the actual business of selling the items; rather, it only provides information about them. It participates in selling items advertised on the site through the DealNews marketplace.
The platform is a news website that publishes the best discounts given by thousands of retailers in all price ranges and items, ranging from office to home products.
It has a team of writers that scour the internet daily in search of the finest prices that you can find on a wide range of items.
Each offer that they mention comes with the seller's name and a link to the offer on the store's website. Follow the on-screen instructions to complete the transaction after clicking on the link.
Unlike IsThereAnyDeal, before you complete the transaction, you should contact the retailer if you have any inquiries regarding the item's quality or cost.
There is an option to receive discount notifications if you are looking for something. If you enable this option, you will receive a notification via email whenever new offers and bargains are available.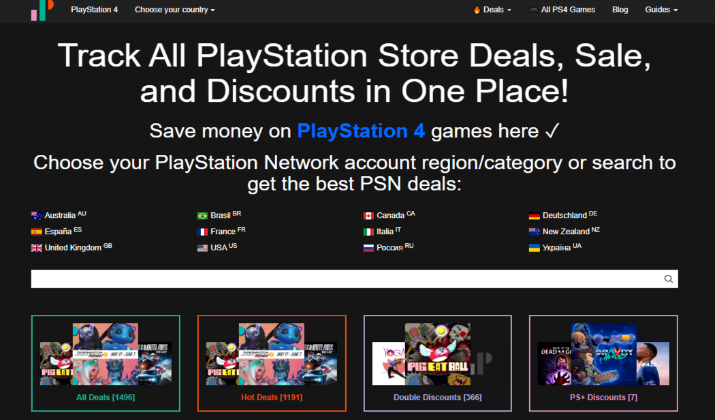 PSN Deals is one of the best alternatives to IsThereAnyDeal. It is free to use. Here, you can monitor all sales, offers, and discounts the platform offers in one location.
You may browse for the greatest PlayStation Network discounts, pick the area or category of your PlayStation Network account, and save money on PlayStation 4 games all at the same time.
Unlike IsThereAnyDeal, price history graphs are another prominent website feature on PSN Deals. Every PS4 game page includes graphs depicting historical data for both the game pricing and the price for PS Plus members.
The data on prices and discounts comes directly from the official Playstation Store. It is updated regularly to guarantee that it is as accurate as possible.
PSN is one of these platforms with limited-time sales events in its online stores, during which tens of thousands of video games are offered at a reduced cost.
Most of these PSN Deals occur monthly; however, seasonal sales occur throughout the year.
It is necessary to differentiate between the various types of PSN sales to establish how frequently they occur during a year because certain deals are only available to PS Plus subscribers.
These smaller sales occur monthly, making them the most popular type of sale. Like sales at rival game businesses, they are often for a single franchise.
Additionally, these franchises provide the game for sale at a reduced price for a limited time. In certain cases, individuals who have a paid subscription on their PlayStation accounts are even eligible to receive it for free.
These deals are often one-time events based on each third-party game business that announces them. These sales are typical to honor the anniversary of one of the third-party game company's popular products or the launch of a new one.
These are the kinds of sales that often occur around a certain time of year.
PSN hosts sales events similar to those hosted by other firms that offer a platform on which you can purchase video games. Thousands of their titles are offered at a reduced cost and may be downloaded from their respective systems.
The cycles of these events typically last anywhere from two to three months and have a theme that corresponds to the season in which they take place.
For instance, there is often a summer sale, spring sale, and winter sale rotated through various events. Third-party firms that want to market their wares can form partnerships with PlayStation.
When a PSN sale occurs, there is typically a one-time theme, such as Halloween, which promotes horror games at discounted pricing and even activates particular privileges.
Holiday sales are similar to seasonal sales in that they take place over a two to three-month period. Still, unlike seasonal sales, holiday sales are typically related to a single day of the year.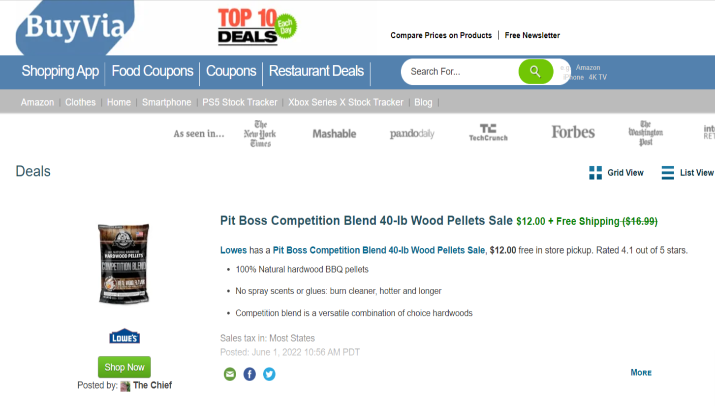 BuyVia is a web-based shopping service that provides enthusiastic online buyers with savvy bargains and daily coupons. This service is free.
The platform will demystify all of the jargon and assist you in comprehending why a product is worth purchasing and the purposes for which it may be employed.
The best part about this tool is that it is updated daily with a wide variety of deals, savings offers, discounts, vouchers, and many other offers that will enable you to save more money on the things you like best from the companies you like.
It doesn't matter if you're looking for gaming products, new tablets, smartphones, clothing, shoes, or other products; the platform can help you find the greatest price easily. Additionally, the site can sync your shopping list.
Unlike IsThereAnyDeal, you can search for items using the product's name or number. Also, you can perform barcode scanning, including scanning of UPC barcodes.
Once you set up an email alert or push notification, you will be alerted any time the price of an item you're interested in drops.
You may even get alerts whenever you are driving by a store that has a product that you desire on sale. You may also receive alerts if new exciting bargains are introduced to a certain category.
BuyVia now has a smartphone app that provides the same features as the company's official website. It sells items from companies such as Amazon, Burger King, and KFC, among others.
The user interface of both the website and the application for iOS and Android devices is uncomplicated and straightforward, making it simple for anyone to use and comprehend.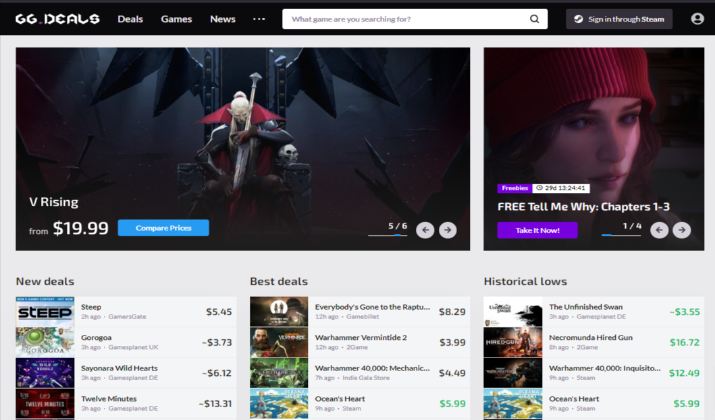 Our last IsThereAnyDeal alternative is GG.deals. Have you ever worried you may have obtained the game keys you purchased for a lower price elsewhere? You do not need to check different retailers for information and pricing to prevent this problem.
GG.deals will compare all of the prices for PC games, ensuring that the price you see is the best available at that moment.
Suppose you want to check the pricing of a certain title. Use the platform's search bar whenever you need to. On the very top of the game card, you'll see the lowest current price of the product.
You may also examine additional game discounts from various retailers on the same page to compare CD key prices for your desired game quickly and easily.
You have access to a wealth of information that can help you make a crucial decision such as whether or not to purchase the product in question. The available information includes pricing history, details on the game itself, and downloadable content for the game.
Unlike IsThereAnyDeal, you can take advantage of the GG.deals wishlist to locate game sales of your most desired titles if you are interested in learning more about the discounts offered.
Suppose you are interested in purchasing a certain game but cannot afford it. In that case, you can create a price alert, and you will get a notification as soon as the price drops to a more reasonable level. You need to sign up through Steam to access it, and it is free.
Conclusion
Our best pick is Slickdeals. This platform offers deals on various products and services. Also, you can sign up for their emails to get notifications whenever there are new deals.
Interestingly, the deals and offers published on the website are based on the votes and opinions of community members. What's more, it comes with a Chrome extension, giving you a seamless shopping experience.