Blue Bottle Coffee Subscripton offer small business owned sustainable coffee on a monthly basis.
They work directly with farmers around the world to source the most delicious and sustainable coffees they can find. Then, they roast them to their exacting flavor standards, and serve them to you at peak deliciousness, hopefully alongside a good conversation and some friendly advice.
"We think it's a privilege to deliver the coffees we love, by farmers we admire, into your hands or onto your doorstep"
Blue Bottle takes a hands-on approach to every step of artisan micro-roasting to discover and preserve the true nature of excellent coffee. They use only the finest certified organic coffees, and when available, coffees that are farmed traditionally without pesticides. After roasting, coffee beans exhale carbon dioxide for several hours. Instead of keeping the Blue Bottle beans in bins, they are mixed in blends and bagged within four hours to harness carbon dioxide and keep oxygen (and oxidation) out of the bags. Blue Bottle never pre-blends their coffees, thus assuring the ideal roast profile for each bean. All varietals are roasted individually and then mixed into the blends, producing an award-winning cup of coffee.
They offer 3 options to narrow down your choices:
Espresso – A melange of our espresso offerings, including blends and single origins that we serve in our cafes.

Blend – A changing selection of our blends, each one with its own origin story and profile.

Origins – A delicious new single origin offering from Latin America, East Africa, or the Pacific Islands.
They amount of coffee you want is split into 4 sizes:
$7 Half Bag – 6 oz of coffee beans. About a one-week supply of beans for 1-2 coffee drinkers.
$14 Standard bag – 12 oz of coffee beans. About a two-week supply of beans for 1-2 coffee drinkers.
$26 Double Bag – 24 oz of coffee beans. About a two-week supply of beans for 2-3 coffee drinkers.
$37 Triple Bag – 36 oz of coffee beans. About a two-week supply of beans for 3-4 coffee drinkers.
Unboxing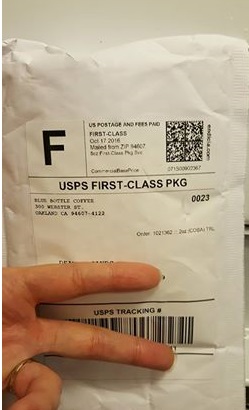 My order arrived in a plain white bubble envelope.
Inside was my coffee, and two cards of info.
I opted to try out their Origins, Half Bag Subscription
My order arrived within 10 days of placing my first order!
My 6oz bag Was from Guatemala, Saint Isabel.
It had a sweet vanilla and coffee aroma, with a lovely chocolatey undertone, and a hint of citric notes with a smooth bodied floral finish.
Thoughts
It wasn't a bold coffee, but the subtle flavors gave a wonderful taste and tantalizing mouth feel. I loved it! The ability to receive jut a little or a whole lot of coffee each month was very appealing! I only drink coffee on occasions, so a tiny amount is perfect for me!