Just Polish is a boutique nail polish subscription box delivering 5 full-size nail polishes to your door each month.
There are plenty of plans to choose from starting at just $19.50 for a monthly option or save with prepay options for 3, 6, 9, and 12 months. A mini-box is also available with only 3 polishes for $12.50. Shipping for all plans is just $3!
When I was asked to review this box I was thrilled, but I admit to being a loyalist when it comes to brands.  I was interested to see what brands I might recognize or even if a new brand might catch my eye!
The pretty printed February 2017 box sent for review featured a holiday appropriate Valentine's Day theme including a variety of rouge hues.  Upon first glance, the box presentation was on point as the polishes were nestled in shredded crinkle paper, sweetly wrapped in tissue paper, and sealed with a cute sticker.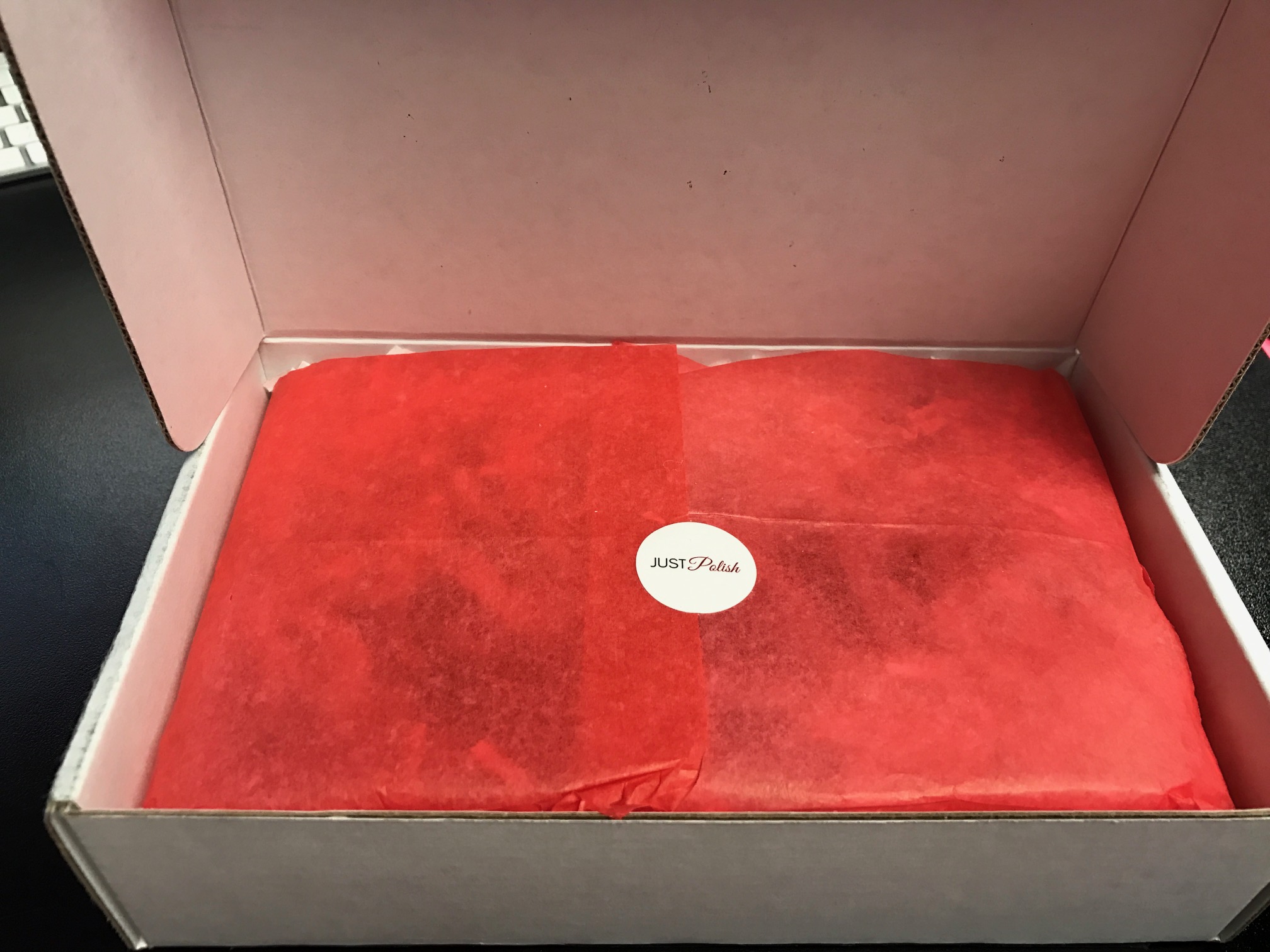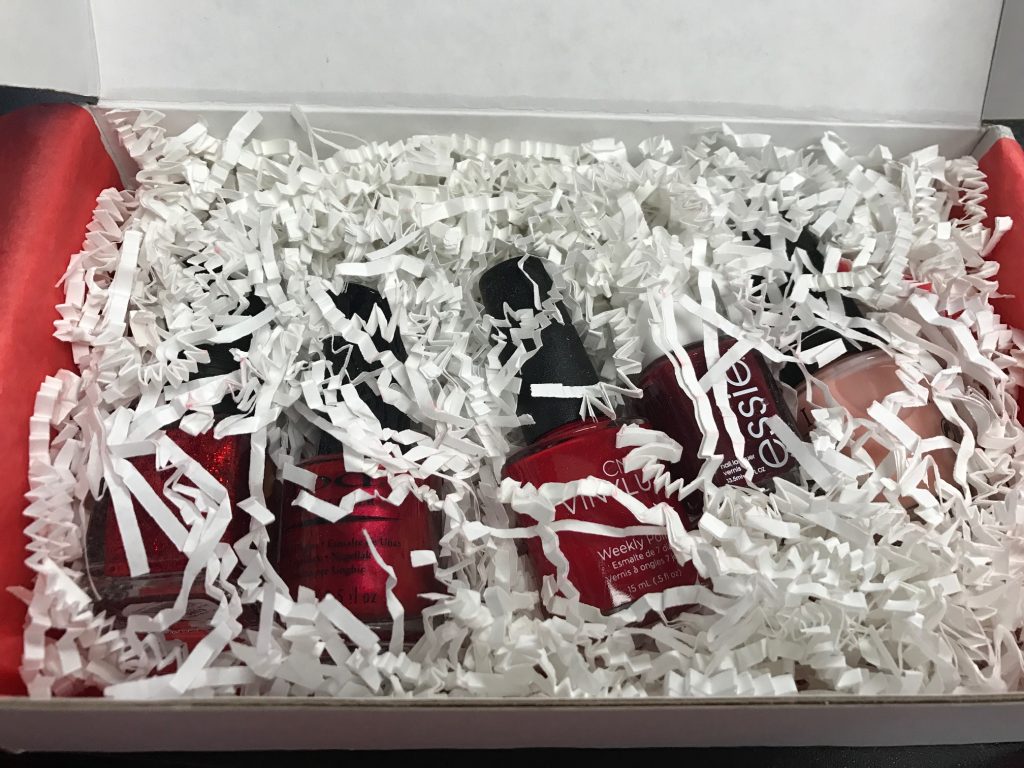 Inside were our 5 featured polishes:
LECHAT's Dare to Wear in "On The Red Carpet" –  a glittered bold blood red.
IDB in"Enthralled" –  a shimmering deep red (and my personal favorite of the bunch).
Essie in "Maki Me Happy" – a berry shade of crimson.
CND Vinylux in "Rouge Red" – another flat but fiery bold red.
OPI in "Passion" – a barely there ballerina pink.
Right off the bat, I recognized the Essie brand… and OF COURSE OPI (yep you guessed it, I'm an OPI loyalist)! So I was happy to see both of those brands included. Knowing the retail MSRP of both of these brands the value of the box was already clear. You can drop $10 easily per bottle of both of those brands.
Though I had never heard of the other 3 brands, my best friend, a former nail tech did inform me that both the Dare to Wear and IBD brands are "Salon" brands of good quality that you can't just pick up at the local drugstore which I found to just add to the overall value.
I did find the Vinylux polish available at Ulta but for a similar MSRP to OPI or Essie and with claims of being a long-wear polish even without a topcoat (hence the "Weekly Polish" statement on the bottle)!
Happy with the brands, I quickly (and messily) applied one coat of each color to my left hand for comparison sake. Please note: my nails are STILL recovering from a wedding-induced gel manicure from NOVEMBER (don't let them tell you that you can remove it at home. You can't).
From left to right; On The Red Carpet, Maki Me Happy, Passion, Rouge Red, and Enthralled
Now, I have to admit that I wear red polish about as often as I wear red lipstick which is pretty much only when I'm dressing up as Taylor Swift for Halloween. However, both my mother and my sister are AVID red polish wearers – in fact, getting my mother to deviate to even a burnt orange during a manicure is like pulling teeth  – so I can only speak for myself.
Though we do have some different variety here with glitter, shimmers, and flat colors – some of the shades are nearly identical. The Essie Maki Me Happy (ring finger) which I thought looked so much darker in the bottle is almost an exact match for IDB's "Enthralled" (thumb).  I would have loved to see a variety of pinks included along with the reds. The one pink shade included was just about the same color as my natural nail. With another coat (or two) it would have been very pretty for an understated look.
Another alternative to breakup the monotony of colors would have been to include a base or top coat! I can't tell you the last time I put on a base coat (almost a must with dark polishes, honestly) simply because I haven't bought one since the last bottle was emptied. Also, there are so many types of top coats that your options are pretty limitless there as well;  shine, strength, shimmer, matte, gloss, you get the idea.
Overall,  with 5 polishes starting at just $19.50, Just Polish is a great way to try new brands and colors at a real value. The polishes featured were of good quality and a nice mixture of salon, drugstore, and prestige brands. If you are looking to shake things up and try on something new this box is definitely the one to get! With a new theme each month, I am really looking forward to seeing what they have in store for the spring & summer months!
NOTE: This box was provided for free in exchange for the review.