Puptown Girl is a monthly subscription service that delivers a curated themed box filled with items for you and your dog!
You'll receive 2-3 items such as housewares, apparel, and more and there are 2-3 items for your dog as well. They will also donate a portion of the profits to a dog rescue each month!
Plan options:
$39.99 per month + shipping

$113.97 every 3 months + shipping

$215.94 every 6 months + shipping
*Shipping is $8 for the US, $13 for Canada and $20 for International. If you're in the Ottawa area, you can forego the shipping price and pick up instead!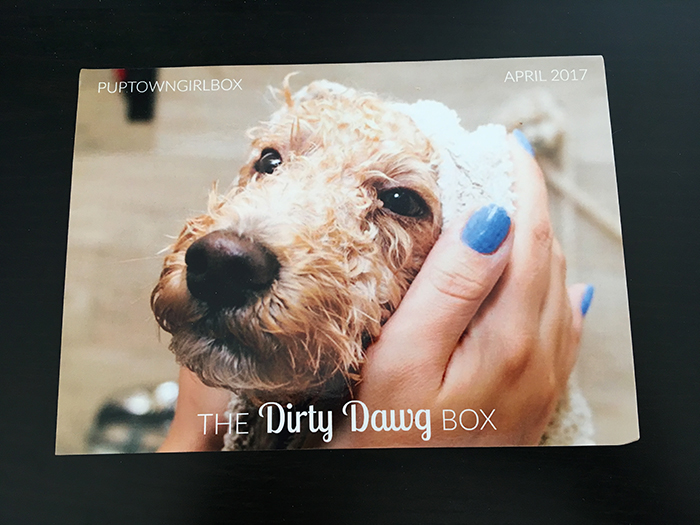 First look: The box is packaged with a purple tissue paper, teasing the theme of this month's box which is "Dirty Dawg." I also got a whiff of an exotic scent!
The first item is a large candle by Belle & Mr. Tom. The scent is Grapefruit Passion and is probably the reason why the box was heavy and smelled amazing. It is a soy wax blend and is specially formulated to remove pet odors. This is perfect since the kitty litter is in the bathroom and it smells like hell in there.
Next is a Paw Print and Dog Bath Bomb by Sunsational Soaps and Lotions. These bath bombs are for us humans and are made with natural oils, butter, and lightly scented with essential oils. The scent comes in Lavender, Mojito, Orange Creamsicle, or Lemon Vanilla. I can't make out the scents that I got, but I love that it is not overwhelming.
Dog Hair? Don't Care! Socks by The Nerdy Birds. The quote couldn't be truer! My place is nothing but dog hair, and I guarantee that the bottom of the socks will be filled with them too. Good thing they are white!
Dog Bone and Paw Soap for Dogs by Pureheart Essentials. These cute bone and paw shaped soaps are vegan-friendly, parabens-free, gluten-free, and petrochemical-free. They are unscented, and they contain natural ingredients to help control dandruff and promote a healthy coat! I haven't used this yet on my dog, but I'm excited to try it out!
Cleanliness is Next to Impossible Sign by Love & Laughter Wooden Signs. I agree with this quote as well! My dog has been shedding her winter coat like crazy, and it doesn't help that it's all over our black couch and bed!
The last item is the Dog Print Tea Towel by Now Design. I love the pattern! I've been searching for a good tea towel in the kitchen, so this is perfect. The only problem is that it is too cute to use!  
Final thoughts: Puptown Girl is perfect for dog mommies and her furbabies! My favorite items were the tea towel and the candle! It is a cute box, and it is a breath of fresh air in the pet market since there are boxes for cat ladies but none for dog mommies. A huge plus for me is that they also donate part of the profit to a different rescue every month!
*NOTE: The Box Reviewers received this box to review.