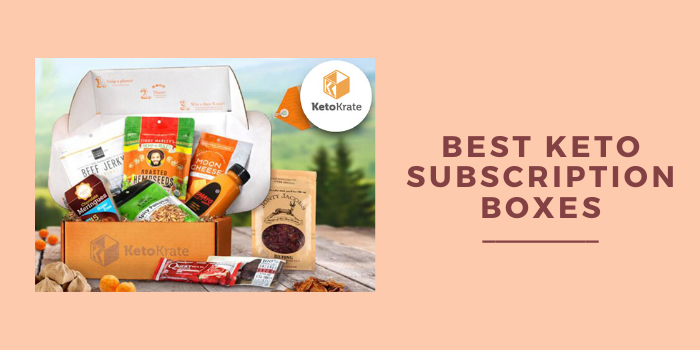 The keto diet is the biggest craze today in the dieting community.
It's a low carbohydrate diet with higher fat intake. Not only do personal trainers recommend it to their clients, but many people are also choosing to try the keto diet with great success.
The most important and sometimes challenging part of beginning a keto diet is getting on track with a solid eating plan and making it easy to reach your goals.
Meal planning is vital if you are going to make any diet work. Trust me. I've been there, and it takes much time and energy, which is why so many people fail at dieting in the first place.
But today, I may have a solution to help you stay on track.
In the past several years, subscription boxes have entered the marketplace with leaps and bounds and have provided an easy and convenient way for you to stay disciplined about your eating, especially for the time-starved professional.
Therefore today, I want to introduce to you the seven best keto subscription boxes on the market.
What Is The Keto Diet?
Before we dive into the subscription boxes, I wanted to summarize what the keto diet consists of. In general, the keto diet is a very low carb, high-fat diet that shares some attributes of other low carb diets, but focuses on putting your body in a state of ketosis so that your body will start burning excess fat instead of carbs to lose weight.
You are essentially replacing carbs with healthy fats. When this happens, your body becomes very efficient at burning fat for energy. Ketogenic diets can cause lowering of blood sugar levels and insulin, which is a huge health benefit.
There are many health benefits to the ketogenic diet. Since it helps to lower the blood sugar level, it helps in fighting heart disease. Doctors have also been assigning cancer patients this diet to help slow tumor growth.
The keto diet may also help reduce symptoms of Alzheimer's, reduce seizures in epileptic patients, and improve symptoms in Parkinson's patients.
So not only does this diet help you lose weight, studies show it is good for your general overall health.
Keto Delivered
Keto Delivered is true to its name. With this box, you will be able to explore new net carb friendly snacks from the comfort of your own home.
The great thing about this box is it delivers a different keto friendly recipe every month as well, along with the cooking goodies needed to make them.
With this subscription plan, it will cost you $39.99/month, but you can either pay monthly or you can pay every 3 months, which gives you a little bit more flexibility than others.
At the same time, they only have a one-size-fits-all package.
The Keto Delivered box will ship somewhere between the 15th and 25th of each month and only ships within the United States.
My Keto Snack Box
My Keto Snack Box is a great option if you're looking to find new products and add variety to your new Ketogenic lifestyle.
That's one of the keys to keeping on pace with your weight loss goals. Make sure to mix it up a bit, so you don't get bored with eating the same things all of the time.
My Keto Snack Box comes with snacks that have less than 5 grams of carbs per serving. All of their snacks are high protein, healthy, and are sure to satisfy.
Each month, your box will come with 6-8 snacks.
My Keto Snack Box has two different options for subscribing. The first allows you to pre-pay, which will help lower your cost from $38/month to $36/month.
Not a huge savings, but some people may prefer this.
The product will ship on the 7th of each month and ships worldwide from the United States.
Sleek Treat
We can't always be so strict that we can't have a treat now and then. That's why I love this Sleek Treat subscription box.
The key is that the products are made with sugar alcohol or contain no added sugars at all.
There are three different subscription options to choose from:
Sleek Treat Mini – $14.99/mo (3-5 treats/box)
Sleek Treat Signature Monthly – $28/mo (7-9 treats/box)
Sleek Treat Signature Monthly Cold Frozen- $31/mo (7-9 treats/box)
Products ship on the 20th of every month. You can only buy this in the U.S.
CLEAN.FIT Box
I love the CLEAN.FIT box because they have super-cool stuff that comes every month. This box has stuff for fitness gurus, superfood junkies, paleo and keto dieters, and supplement buffs.
Everything in this box is non-GMO and never contains any artificial preservatives, sweeteners, colors, or flavors.
CLEAN.FIT offers two subscription options:
Regular CLEAN.FIT box – $29.70/month (6-8 premium snacks each month)
Super Snacker CLEAN.FIT box – $59.50/month (15+ premium snacks each month)
Ships worldwide from the USA around the 15th of every month.
Bar Hopper Box
The one thing I love about protein bars is they are easy, and you can grab them on the go. This box is fantastic for discovering new brands that may not be in your local grocery store.
The Bar Hopper Box contains items that are all healthy, low-sugar, and non-GMO certified.
They only have two subscriptions:
Platinum Best Seller Box – $31.66/month (includes 12 snacks in each box)
Medallion Team/Office – $269.99/month (includes 144 snack items in each box)
Products can only be shipped in the USA, but they ship out within 24 hours of ordering which is nice.
Keto Can
Keto Can is a great subscription box for your keto diet plan. This box has snacks that are low carb, moderate in protein, and higher in fat.
This box is from Canada, so the products you will receive are either Canadian or from the U.S. It makes it interesting and fun when subscribing to this box. There are even recipes and monthly challenges in every box!
This subscription box runs $43.33 CAD/month and ships from Canada, worldwide.
The Keto Box
The Keto Box is another wonderful product to help you stay on your weight loss and Ketogenic lifestyle goals.
In October 2018, the box included healthy cookies, walnut butter, hot sauce, and pork clouds for example.
The product has a 1-month, 3-month, 6-month, and 12-month subscription option.
The monthly subscription price is $40/month, but decreases from there if you sign up for longer subscription periods.
This product ships to Canada and the United States and typically ships on the 5th of every month.
Conclusion
The above subscription boxes are all wonderful and should help you on your weight loss journey and Ketogenic lifestyle.
Weight loss is not easy, and everyone needs a little help. We all live busy lives, so anytime you can make things simpler, do it!
Don't forget that once you hit your weight loss goals, you are going to be focusing on maintenance.
That's a whole other level of focus, and these subscription boxes will help make it a no-brainer as well for maintaining your healthy eating habits.