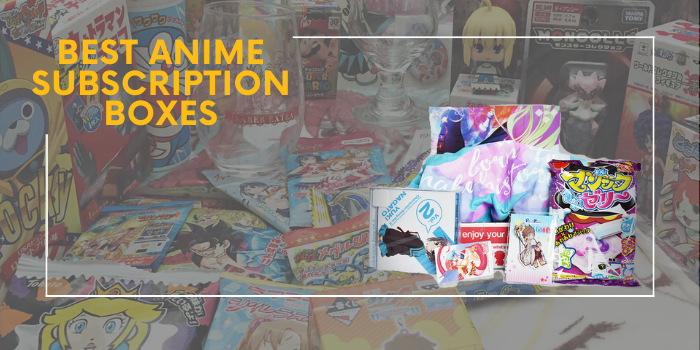 Anime subscription boxes might be the best thing to come along since sliced bread for the tech geeks who are into this artistic style of Japanese animation.  There is such a wide variety of anime subscription boxes on the market, that I wanted to bring some attention to what I believe to be the 11 best anime subscription boxes on the market currently.
Lootaku
is a premium geek, anime, and gamer subscription box from Asia. They have wonderful high-quality figurines and other collectibles from your favorite anime, TV series, and video games. They have several different subscription boxes to choose from including special boxes such as "Dragon Ball," and Ichiban Kuji boxes. Each box includes several different, high-quality pieces including a full-figure statue as the hero item, a smaller vinyl figurine, a mini figure, and various collectibles. New subscription boxes come out every month in which you can choose three different plans:
1 Month Plan – $49.99
3 Month Plan – $132.00
6 Month Plan – $257.00
Each plan will auto-renew at the end of the subscription period, so make sure to remember this if you want to cancel. With wonderful reviews on this product, you are sure to be pleased with your selection.
If you enjoy sweets, you are going to love this decadent delight of assorted Japanese anime-inspired candies. With
Japanese Crate
subscription boxes, you can choose between candy, kawaii, noodles, or beauty. The following are a list of the subscription boxes that you can order from Japanese Crate:
The price tag on these crates is minimal and will run you anywhere from $25-$35 each month.
3. Loot Anime
Loote Anime by Lootcrate
was started back in 2013, and was one of the first boxes to offer anime gear.  Each crate offers high-quality collectibles and gear worth about $60 retail. On top of this, each crate contains 4-6 items from the best anime and manga series, apparel, figurines, and more.  The company even lets you skip a crate if you don't like the theme. The collectibles are some of the most exclusive and well-crafted on the market and include figurines, t-shirts, home goods, and more. You can cancel your subscription at any time, or you can pause it and start up again at a later date. You can buy a one-month subscription for $28.95 each month, plus shipping and handling, or you can also choose a 3-month or 6-month plan.
Manga Spice Cafe
is a popular anime subscription box that includes wonderfully delicious Asian snacks, sodas, and teas. Each box comes with a cool information sheet that describes the manga, artists, and cafe items. In this way, you can learn about the manga artist that you are supporting.  You can also discover which anime your manga is based on. They have several genres of manga including romance, comedy, fighting and action, adventure and fantasy, horror, mystery, mecha, and science fiction. I really like the added touch of having a
blog
that accompanies their boxes.  You can also read more information on their
FAQ page
regarding their boxes. Typically, their subscription boxes run about $36/month, but sometimes you can catch the boxes on sale.
Gotta Catch 'Em All Monthly
is a wonderful subscription box that makes it easy for you to build your Pokemon collection.  Every month you will get a box delivered to your doorstep that contains Pokemon stuffed animals, trainer gym badges, trading cards, and Pokemon collectibles and toys. Packages are usually shipped between the 10th and the 13th, and will run about $18.99/month.  Although, if you aren't sure if you want to fully commit, you can order a trial box for $24.99. Unfortunately, as I write this review, this subscription box is sold out.  Check back soon.
6. Bento Wax Co.
Bento Wax Co. was started in 2016 by a woman named Courtney Roth, and makes a monthly box subscription of kawaii themed home fragrance goods in the shape of sushi! Each box comes with $30 worth of Bento fragranced items. They are usually a combination of wax tarts and body care items that come in the following fragrances:
Bakery
Fruit/Candy
Spa/Clean
Bento Wax Co. also has a
blog
to keep you up to date with the latest.
Snack Fever
is a mystery box filled with Korean snacks and all kinds of goodies hand-picked and delivered right to your doorstep.  Snack Fever was
founded by three guys
Jo, Howard, and David, and they have a pretty cool story you can read about on their website. Snack Fever has two different versions, Original and Deluxe. The
Original
box has a price tag of $28 and includes the following:
8-10 of the trendiest Korean snacks – anything from chocolate, jellies, chips, candies, and more.
1-2 goodies – anything from cute collectibles, socks, chopsticks, and stickers.
The
Deluxe
version is $45 and includes the following:
10-13 of the trendiest, most popular, and premium Korean snacks including anything from jellies, chocolate, chips, and candies.
One ramen (cup or packet) or 1 "doshirak" (such as Tteokbokki or Bibimbap)
2+ goodies
1 K-pop swag
With
Anime Bento
you will get the newest collectibles, accessories, and snacks every month. Each month they will send you a Bento full of high-quality anime goods from your favorite titles, and the newest shows in Japan. The items are truly authentic and contain everything from t-shirts, jewelry, and figures.  The Anime Bento subscription box runs $35 each month and will surely not disappoint.
This is a fantastic
all-encompassing mystery box that brings true authentic Japanese anime to life. The box highlights many anime artists, both new and retro, and the exquisite work that they do. The mystery box is a special box because the artwork is very unique and has been hand-picked by the best anime artists in the industry. This mystery box definitely is not the norm, but it gives you a little something different to look forward to. You can read more about Rookaby Collectibles Animystery Box and then
subscribe here
for $18/month at Hellosubscription.com
10. Sanrio Crate (by Lootcrate)
Sanrio Crate by Lootcrate
is a quarterly mystery subscription celebrating everything all of the unique, kawaii Sanrio characters you love!  This crate includes exclusive collectibles, apparel, accessories, and more! Each box runs $39/month and includes the following:
A fun gift from your Sanrio friends
Exclusive collectibles and apparel
Kawaii figures, accessories, and more
Kawaii Box
is a cute subscription box filled with kawaii squishies, plushies, and more that starts at $17.90/month. The box features 8-10 hand-picked items and can include any of the following:
This box is for the lover of all things cute.  You will love this subscription box for sure!
Final Thoughts
The world of subscription boxes is endless and magical at the same time.  But if you are a Japanese Anime fan, you are going to have plenty of subscription boxes to choose from as well, it will just depend on what collectibles you are into.  But most of all, no matter what box you choose, have fun with it!