Squix Q-Box is a monthly subscription service that sends you 3 full-size cleaning products customized to your preferences and one full sized gift item of their choice. It offers large brands and smaller ones too for a nice variety of items.
It is $14.98 per box and shipping is an additional $5.95 for a total of $20.93.
How it works:
Each box is customized according to your unique needs.
They inquire about:
Household size 1-4 people
Any children under 3
Any Pets
Do you travel a lot
Do you prefer green products or a mix
Household allergies
The box arrives in a custom white box with orange "Squix" on it.
My customized box for 4 people, with kids, allergies, no pets, travel a lot, and green choices.
A quick peak of the box and I do not recognize any of the brands! That is really neat!
Better Life Grime-Busting Kitchen and Bath Scrubber, 16oz

Scrub it on tubs, tile, grout, toilet bowls, stovetops, glass cooktops, ovens, stainless steel sinks, pots, pans, porcelain, ceramic, enamel, non-polished counter-tops, stone, cultured stone, and stone with bad manners, too.
It had a light fresh smell and did a really great job of cleaning, better than soft scrub anyway! Left my tile with a nice shine and did not need to be rinsed over and over to get rid of residue.
The Good Home Company Dryer Sheets, Beach Days, 20ct
Freshen laundry in the dryer, and after it's put away, using USA-made Good Home Company Dryer Sheets. Not only do Good Home dryer sheets reduce static on clothes and linens, but the biodegradable laundry sheets also leave them freshly scented. Made in the USA
I loved the subtle smell of these, they are not perfumy or overwhelming. The fact that they are made in the USA is fantastic!
E-cloth Washing Up Pad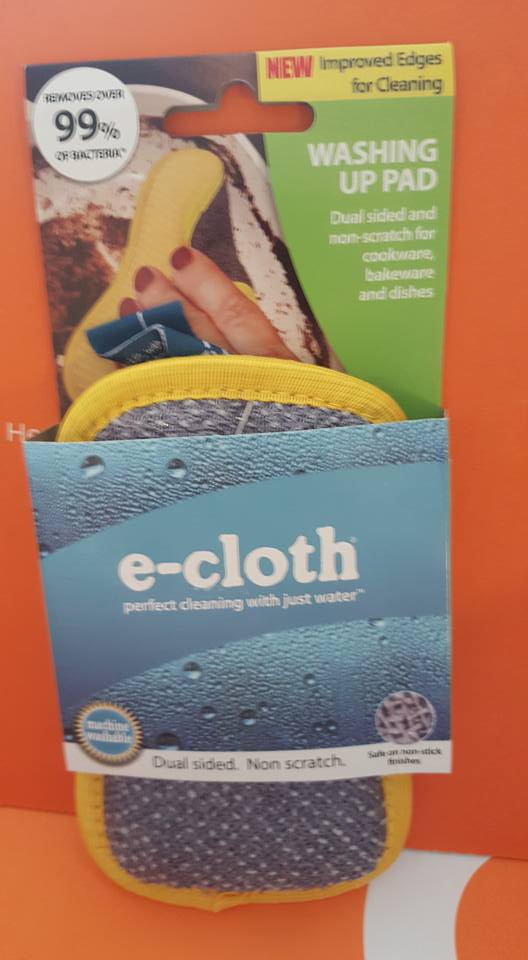 Scrubbing side made from polyester threads surrounded in tough non-scratching nylon and then made into e-cloth's scrubbing fabric. Can be used on non-stick surfaces without scratching or damaging the surfaces. e-cloth fiber side is made from the highest quality cleaning microfiber fabric available in the world. Sponge material between fabrics.
Guaranteed for 300 washes without losing performance (I love the guarantee, that is awesome! my little cello sponges can't compete with that!)
Purell Original Hand Sanitizer, 8oz
This one the "gift" item chosen for my box. While it is not a "green" product, I don't mind at all! Colds and stomach bugs seem to be the norm at school these days so having a gallon or two of Purell around you can never go wrong with! Purell hand sanitizer is a must-have disinfectant product to have when away from home to help keep germs at bay – especially when soap and water aren't handy.
My Final Thoughts
I like this box! It was fun to try new products for cleaning, getting smaller companies and USA made ones too were especially wonderful! Aside from the Purell, I had not heard of an of the other brands, and that was really great getting to learn about and use new items! The clean cut look of the packaging on the inside and out really emphasized the "clean" part of the box and was a great fit! Also, the value for the price was very high, the value of the items far exceeded the price I paid for the entire box. I feel this is a great way to save some money, try new products and keep your house clean!
*NOTE: We paid for this box to review.*