Divine You Crafts describes their box:
"Our mission is to inspire creative spiritual seekers to craft outside the box, making meaningful and beautiful keepsakes while gaining insights and inspirations with our blog, tips, hints, and especially our subscription box, the Monthly Conscious Crafting Kit. Each month's box features a seasonal intentional craft centered around an inspirational word, a crystal or stone, and our gift to you, a collectible Divine You card.
Our focus is on insights gained in the process of creating, rather than on the finished product, so makers of all skill levels are encouraged to subscribe and participate. Often these keepsakes become cherished because of insights gained, or because the allegedly creatively challenged person created something so meaningful, even though they doubted their own creative abilities."
$39.95 monthly, $113 if you pre-pay for 3 months (save 5%),$203 if you pre-pay for 6 months (save 15%) & $385 if you pre-pay for 12 months (save 20%)
Free Shipping in US- add $10 for Canada & $20 for all other international
Upon opening this box, I was met with some beautiful tissue paper (in some of my favorite colors) and a simple leaf sticker.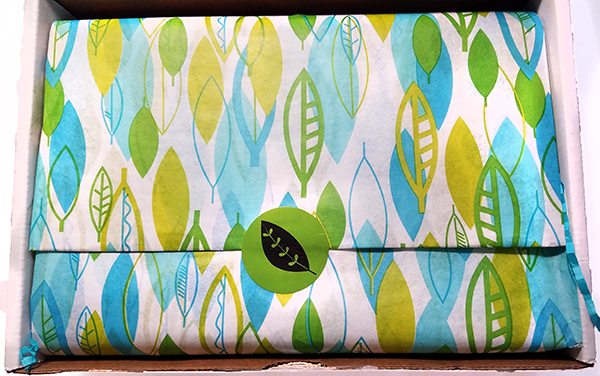 The instructional insert was made up of 3 pieces of sturdy, white printer paper stapled together. Personally, I prefer instructions like this rather than an expensive booklet that I would feel guilty about losing or throwing away once I'm done with it. The Suggested Mindfulness practices card has some great ideas for before, during and after doing something creative. You are provided with two visualization audio tracks to listen to before and after your craft. They are short and simple meditations that will get you in the right frame of mind to craft intuitively and to bless your creation after.
I also found a small card with information on the stone of the month: Hematite. Now, If you know anything about me, you know I am a crystal-aholic and I hoard crystals like it's my j.o.b. I was very happy to see the focus on Hematite.
At first, I thought they only provided the card but then, loose at the bottom of the box, I finally found my stone. I wish they had put it into a small organza bag, or something similar, as I almost threw the box away with my pretty crystal in it.
I found several smooth stones in a plastic bag, perfect for crafting. I appreciate they included one dark stone so I had options for what I wanted to do.
They also included a bunch of different pens so my creativity could go crazy. There were thin Sharpies, thick Sharpies, two Yoobi metallic pens (gold & black) a white Sharpie Paint pen (a great white) and a sponge brush to use to decoupage.
Speaking of decoupage, can't do that without some Modge Podge so we also got a small bottle of that.
There were also some small pieces of tissue paper and a printout of several cool images all great for decoupage or image transfer (the link to those special instructions are in the booklet too).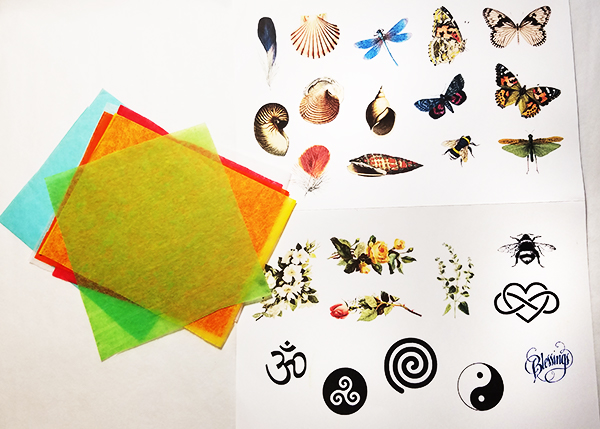 The final item was a "word of the month" card: CENTER as a reminder that we need to connect with the earth and center ourselves to stay balanced physically & spiritually. There are a total of 33 cards and you receive one in each box. So, you can build your deck one at a time or you can purchase the whole deck in their shop.
Now to show off my creations- TADA!
I used the white paint pen, both metallic pens, purple sharpie Om symbol printout and the green tissue paper with modge podge. It was a fun time and now my 11 yr old is asking if he can decorate the rest. I think we'll add them all to our little garden this summer so, I'll be popping over to the hardware store to pick up some ClearCoat soon.
All in all I'm very happy with the box and contents. The craft was not time-consuming, like some can be, and it gave me a few minutes to focus on myself and my spirituality on a crazy Saturday afternoon. I like that it is also something I can share with my son.

*NOTE: We received this box to review free of charge.*