You don't have to travel to Japan for Japanese snacks. Simply subscribe with your favorite Japanese snack delivery service and you'll get them delivered to your doorstep. These services ship snacks and candies straight from Japan.
Bokksu and Tokyo are two very popular Japanese snack subscription services. You can go with any of the two if you want to enjoy Japanese treats. However, which of the two services offers the best snacks?
That's what we'll be finding out in this article as I compare Bokksu vs Tokyo Treat.
What Is Bokksu?
Bokksu prides itself as a Japanese snack and candy subscription service. The company aims to help you discover Japan through snacks. They provide candies and snacks that represent Japanese culture, flavors, and festivals.
The Bokksu company was launched just in 2015 by Danny. Presently, they are one of – if not the – top providers of Japanese snacks worldwide. How the company operates is simple – you subscribe, they deliver, and you enjoy.
They ship and deliver Japanese snacks to customers in more than 70 countries in different parts of the world. They get their products from more than 50 local producers, some of which have been operating for over 200-years.
Bokksu is a renowned company with features from top publishers like BuzzFeed, Quartz, Bazaar, The Wall Street Journal, Mashable, and Eater. Also, the company boasts of more than 20k 5-star certified reviews.
What Is Tokyo Treat?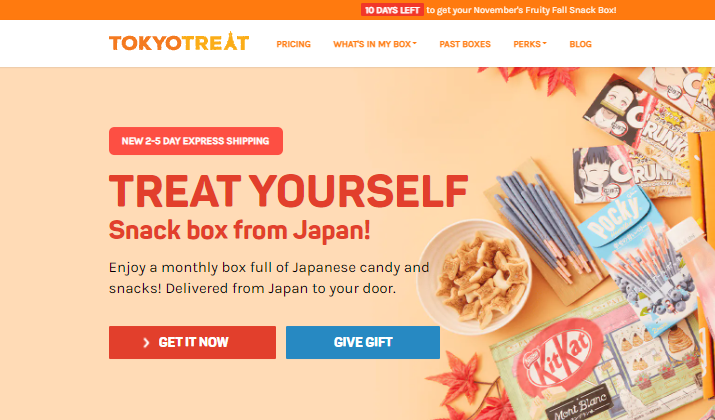 Tokyo Treat will deliver a box full of tasty Japanese treats to your doorstep every month with a subscription. What's interesting about the company is that they deliver different boxes per month.
The company aims to share the love for Japanese snacks and soda all over the world. Hence, Tokyo Treat delivers snacks to customers anywhere. Their treats are unique because they're a hand-picked collection.
It'll be hard, and almost impossible, to find them anywhere else. You can subscribe for treats monthly, every three months, every six months, or per annum. The TokyoTreat service has 4.3 stars from over 11k certified reviews.
How To Order
Bokksu
First of all, you have to select your subscription plan. There are four plans available; monthly plan, three-month plan, six-month plan, and 12-month plan. You get the most discount with the highest plans.
Place your order, make payment and you're done. Bokksu will deliver the treat box to the address in your account. As a new customer, Bokksu will first send you the Seasons of Japan box.
For subsequent months, you'll receive unique boxes with fun cultural themes. Bokksu doesn't allow customers to purchase past boxes due to limited inventory. However, you can access some classic boxes.
You can purchase these classic boxes, for a one-time purchase, without subscribing.
Tokyo Treat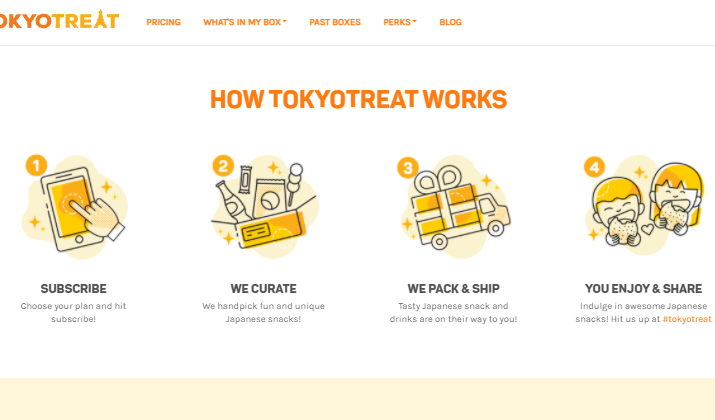 Tokyo Treat only supports recurring subscriptions. You have to create an account to subscribe. After that, you provide your shipping address in your account settings.
You can then proceed to pay for your preferred subscription plan. Tokyo Treat allows you to make payments with all major credit cards or via PayPal. Some prepaid gift cards and debit cards are also supported.
You can't directly purchase one box without subscribing. You can pay for just one month and cancel your subscription after delivery.
Tokyo Treat doesn't support purchasing past boxes. However, you can view the content of each past box for different plans. This can give you an idea of what to expect in the next box.
Verdict
Both Bokksu and Tokyo Treat have similar order procedures.
Variety
Bokksu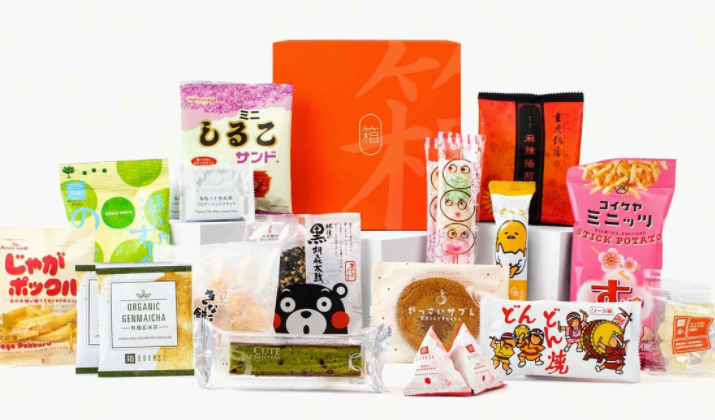 Each Bokksu Japanese snack box contains 20 to 24 Japanese snacks including candies and tea. You get a variety of treats since each month comes with different content.
All of these snacks are traditionally Japanese and most of them are exclusively crafted for Bokksu. Furthermore, there's a snack for everyone including vegetarians and people with allergies.
Bokksu snacks are gourmet, perishable, and artisanal. Hence, most of them have short shelf lives.
Tokyo Treat
Tokyo Treat offers a variety of snacks. However, each delivery box is a surprise so you won't know exactly what you're getting. However, you'll get 12 to 17 full-sized Japanese snacks.
This includes chocolates, salty chips, gummy candy, DIY candy kits, and Dagashi. Notably, it's difficult to get Tokyo Treat snacks anywhere outside Japan.
From one of Tokyo Treat's past boxes, the snacks included KitKat Mango, Shimi Choco Stick, Umaibō, Pocky Coconut, Mike Popcorn Japanese 7 Spice Blend, and Sankaku Vegetable Crackers.
It also included Porikey Corn Potage, Bananaman, Sour Soda Gummy, Mashrō, Cocoa Bolo, Aji Cheese, Cabbage Taro. If you're a premium subscriber, you'll get a mystery premium candy pack.
Verdict
Both Tokyo Treat and Bokksu feature a variety of Japanese snacks. However, Bokksu boxes come with more snacks.
Type of Boxes
Bokksu
As earlier stated, you get a different type of box each month with Bokksu. The boxes reflect different themes hence they have various designs.
Notably, the box you get depends on the Japanese season. For example, you should expect a Kansai Autumn, Moon festival, or Summer Matsuri box during their respective seasons.
Furthermore, you can expect a new year themed box in January, a Valentine's or love-themed box in February, a winter-themed box in December, and so on.
Notably, Bokksu offers gift boxes. The gift boxes and standard subscription boxes contain the same snacks and candies. The difference is the billing. For gift box purchases, subscriptions do not recur.
Tokyo Treat
The type of box you get from Tokyo Treat depends on the month and your subscription plan. High-cost plans include more snacks, so they come in bigger boxes.
The month, however, determines the theme of the box. For example, Tokyo Treat was launched in May 2015 hence you can expect a "happy birthday" themed box every May.
Furthermore, you can expect a Halloween-themed box every October and a summer-themed box every June or July. With Tokyo Treat gift boxes, you can opt for one-time subscriptions that do not renew.
However, you only have options for three-month, six-month, and 12-month subscriptions. The content in the gift box is not much different from normal subscription boxes.
Verdict
In comparison, Bokksu boxes are more fun and cultural than Tokyo Treat boxes.
Quality
Bokksu
As mentioned earlier, you get 20 to 24 Japanese snacks with Bokksu. Most customers attest that Bokksu boxes contain higher quality and authentic snacks.
Bokksu snacks have unique flavors and are a mix of sweet and savory. This isn't surprising since Bokksu sources their snacks and candies from local makers with hundreds of years of experience.
There are more gourmet-level snacks like the langue de chat cookies, moist cake sticks, and yuzu rice crackers. There's a snack for everyone so it's not only about the sweet taste.
Nevertheless, there are still some "junk" treats like corn puffs and gummies.
Tokyo Treat
According to a Japanese consumer report, Tokyo Treats are more suitable for a younger audience. This is because the box contains mainly sugary and candy-centered snacks and treats such as the Think Kit Kats, Pikachu cookies, and curry crackers.
You can also tell the service targets younger audiences with the anime characters usually featured in the delivery boxes.
Nevertheless, it all depends on your taste and Tokyo Treat snacks are very delicious. An advantage of Tokyo Treat snacks is that they are not easily perishable. Furthermore, Tokyo Treat snacks are low-cost.
Verdict
In addition to having more quality, customers confirm that Bokksu has more quality snacks than Tokyo Treat.
Shipping
Bokksu
Bokksu ships to over 70 countries. The average shipping time is one to three weeks; it depends on the destination of the customer. For some customers, it could take up to four weeks.
You get free shipping with a Classic Bokksu subscription. This excludes customers from Australia, Cambodia, Canada, Kazakhstan, Israel, UAE, Saudi Arabia, Bahrain.
For these countries, you'll pay shipping per box. Bokksu uses DHL services so they set the shipping price. If you're on the Bokksu tasting subscription plan, you'll pay an extra $4.95 per shipment.
You'll get a shipping notification and tracking number once your package is in transit.
Tokyo Treat
Tokyo Treat makes use of four shipping channels. This includes DHL shipping, Express Shipping, JapanPost Priority Shipping, and Surface Mail.
DHL shipping takes 3 to 5 days, Express shipping takes 5 to 10 days, JapanPost Priority Shipping takes 14 to 28 days, and Surface Mail takes 60 to 90 days.
However, it takes Tokyo Treat about three days to arrange and package your box for shipping. Hence, DHL Shipping, for instance, can take about eight days in total.
You can track your shipping if you use DHL Shipping or JapanPost Priority Shipping. The tracking information will be sent to you via mail.
Verdict
Tokyo Treat offers faster shipping than Bokksu and more shipping methods.
Rewards
Bokksu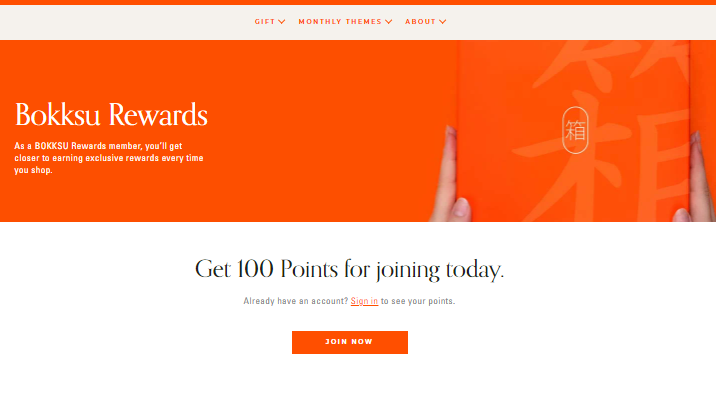 Bokksu rewards loyal customers with points. You can use the points to get discounts when paying for subscriptions. When you create a Bokksu account, you get 100 points.
You earn 150 points by posting about Bokksu on Instagram, 50 points for writing a review, 250 points on your birthday, and 100 points for a one-month streak.
In addition, you get 400 points for a three-month streak, 800 points for a six-month streak, 1400 points for a 12-month streak, 50 points for a Facebook follow, 50 points for Instagram posts, and 100 points for subscribing to the Bokksu mailing list.
500 points gives you $5 off, 1000 points gives you $10 off, 2500 points gives you $25, and so on. Also, you can purchase some special items with those points.
Tokyo Treat
You get rewards from Tokyo Treat for your streaks. The longer you stay subscribed, the more streak points you get. The risk is that you lose all unused points once you cancel your subscription.
When you receive your snack box, you'll get a unique code on the label if you're on a streak. Then, you have to enter the streak code on the Tokyo Treat website to redeem your points.
You can use your streak reward points to shop on JapanHaul. On JapanHaul, you can purchase more Japanese snacks, candy, plushies, makeup, and more.
Verdict
You have more opportunities of winning rewards with Bokksu than with Tokyo Treat.
Guidebooks
Bokksu
Bokksu includes a well-detailed snack guide with all box deliveries. This is a 16+ page culture guide magazine. It explains everything about the snacks and the box's theme.
Each snack gets a dedicated page with unique designs. You get to know about the snacks' origin, flavors, and common allergens. This information will help you know which snacks are good for your health and which aren't.
Notably, the guide also includes a Japanese map marking all the places where each snack comes from. Hence, you can easily confirm that what you get is 100-percent cultural.
Tokyo Treat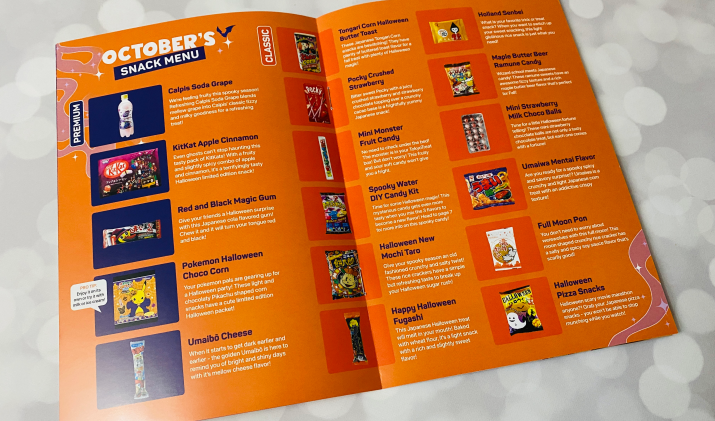 You get a snack guide with each Tokyo Treat delivery. However, it's not very in-depth. The snack guide mainly features basic details of all the snacks in the box. There are about 5 to 10 snacks on each page.
You won't know which snacks contain allergens or which are vegetarian-friendly. To get these details, you'll have to conduct research on your own about each snack.
Verdict
The Bokksu snack guide contains more valuable information than the Tokyo Treat snack guide.
Customer Service
Bokksu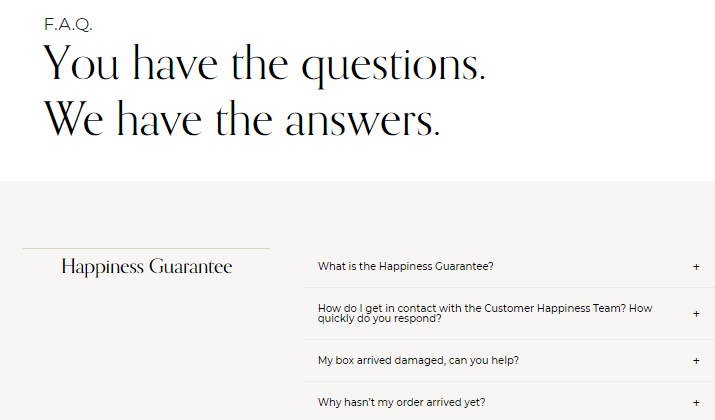 Bokksu provides a detailed help center and FAQ page where you can find answers and solutions to questions you may have.
You'll find answers to questions about Bokksu, Bokksu boxes, subscriptions, shipping, tracking, billing, gift cards, and rogue package protection. In addition, there's a blog where you can get updates.
You can reach the customer service team by submitting a contact form. They'll reply to you within 48 hours. Furthermore, you can subscribe to Bokksu's mailing list or connect with them on social media.
You can reach them on Twitter, Facebook, Instagram, and YouTube.
Tokyo Treat
You can make use of the Tokyo Treat help center to get information about the company's services. There's also the FAQ that addresses common questions you may have.
There are answers on shipping, payment, billing, and general questions. You can get help and insights from other Tokyo Treat customers from the online community.
If you want to contact the support team directly, you can make use of the contact form. Notably, there's a provision to attach files if there are any.
Finally, you can subscribe to the mailing list to get inside information or you can follow Tokyo Treat on Facebook, Twitter, and Instagram.
Verdict
Both companies offer reliable support but you get more support from Tokyo Treat than with Bokksu.
Pricing Plan
Below are Bokksu subscription pricing plans:
Monthly Plan: $49.95 per month
3-Month Plan: $44.95 per month (charged at $134.85)
6-Month Plan: $42.95 per month (charged at $257.70)
12-Month Plan: $39.95 per month (charged at $479.40)
Below are Tokyo Treat subscription pricing plans:
Monthly Plan: $35 per month
3-Month Plan: $33.50 per month (charged at $100.50)
6-Month Plan: $32 per month (charged at $192)
12-Month Plan: $31.5 per month (charged at $378)
Verdict
Tokyo Treat pricing is way cheaper than Bokksu. However, it's because Bokksu contains more snacks and candies; in fact, they are of relatively higher quality.
Also, the price discounts as the months increase are higher with Bokksu than with Tokyo Treat.
Pros And Cons
Bokksu Pros
Informative guides on Japanese history and snacks
Available referral discount
Exceptional customer support and resources
Bokksu Cons
Expensive pricing
Customers cannot customize their box
International shipping delays
Tokyo Treat Pros
Boxes comprise Japanese chocolates, drinks, candies, and snacks
Daily promotions
Helpful guidebook
Support for international shipping
Tokyo Treat Cons
Customers are required to purchase a subscription
Products are non-refundable
Tokyo Treat vs Bokksu – Similarities And Differences
Similarities
Bokksu and Tokyo Treat provide quality snack products
They both offer reliable customer service
They both have a similar ordering process
With either Tokyo Treat or Bokksu, you can get tasty Japanese snacks
They both support international shipping
They both provide you with opportunities for winning rewards
Differences
Unlike Tokyo Treat, Bokksu boxes come with more snacks
Bokksu boxes have richer Japanese culture than Tokyo Treat boxes
Apart from having more shipping methods, Tokyo Treat offers faster shipping
The Bokksu snack guide has more valuable information than the Tokyo Treat snack guide
Bokksu vs Tokyo Treat – Which Is Better?
In conclusion, both Tokyo Treat and Bokksu represent Japanese culture with their boxes. They are both ideal options if you wish to enjoy real Japanese snacks and candies.
However, from the above comparison, Bokksu takes the upper hand. Bokksu contains more snacks and candies than Tokyo Treat. More importantly, their snacks are for everyone.
Furthermore, you can count on the Bokksu snack guide to be sure what you're consuming is good for your health; you can't rely so much on the Tokyo Treat snack guide.