Owlcrate is a monthly young adult subscription box.  They include a new young adult hardcover novel and additional author materials as well as 3 – 5 other items to correlate with the monthly theme.  The box is $29.99+shipping/taxes where applicable.
September 2016 Box Review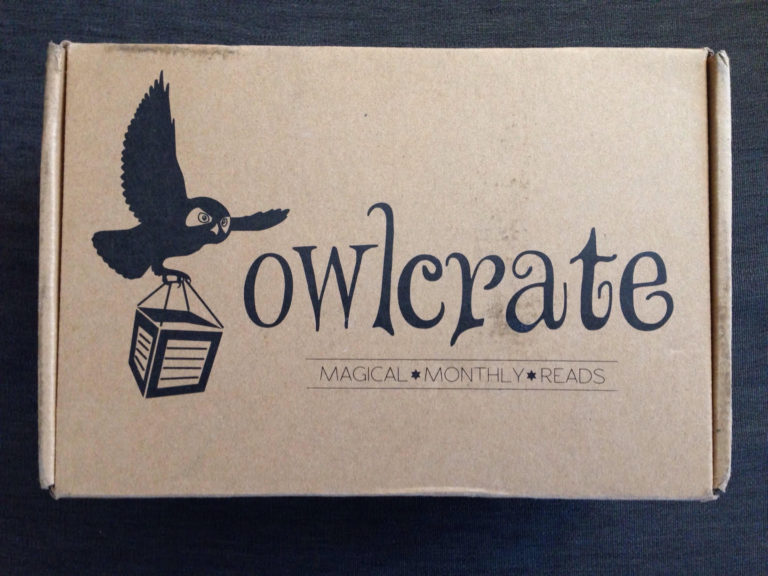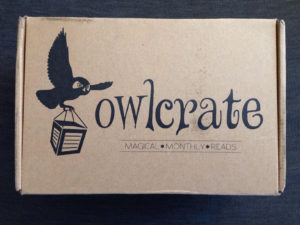 September's theme was "Darkness".  The theme was not going to correlate to horror, but a book based on a darker theme than most other young adult novels.  Most of the additional items included in the box were also based on popular books/movies that surround a darker theme.
First off, the Owlcrate box is adorable.  It is compact and presents the Owlcrate logo beautifully.  Unfortunately, most of these subscription boxes end up in the trash, but it is a nice unboxing touch.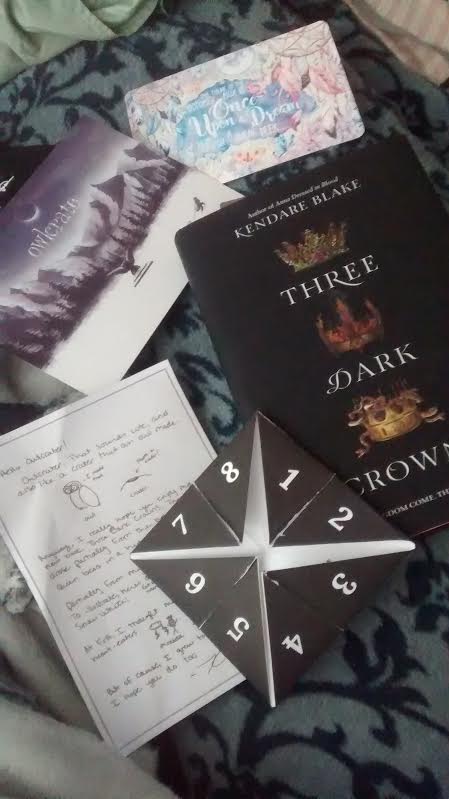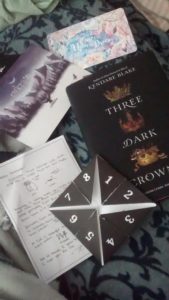 The featured book in September's box was Three Dark Crowns by Kendare Blake.  I had not heard of this book before I received this box, so I liked being able to receive a book that I most likely wouldn't have thought to pick up otherwise.  The book also came with a photocopied author letter, a "fortune teller", or cootie catcher, for us 90s kids.  The fortune teller correlates with the book and is an Owlcrate exclusive.  The card that lists the items included in the box is also in this picture, as well as a card with a sneak peek for next month.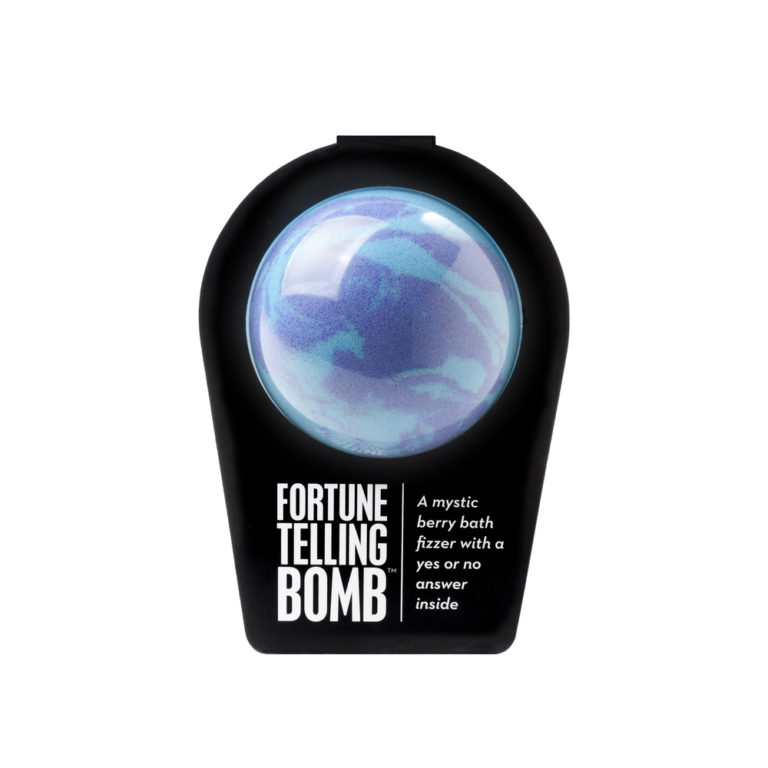 Next up was a fortune telling bath bomb by Da Bomb.  Inside of this bath bomb is a note with a yes or no answer, and the user is expected to ask a question that has been on their mind and throw the bomb in a bathtub.  Once the ball has dissolved, a small paper with the answer will appear.  I chose to not use my bath bomb in the bath, but as a steamer in the shower.  The smell was clean and fresh, and the answer I received was just the answer I was looking for!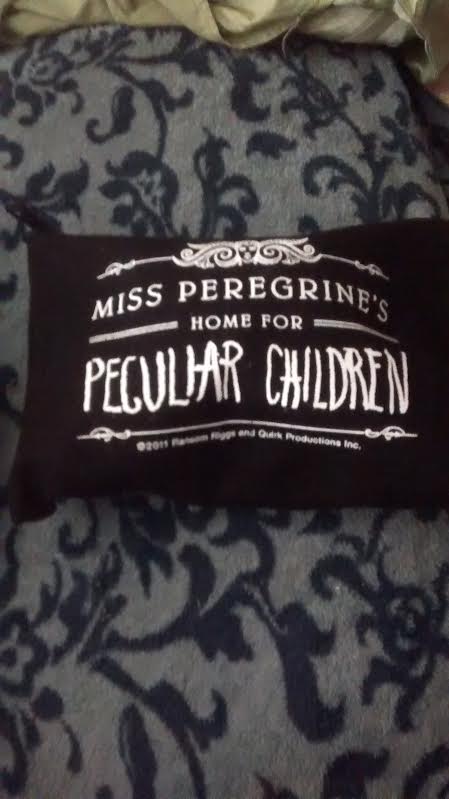 The next item was the featured item in September's box.  Owlcrate announced that they were going to send an item themed on "Miss Peregrine's Home for Peculiar Children" and that they would be using the company "Out of Print" again in this box.  In last year's October Owlcrate they sent a pouch from Out of Print with Edgar Allen Poe on it, and this pouch is the same style, but with a quote from "Miss Peregrine's Home for Peculiar Children".  I am not fond of this book, but the pouch is functional and well made.  It just wasn't for me.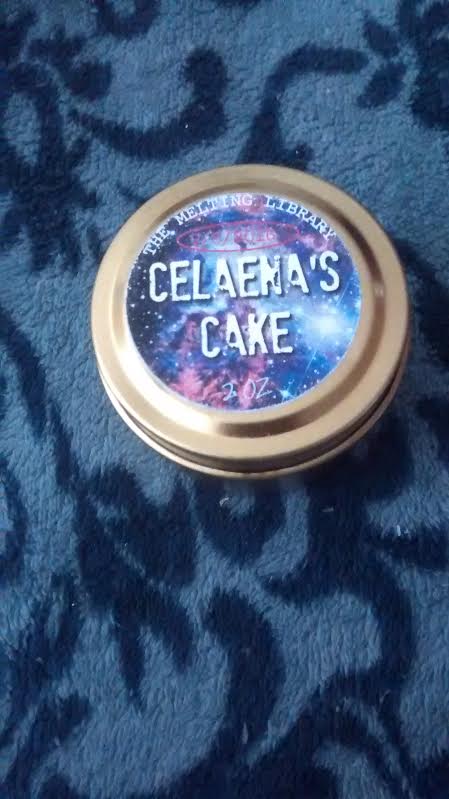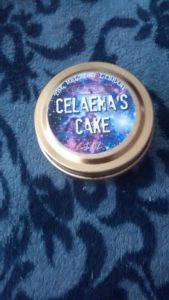 Owlcrate also chose to use another vendor that they have used before.  This vendor was "The Melting Library", and they sent a candle called "Celaena's Cake" which does smell like cake.  It is based on the book "Throne of Glass".  It is a small, 3 oz candle and made out of soy wax.  I find that soy wax seems to mug up the air in my room when I use these types of candles, but the smell is nice and it is so small that it doesn't pollute the air.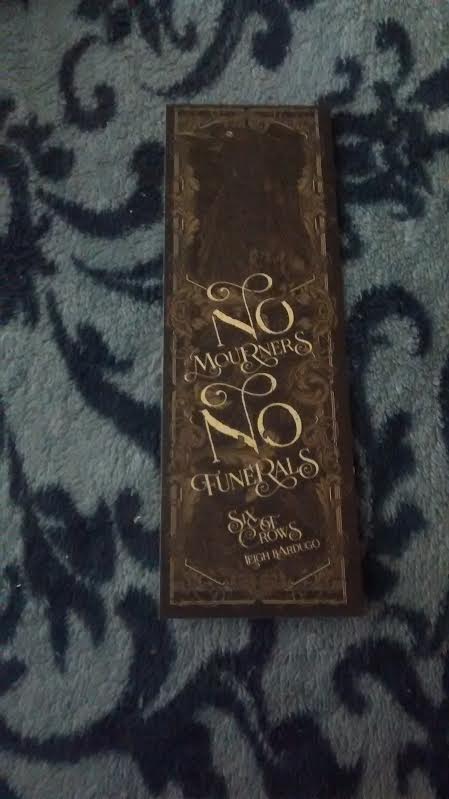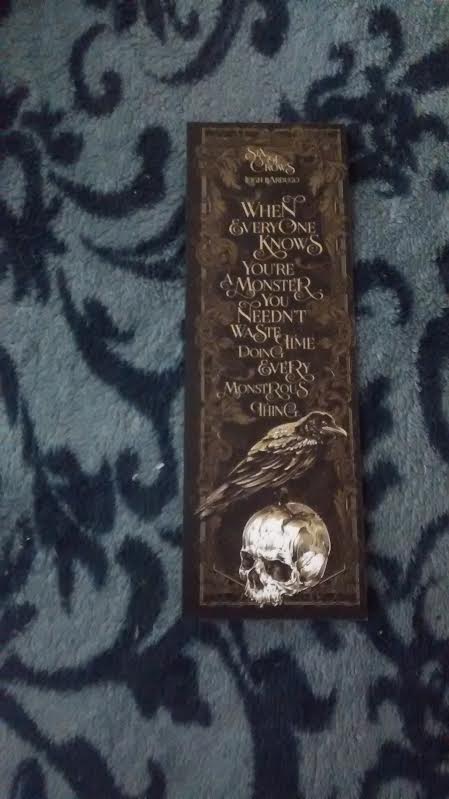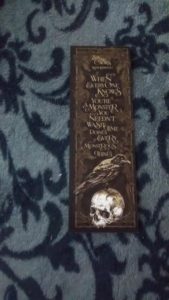 The last item included was a paper bookmark designed by Evie Bookish, an artist that they use frequently.  The bookmark is cute, but a bit flimsy, and something I would expect to pick up for free at a bookstore as a promotional piece.  However, it is functional and will be used.
Overall, this box wasn't my favorite from Owlcrate.  It seemed a bit lacking, but the curation was on point with the theme.  My only problem is that they send items from books/movies that not everyone has read or seen and that can make some of the items confusing for others.  However, if you are looking for a good young adult box that incorporates items from all recent young adult novels, then this is the box for you.  They generally use smaller businesses for the items in their boxes, and that is a plus.
Order Owlcrate: https://owlcrate.com/
Save