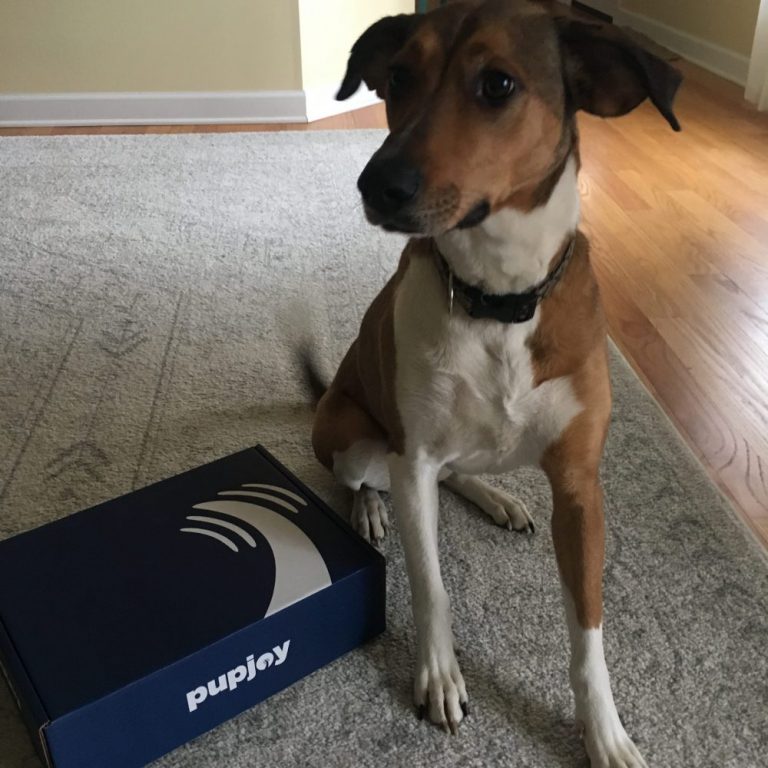 Pupjoy is a subscription box for dogs which ships to subscribers in the US and Canada. Each box ranges in price from $22-$44, depending on the selected options of box size, treat preference, and number of boxes. (Also see pupjoy vs barkbox)
For example, the box I ordered was the Grande Treats and Toys box with all-natural treats, durable toys, for large dogs (50-100 pounds), delivered monthly, and the total was $39.00. Discounts are applied when you prepay for 3 months ($36.00 each/8% discount), 6 months ($33.00 each/15% discount) or 12 months ($30.00 each/23% discount). Shipping is included in the monthly charge for US subscribers. Canadian subscribers pay an additional $5.
A unique offer for Pupjoy subscribers is the Pup Points Loyalty Rewards program, which pays customers cash back on every purchase and renewal, as well as $20 referral rewards.
Each box is customized based on your dog's size and toy preferences (soft toys, chew toys, or a mix of the two). I ordered the Grande Treats and Toys box for large dogs with the option for chew toys for my dog Shelby, because anything less than super-durable does not survive in our house.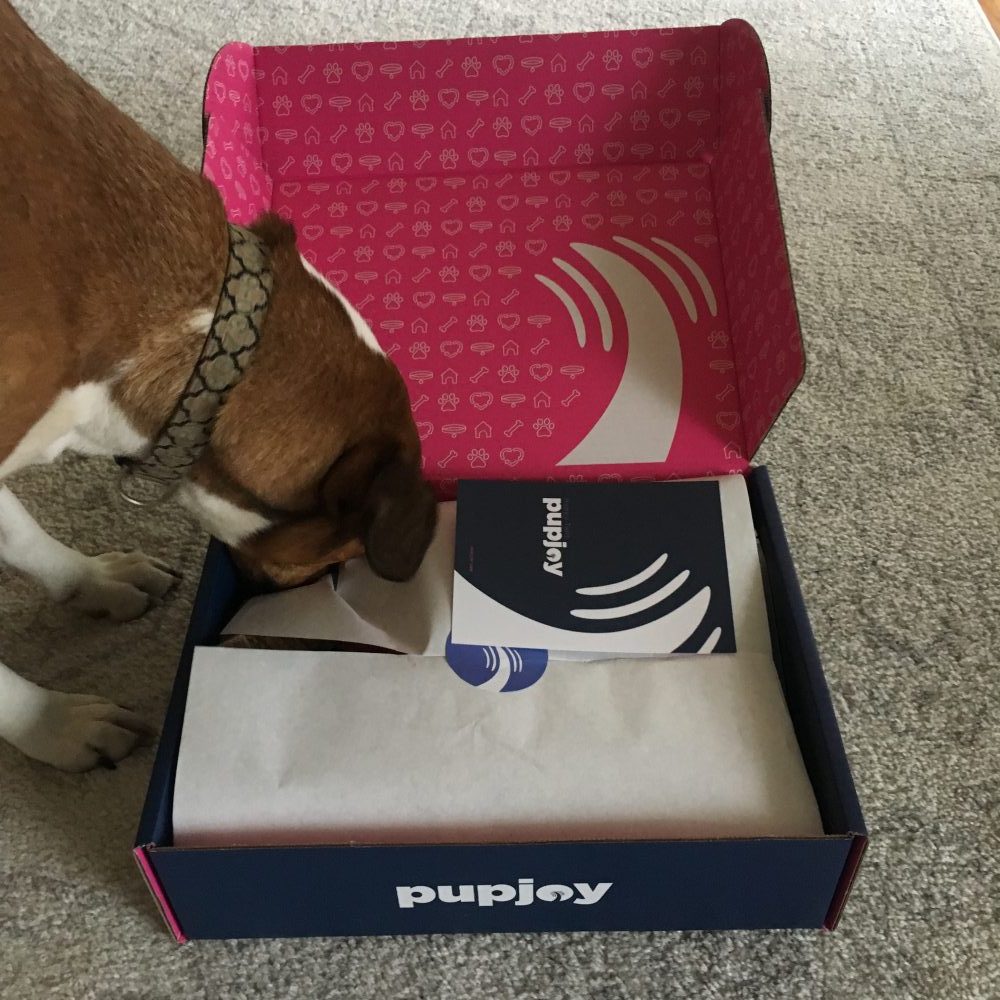 This month's box contained four all-natural treats and two toys that Shelby couldn't wait to play with.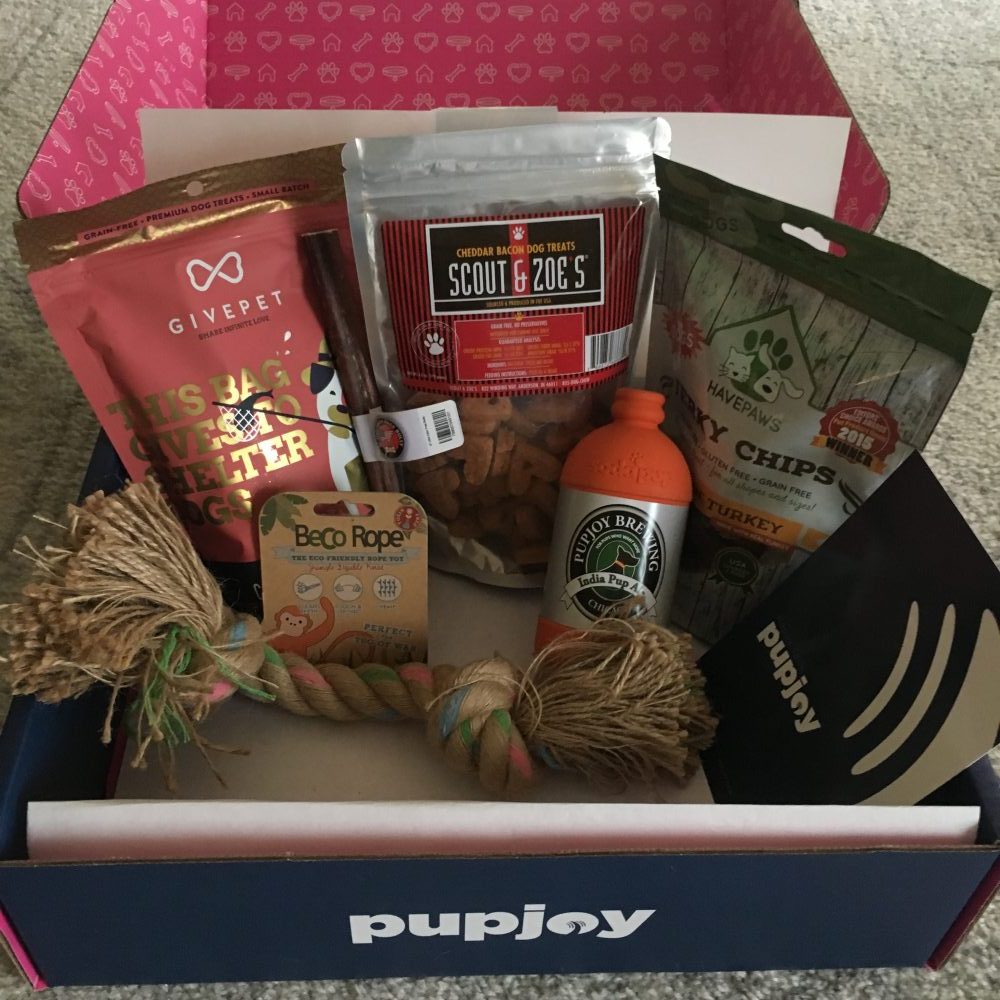 Pupjoy offers treat options of organic, grain and protein sensitive needs (corn/soy/wheat-free and beef/chicken/dairy-free), so dogs with allergies or medical conditions need not miss out. Shelby took off with the Bully Stick before we could even take a photo!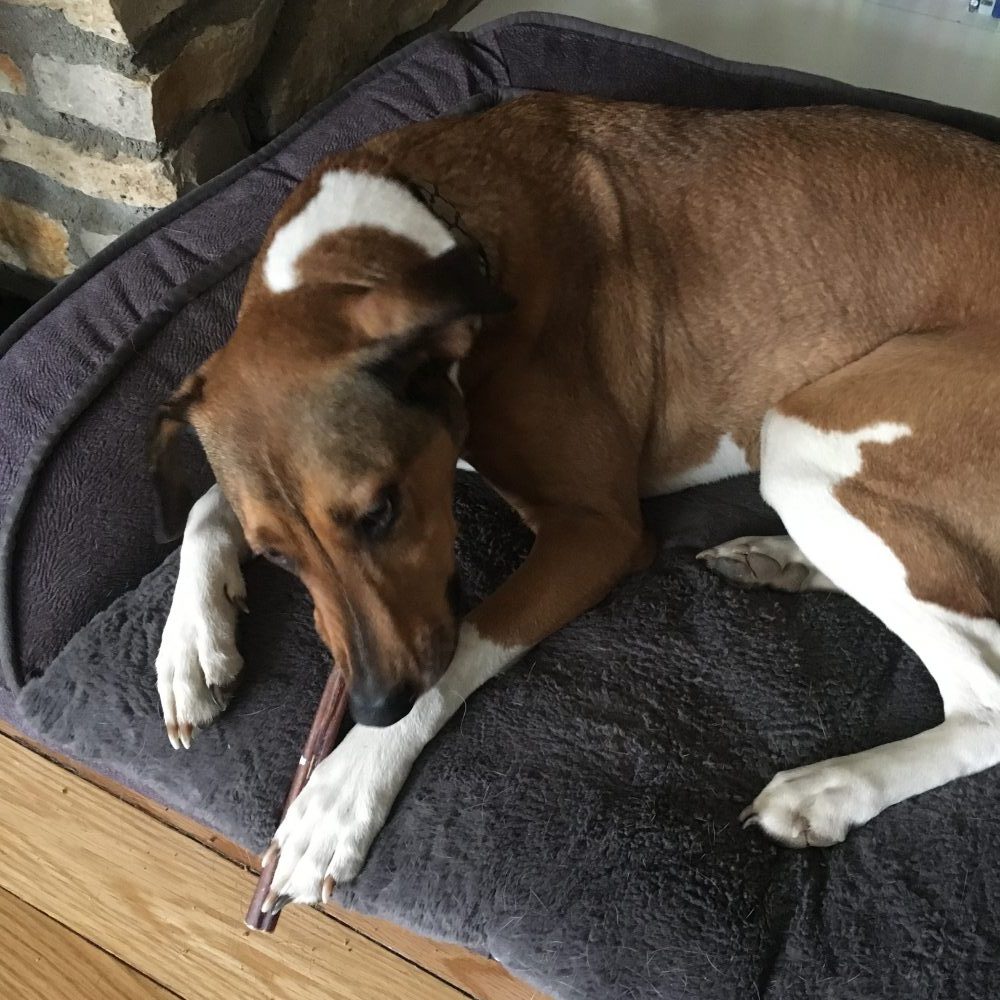 The other three goodies included GivePet Campfire Feast Dog Treats, Scout & Zoe's Cheddar Bacon Dog Treats, and HavePaws Talkin' Turkey Jerkey Chips. All three are very high quality, all-natural and small batch artisan treats. I especially liked the GivePet brand – their business model is to support 10 shelter dogs for every bag of treats purchased. You can give to your dog while giving back to those awaiting adoption. It's a win-win, and a thoughtful selection by Pupjoy for their box.
Pupjoy only selects full-sized, clearly-labeled treats made in the US for their monthly boxes. The company also gives back through their relationship with the Bissell Pet Foundation, so you can feel good about your purchase.
The toys included a Soda Pup Beer Bottle Treat Dispenser and a Beco Rope Eco-Friendly Dog Toy. Treat dispensers are great for providing distractions for dogs with separation anxiety, or for dogs that do better with slow feeding methods. This one is also a very durable chew toy made from non-toxic rubber that kept Shelby entertained for a good while. She chewed on it a little, but there was no evidence of chewing, so this toys is going to last.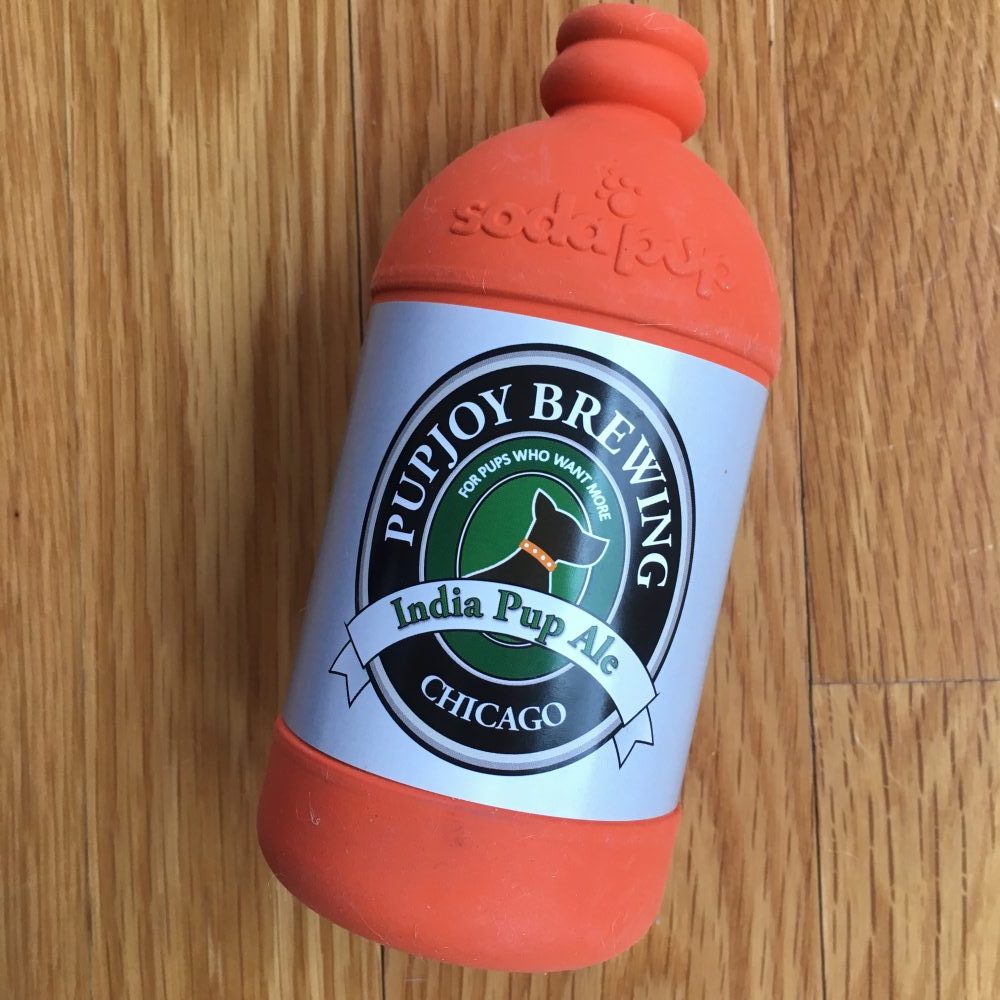 The rope toy from Beco Rope is extra strong and made with short fibered hemp, which is naturally antibacterial, fights odors and can be machine washed and dried. All of the toys Pupjoy selects are chemical and additive-free.

My dog and I loved the products selected for this box, the options provided to subscribers, and the socially-conscious nature of the company. It allowed me to scratch buying dog treats off my to-do list, and brought my dog new toys that she needed, but I kept forgetting to buy. And knowing that I can skip renewals, and edit or cancel my subscription at any time takes all of the risk out of it. The surprises are the best part of subscription boxes, and I was pleased with all of the items in this month's Pupjoy box. And Shelby was too.
Use code HIGH5 to save $5.
*NOTE: We received this box to review for free.*