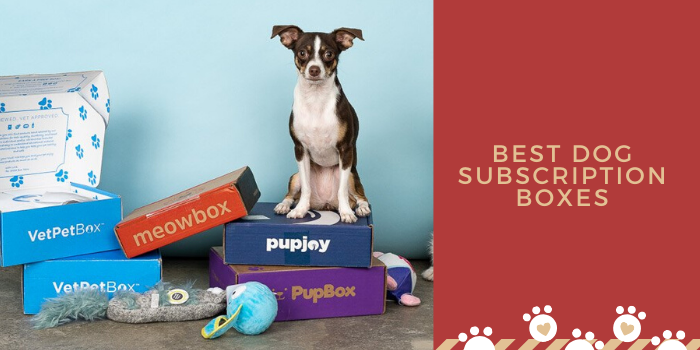 Subscription boxes are really useful today, whether they're for snacks, fashion, books, makeup, and wellness stuff, but there are great ones for pets too – including dogs.
There are a variety of dog subscription boxes, each with different items like tasty and healthy treats for your pooch, a plethora of toys, grooming items, and doggy accessories.
What you need to consider when looking for the right one for your dog, even though all look similar, are factors such as dog size, type of treats/toys/accessories, customization options, and the manufacturer.
Here are ten of the best dog subscription boxes that your pup is guaranteed to love each month and their unique benefits.
BarkBox is designed to ensure you and your pup enjoy a fulfilling and fun time together with a themed collection of 4-5 innovative toys, treats, and chews that you won't find in any other box.
Sometimes they throw in some hygiene products or gadgets as a bonus to you and your pooch, and they don't repeat items – so there's always something new.
The dog snacks are wheat, soy and/or corn free, all made with your pup in mind, and if your dog doesn't like or enjoy something in the box, BarkBox will replace it at no cost.
Special doggy boxes that are allergy friendly are available if your pup is allergic to beef, turkey, or chicken.
To get started, select your dog size, then wait for great canine items delivered to your doorstep monthly.
All boxes are the same price regardless of size, but what changes is the price per month. If you go for a monthly subscription, you'll pay $29, but if you prefer a 6 months or 12 months subscription, the prices are lower at $25 and $21 respectively.
This dog subscription box is customizable such that you can decide on the items, type of treats, toys, dog size and how many items you want in the box.
The box comes in different plans from 1, 3, 6 and/or 12 boxes, with deliveries scheduled either monthly, bi-monthly or on a quarterly basis.
It is personalized and curates treats that are organic, grain-free and all-natural for your dog, plus a great selection of well-crafted toys made in the USA, so they allow for options such as grain and protein allergens if your dog needs hypoallergenic treats.
Simply fill out your pet profile and preferences, then build your box from $29 for 1 month, $28 for 3 months with renewal, $27 for 6 months with renewal, and $26 for 12 months.
Good Dog In a Box is a special box that helps strengthen the bond between you and your dog, by providing valuable tools for training your dog, besides toys and treats.
With each box comes dog training gear, treat pouch, halti harness, dog training exercises, lessons and games for everyone to enjoy together with their dog.
Pooch Perks delivers a bundle of 4-5 doggy delights which you can select based on specific criteria while customizing the dog box, whether your dog is small or big.
Inside the box are 3 durable toys for rough and tough chewers, customization for 3 dog treats and chicken stix, plus they cater to dogs with hypoallergenic food needs.
Each box comes with a specific theme every month, like a dessert party, and an extra goodie.
You can choose from different subscription options from monthly, quarterly, bi-annually or annually, with prices ranging from $11.95, $19.99, and $27.95 for the sample, custom and popular pooch boxes respectively.
This award-winning dog subscription box is for the pampered pup which loves to be spoiled.
Each box has two full-sized, organic and grain-free treats (customizable to your dog's allergy needs), two trendy toys, a boutique doggy accessory like fun bow ties and bandanas, and a chew.
The toys are durable and if you have a heavy chewer, you're allowed to customize it to suit your pooch.
Subscription starts from $30 for 1 month, to $78 for 3 months, $144 for 6 months, and $264 for 12 months.
If you want an easy and new way to have your dog grooming items delivered to your doorstep every month, then GroomBox is your best bet.
It may be pricey, but comes laden with items from shampoos, colognes, brushes, blades, combs, bows, neckties, shears and bandanas, all in one box, starting from $49.99 monthly, or less if you choose a term plan.
Each month you also get 3-10 unique items so nothing is repeated, all customized to your liking, and that's a guarantee from GroomBox.
This dog subscription box differentiates itself from the rest based on where it is made available because, unlike the others that are found in USA and Canada, this one is only available in the United Kingdom.
Each box comes with a curated selection of natural treats, hygiene items, and fun toys for your pooch, depending on the size of your dog and how rugged or playful the dog is by nature.
Prices are based on the size of your dog, so for a small dog, it ranges from £19.99 – £107.94, medium or large dog from £19.99 – £107.94, and rugged dogs from £19.99 – £107.94.
Naked Dog Box contains healthy, all-natural and high quality food for your dog that delivers optimum nutrition for your pooch.
It is more of a meal delivery service that offers dog food that's grain/soy/gluten and potato-free, with low sugar.
To subscribe, pick the poundage of food you'd like delivered monthly, from $2-$4 per pound each month, and based on how much you want to buy, Naked Dog Box delivers it in bags, plus shipping is free.
This box offers basic toys and treats for dogs of different sizes, including tiny, small, medium and large dogs.
To subscribe, you'll need to pick the size of your dog, then select the duration with which you'd like to receive your delivery, either monthly, every 3 months or yearly, with prices at $30, $28 and $26 respectively.
Each box has items appropriate for your type of dog, with a surprise item for you, the pet owner.
This box is for aggressive dogs or power chewers, so if you have one, then this is the box for you.
Inside each box is a set of 2-3 durable toys and up to 4 bags of dog treats that are 100 percent natural, but you can always customize the box to receive items based on your dog's weight and allergy preferences.
The subscription tends to be pricier because of the durability of the items used, with prices starting from $39 for a one-month subscription, and discounts with term plans like $36 for 3 months, and $34 and $31 for 6 and 12 months respectively.
Summary
Dog owners love to spoil their dogs with snacks, treats, and fun toys. If you have a pooch and you want something different each month but you're not sure where to get them, try any one of these boxes and get something that may interest you and your dog.