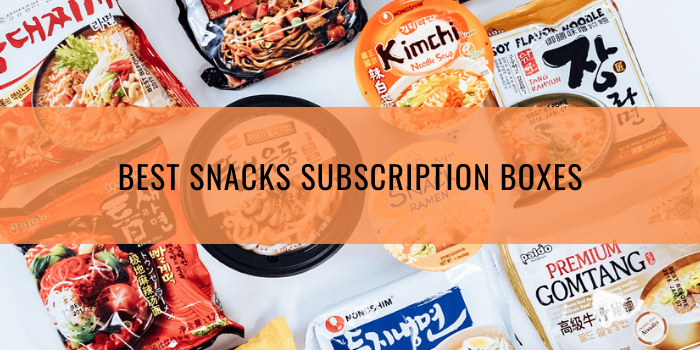 Every once in a while, during the day, a snack comes in handy – especially the hours in between the 10 o'clock tea and lunchtime.
But sometimes, finding the right snack, or the time to get out and buy one, can be a hassle, especially if you're tied down with work, or the tuck shop isn't so close.
This is why snack subscription boxes were created.
Monthly snack boxes are popular today because you not only never run out of goodies to munch on and share, but you can also gift them to friends and loved ones.
There are tons of options when it comes to snacks, which also factor in people with allergies or dietary restrictions.
If you want candy, or prefer healthy snacks, there's a box of fun treats just for you – especially if you like these special assortments delivered to your doorstep on a monthly basis.
Our list of the best snack subscription boxes considered factors such as taste, variety, value, reviews, customer service, as well as ease of preparation. Here are the top 19 best snack subscription boxes on the market.
Cost: First box half price for $6.99, and other boxes cost $13.99 each
This is a healthy snack subscription box service that allows vegan snack enthusiasts, or even those who just want to have a vegetarian and gluten free snack treat, get it conveniently.
The snacks in this box contain non-genetically modified ingredients, have no high fructose corn syrup or artificial sweeteners, flavors or coloring. They also don't have trans-fats or hydrogenated oils.
When applying for Graze snack boxes, you'll first answer a few questions based on your tastes and preferences, plus select pre-made boxes, and prices start at $6.99.
It is a reliable snack subscription box service if you want simple and healthy snacks, conveniently.
Cost: Original – from $28 – $264; Deluxe – from $45 – $432
With this snack subscription box service, you'll get a variety of cookies, candies, chocolates, gum, jelly, and other sweet snacks all from South Korea.
The box is full of international treats and comes in different sizes and payment plans, so you can pick one to start you off.
It is great if you want to try something new or from a different culture and tastes.
Cost: from $12/month
This is another snack subscription box service with international snacks from the Japanese culture.
With this box, which you can't just find in any grocery store, you get a variety of snacks and candies straight from Japan to your doorstep, and always included is a pop-drink and DIY candy kit.
The tasty treats may not have a variety of options for both vegans and vegetarians, but they're exclusive and worth every dollar.
The box comes with easy to read ingredient labels so you know what you're getting, and the snacks are one of the most affordable ways to experience Japanese culture.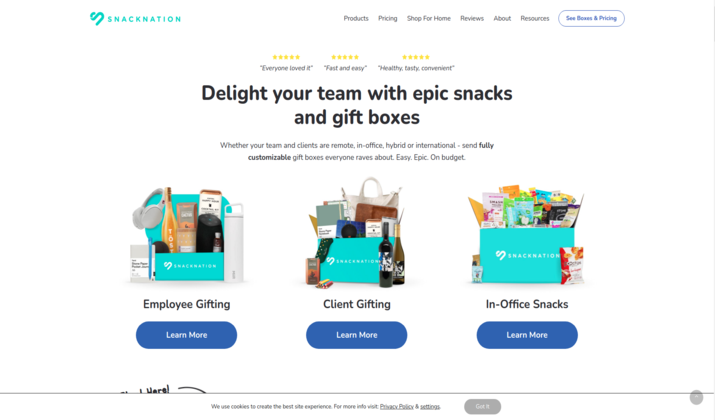 Cost: From $249 (free trial available)
This is another healthy snack subscription box service with a wide variety of assorted snacks.
The boxes come in different packs and can be subscribed to by either individuals or large groups such as offices.
SnackNation try to improve the office culture, which is where most of their emphasis lies when it comes to healthy snacking, as this in turn impacts productivity.
It is therefore a great box for the workplace, especially for those who don't want to keep snacking on junk food.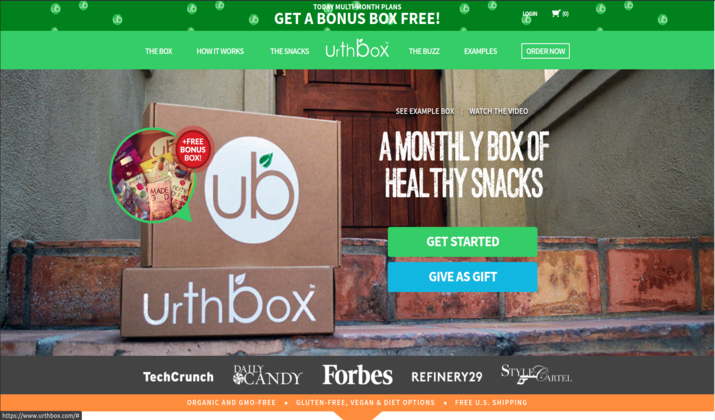 Cost: From $19.99 – $49.99
This is yet another healthy snack subscription box for vegan and gluten free lovers, or those who just want to snack healthier.
The box comes in different sizes and has a variety of snack options in each box.
Their customer service is helpful too, and can assist you to find a good selection of gluten free and vegan snacks, as well as snacks that don't have high fructose corn syrup.
If you want an affordable yet healthy way of snacking, order Urthbox and wait for it to be delivered straight to your doorstep.
Cost: Standard $13.95; Premium $25.95
This snack subscription box service takes you on a cultural trip around the world with treats from Asia, Africa, Latin America, Australia, Europe, and North America.
The box has some of the most pleasing snacks hand-picked from different countries, taking you on a culinary journey every month.
It has two options: the Standard box, which contains 5+ international snacks, so you can try a new country each month, and the Premium box with 10+ international snacks delivered monthly.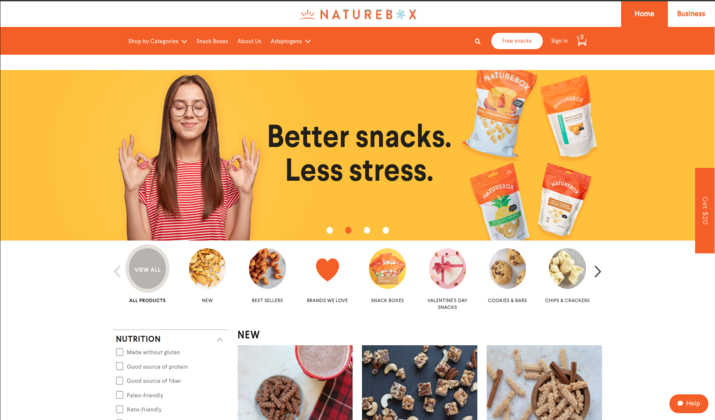 Cost: varies depending on your choice
This healthy snack subscription box service allows you to get your snacks delivered both to your home or office, for an affordable membership fee each month.
You get access to hundreds of snacks and choose any that you want as well as the quantity you like.
The box is good if you want to pick out treats individually and you control the quantity as well, so you can get the exact box you want. Plus, you can get a free trial box with this service.
The snacks are made from wholesome ingredients with no artificial colors, sweeteners, or flavors, and are minimally processed.
If you don't like a snack in the box, you can get store credit to find one that you love by contacting Naturebox directly.
Cost: From $9.95
MunchPak is another snack subscription box that delivers international treats at a reasonable price.
Whether you're at home or in the office, you can order the snacks you like or dislike and the MunchPak will be made to your liking.
If you like trying new stuff from around the world, then this is the snack box for you. Inside every MunchPak are snacks ranging from spicy, sweet, candy, chips, sour, gummy, and much more.
The packs comes in different sizes: MunchPak mini, which delivers 5+ snacks, Original MunchPak which has 10+ snacks, and the FamilyPak with 20+ snacks.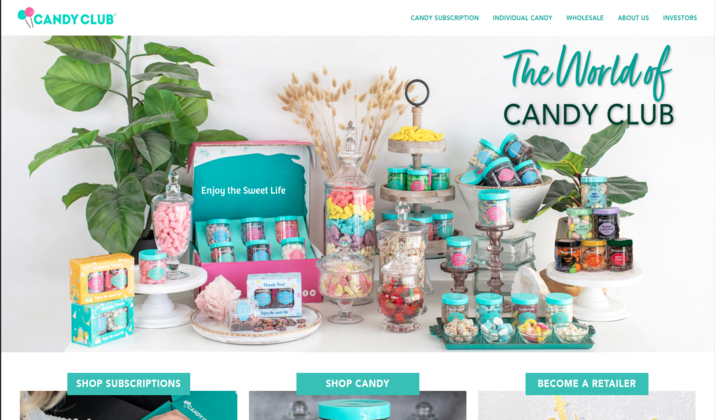 Cost: Monthly – $39.99; 6-month plan – $34.99; 12-month plan $29.99
The Candy Club snack subscription box, as its name clearly states, delivers a variety of candies and chocolates to your doorstep or office.
The service has a reliable customer service, with a simple ordering process and variety of quality treats.
If you have a sweet tooth, then this is a fun box with awesome candies to choose from.
Inside the box of sugary fun are four different candies such as gummies, sour candies, and chocolates, among others, which you can share with loved ones or friends with an insatiable sweet tooth.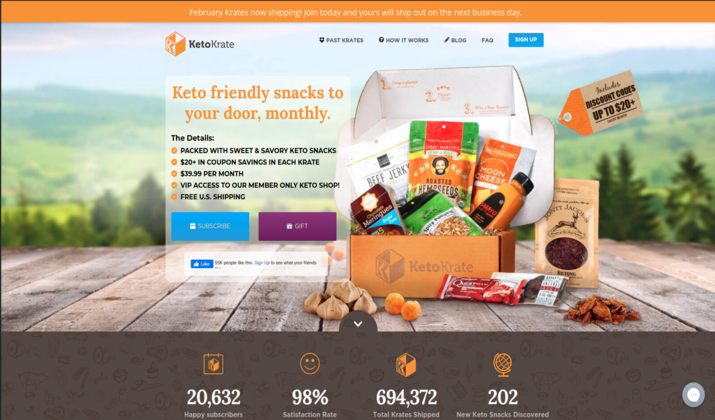 Cost: $34.95/month
This is a healthy snack subscription box that gets delivered to your doorstep every month once you make that order.
The box is based on the ketogenic diet that focuses on burning fats, not carbs, and the snacks are made in such a way that they only have five carbohydrates.
Snacks in this package are gluten free, malitotal and aspartame free, plus they are made with soy and sucralose in mind, so if you're interested in the keto diet, or are already on it, try the Keto Krate snack box.
You get 8+ Keto snacks and a $20+ worth of coupon savings per Krate, and a 100 percent money back guarantee.
Cost: Mini $12, Original $20, Premium $35
This snack subscription box comes in a variety of packages from the min box which has 5 snacks, the original box with 10-12 snacks, and premium with up to 20 snacks.
Like other snack boxes mentioned here, this one also gives a variety of international treats so you can expect global goodies when you subscribe every month.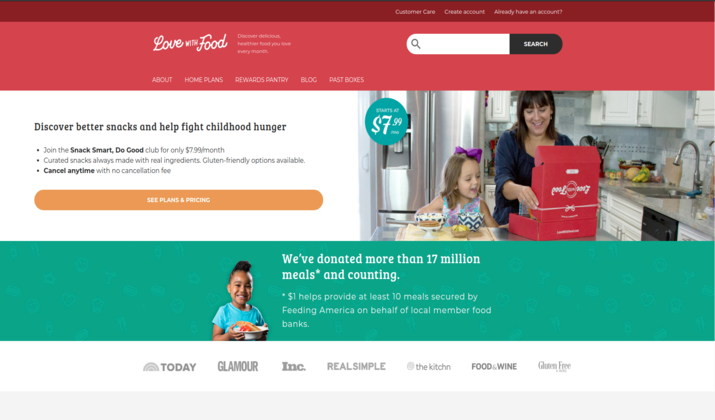 Cost: From $7.99/mo
This snack subscription box also comes in three different packs: the tasting box, deluxe box, and gluten-free box.
It is one of the favorite subscription boxes in the world for many people owing to its charitable giving program and its long term commitment to healthy snacks.
The Tasting Box delivers 8+ snacks monthly, all of which are organic, GMO-free, and gluten-free, without artificial additives, so you can expect all-natural products.
It's great for snacking and enjoying new brands each month as they're delivered to your doorstep.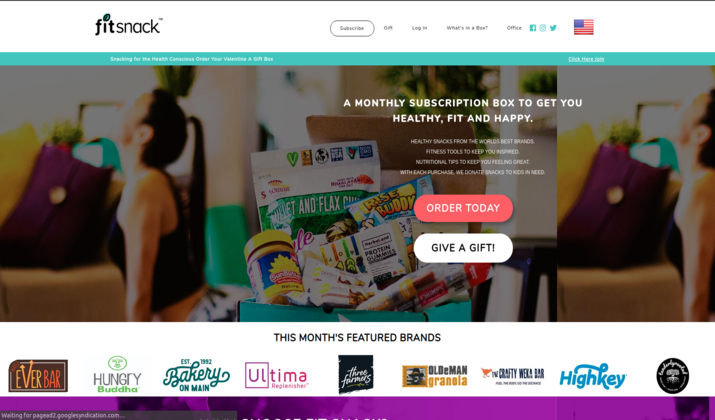 Cost: Monthly $19.90; 3-month plan 18.90; 6-month plan 17.90, 1 year plan $16.90
FitSnack is for the health-conscious snacker, as the box contains treats that are specially curated with such snackers in mind.
Snacks in these boxes are GMO-free, high in protein and low in sugar, gluten-free, organic, vegan, raw, and/or all natural.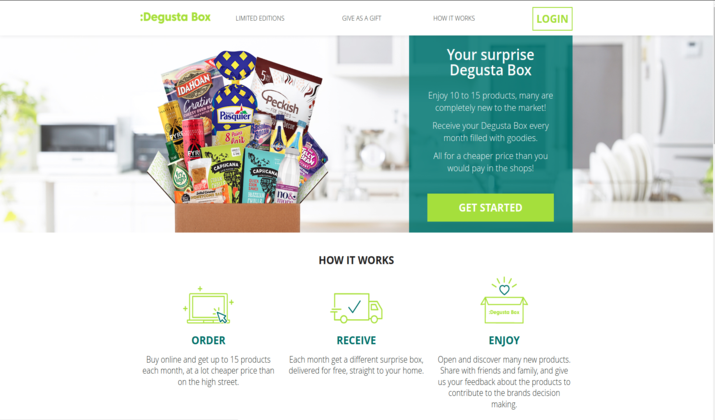 Cost: $19.99
This snack subscription box has a variety of snacks that are shelf-stable and range from sauces to cereals, snacks, condiments, juices and so much more.
It is described as 'having a mini pantry' every month, as you get a variety of treats and items you can use alongside your food.
Some products are new on the market, so you'll be among the first to try them or uniquely placed to experience them as they can't be found anywhere else in the world yet.
Cost: Classic $25; Premium $35
TokyoTreat already speaks of international snacks, and this is just what you get from this snack subscription box.
The box has a variety of Japanese snacks like the Dagashi bag, which has penny candy-like snacks and an Umaibo stick, chocolate and cheese Pocky, or even sweet potato gummies.
Cost: From $19
From its name, you already know this as a snack subscription box with a variety of snacks from all over the world.
The box has various options to keep you happy while you snack, focusing on unique products from across the globe, setting it apart from other country-based snack boxes with convenience snacks.
The box has a combination of pantry and cooking items and snacks for a well-rounded taste of different cultures.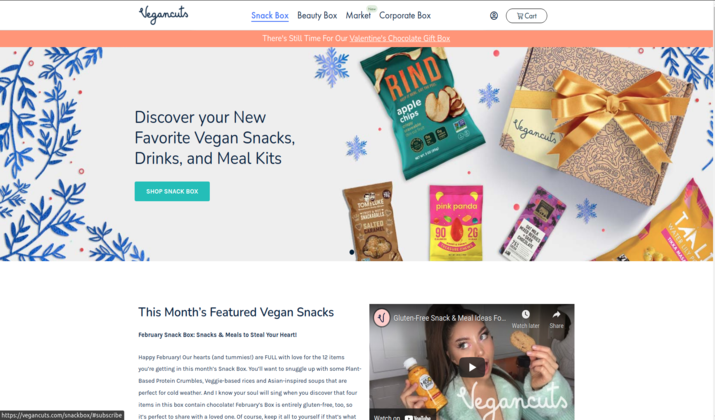 Cost: $22.
This box is strictly vegan and has snacks that are full of vegan and natural products.
In each box are 7-10 vegan snacks as well as occasional supplements, and pantry items for you to enjoy with your snack or food.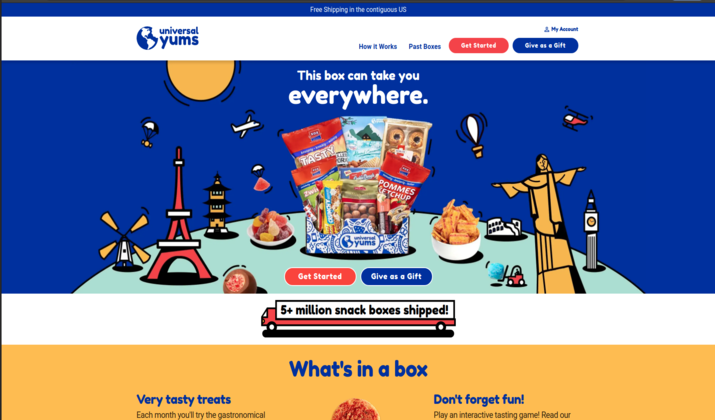 Cost: Yum $14; Yum Yum $25; Super Yum $39
Yet another international snack subscription box with snacks and candies from different countries sent to you each month.
The box also has a scorecard so you can track what you like and what you don't like, with tidbits of information about each country from where the snacks are from, so you can feel the full immersive experience as you eat.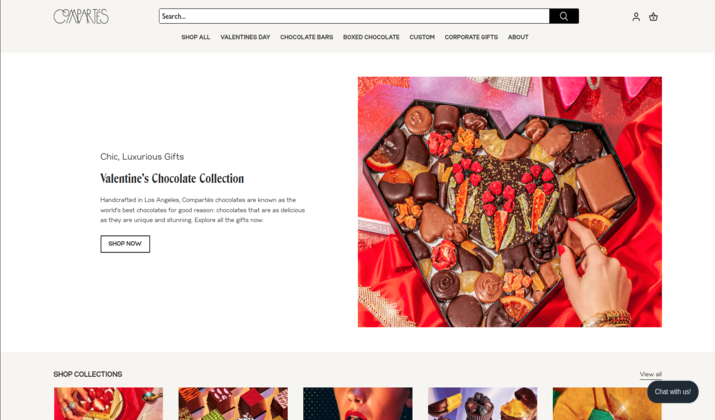 Cost: From $9.95
Do you love chocolate? Then Compartes is the best snack subscription box for you.
Compartes has a gourmet chocolate club each month after annual holidays such as Easter, Mothers' Day, Valentine's Day, and many others.
Members of the club get a festive box of chocolate thus those with an insatiable sweet tooth will find this the perfect guilty pleasure snacking box.
Summary
Everyone gets a rush of excitement when they order something and finally get the package delivered to their doorstep, especially if that something is a sweet treat, or something that you've been craving.
For snack lovers or people who love treats during the day, this can happen to you every month with boxes full of edible surprises.
These monthly snack subscription boxes will keep your taste buds excited and guessing what's in the pack month after month, all while keeping your energy levels up!