The goal of the Soulshine Transformation Box is to lift your energy, make you smile, and assist you in shining your own beautiful Soulshine!
You will receive 5 -7 items to enhance your life all based on a monthly theme.
Items you might find in your Soulshine Transformation Box:
A powerful, pure intention candle, Delightfully crafted incense
A crystal or stone
Jewelry charged and ready for you
Handcrafted essential oil room spray
Pure Reiki charged bath salts. Co-ordinating bath soap
A personalized reading or ceremony just for you
Two surprises to make you smile!
Plan options:
Month to Month: $34.95 + shipping*
3 Month PrePay: $83.88 + shipping*
6 Month PrePay: $174.75 + shipping*
12 Month PrePay: $359.40 + shipping*
*Worldwide shipping available – shipping is calculated.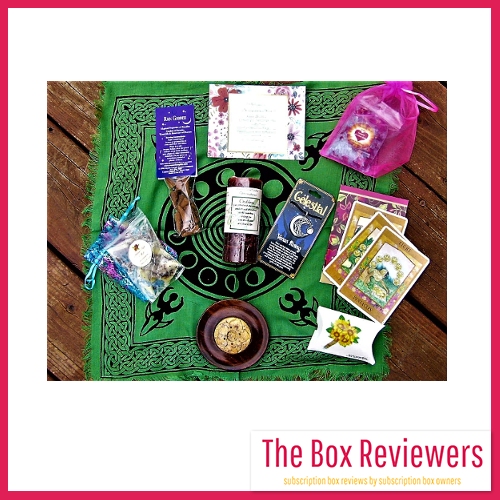 May's theme is "Transform your Inner Goddess"!  I couldn't be more excited about this theme!  The goddess is a big part of my spiritual life, and this box really spoke to me.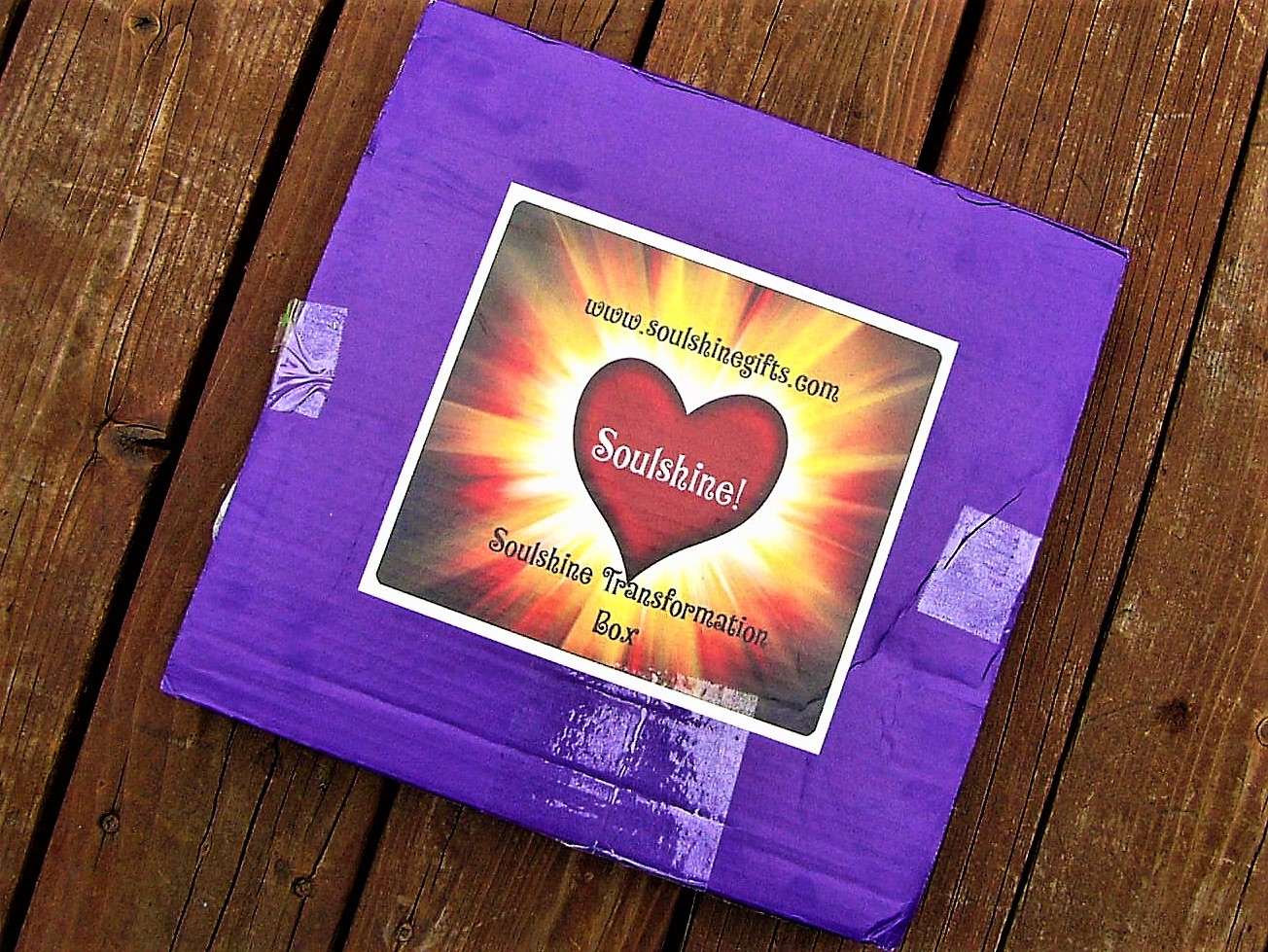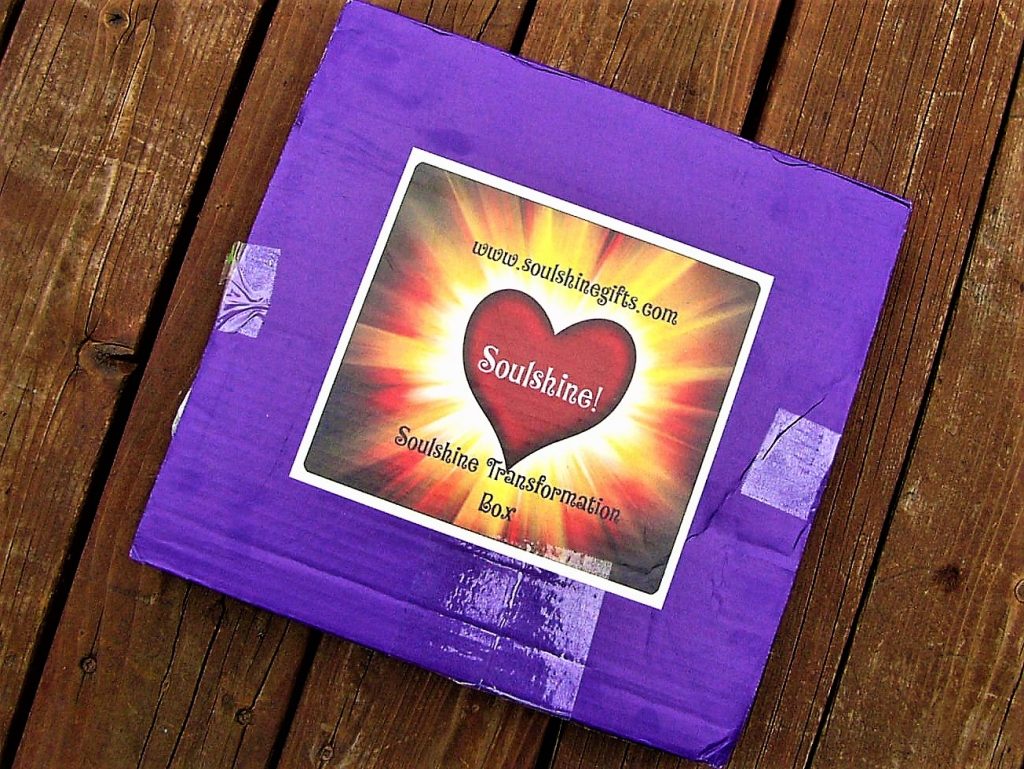 Soulshine Transformation Box comes in a gorgeous purple box with the company's logo on top!  I love the peaceful look of the logo.  Just seeing this box calmed me.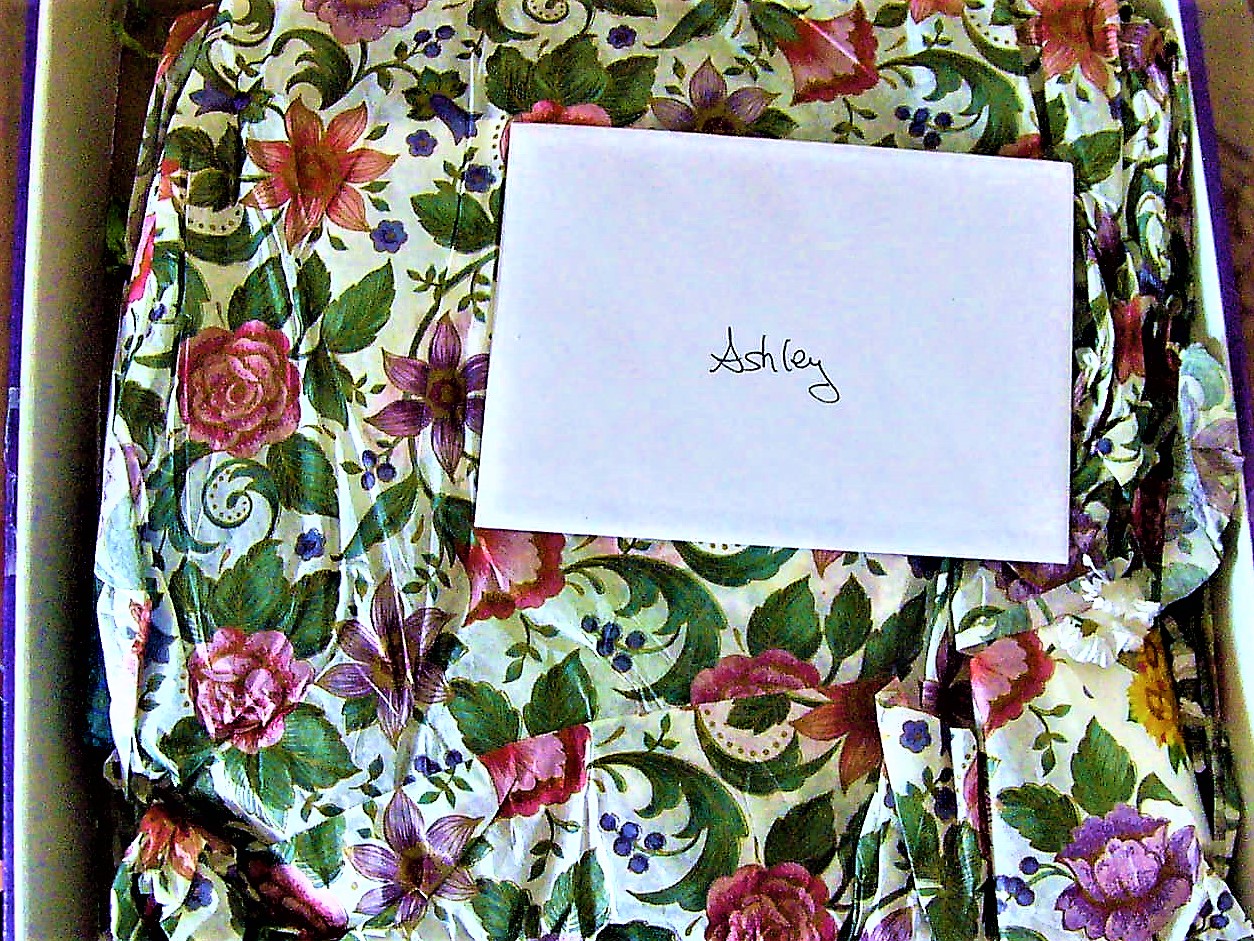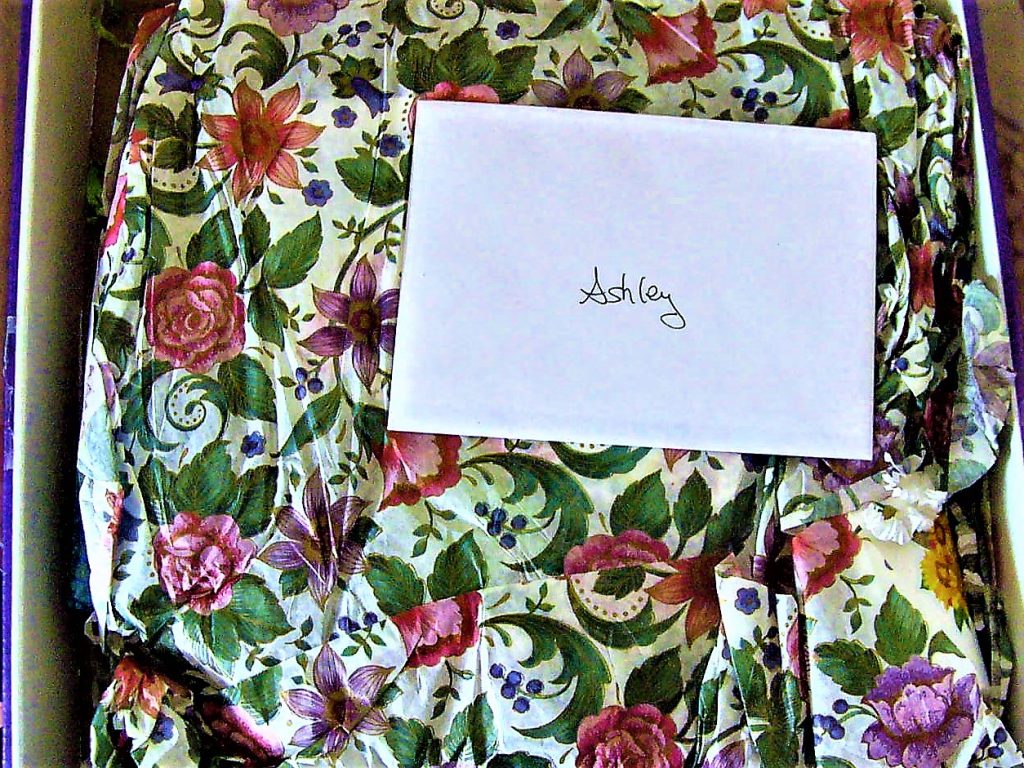 Upon opening the box, I was excited to see a letter that was written to me.  But I was even more excited when I saw what was in the envelope!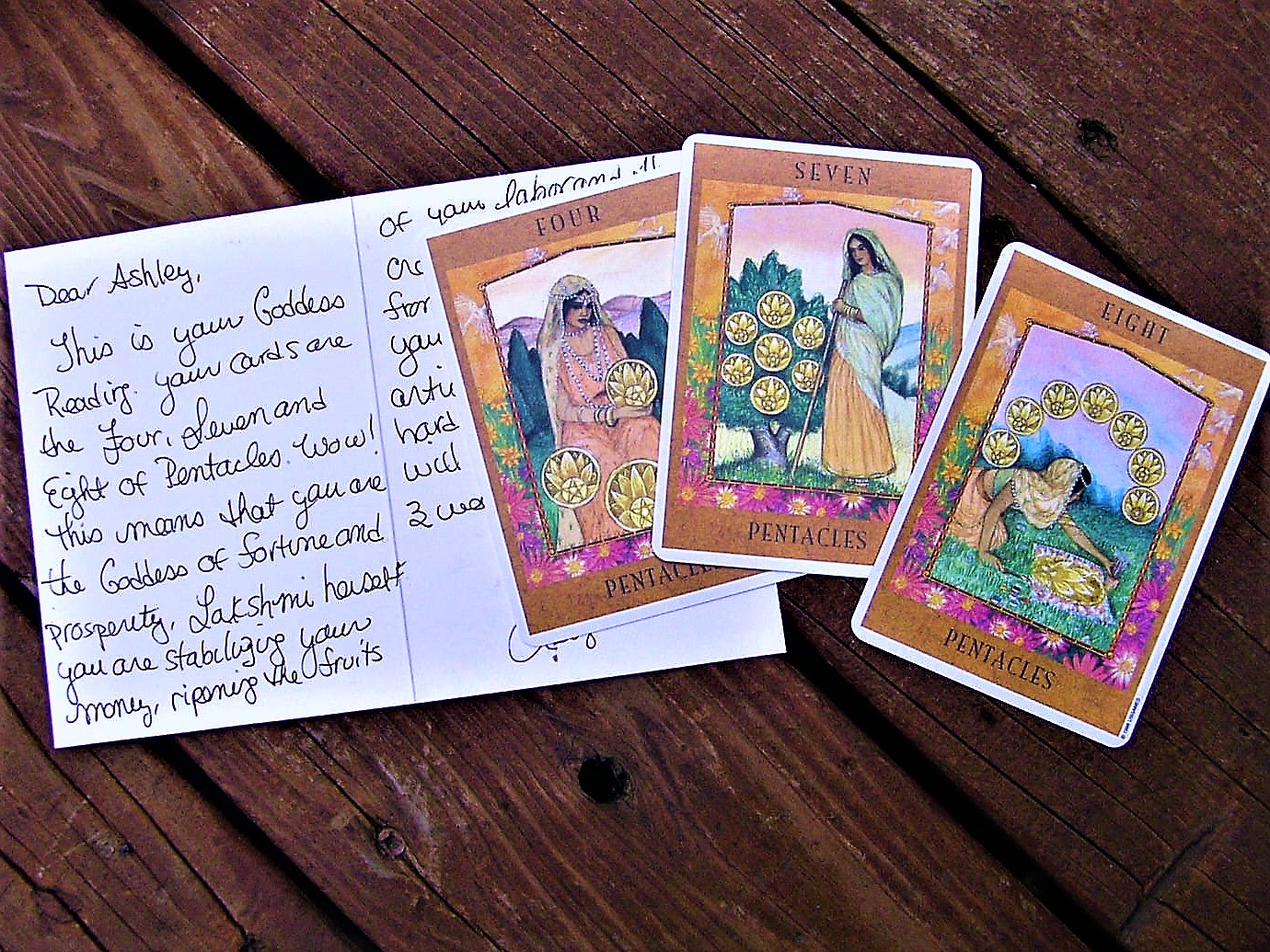 Inside the envelope is a personal tarot reading!  This is such a personal touch, and it is the best item I have ever received in a subscription box.  Ginger – the owner of the Soulshine Transformation Box – is a Certified Medium and Intuitive Healer, and her readings are very personalized.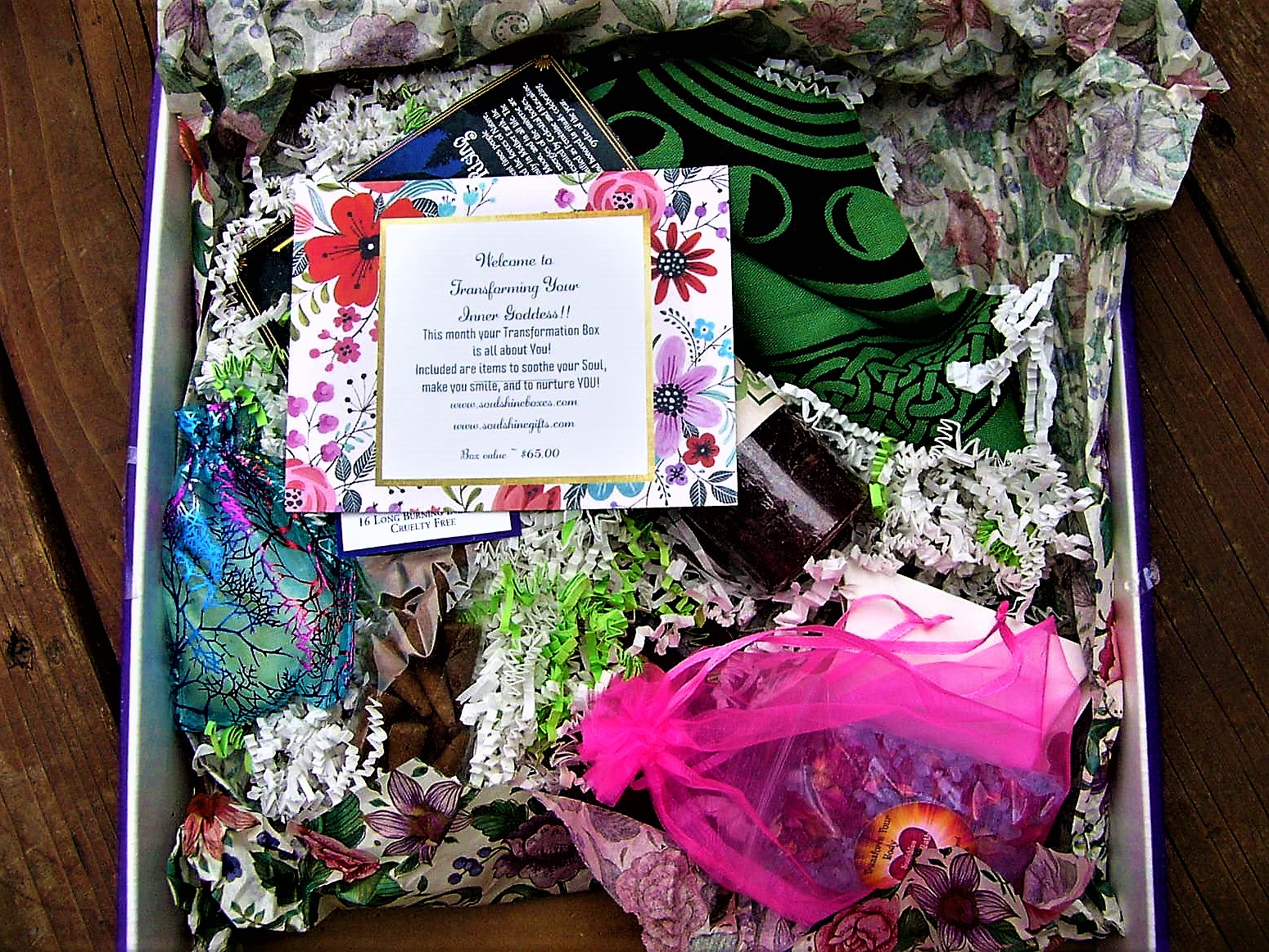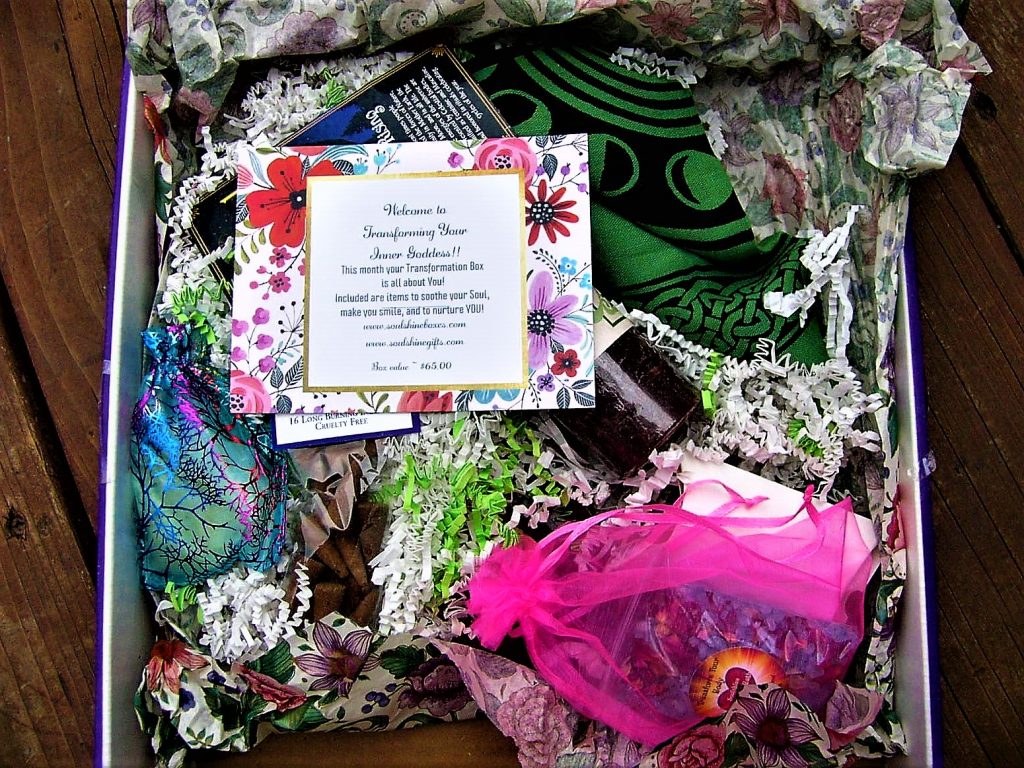 After opening the gorgeous floral tissue paper, I was happy to see how carefully everything was wrapped and packaged!  Ginger definitely puts her heart and soul into these boxes.
The box includes this insert card to tell you more about this month's box!  I love how the design of the card matches the tissue paper.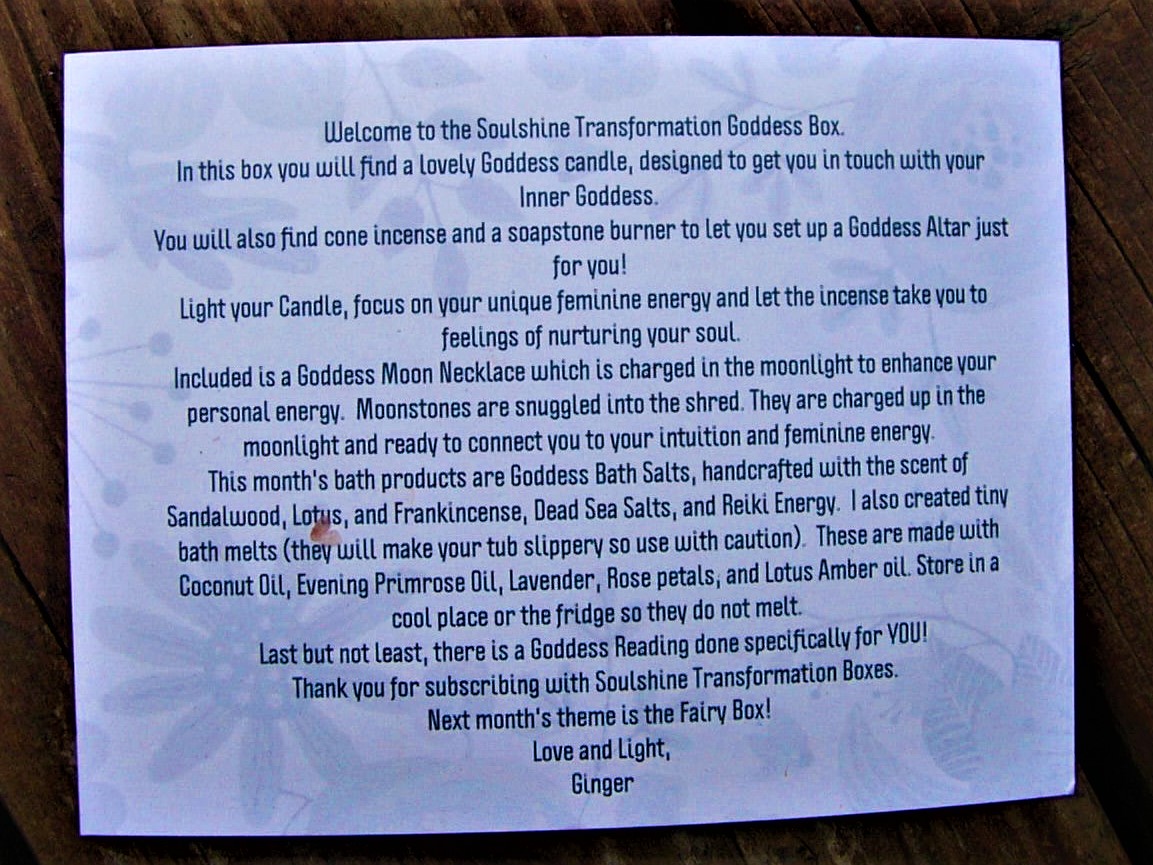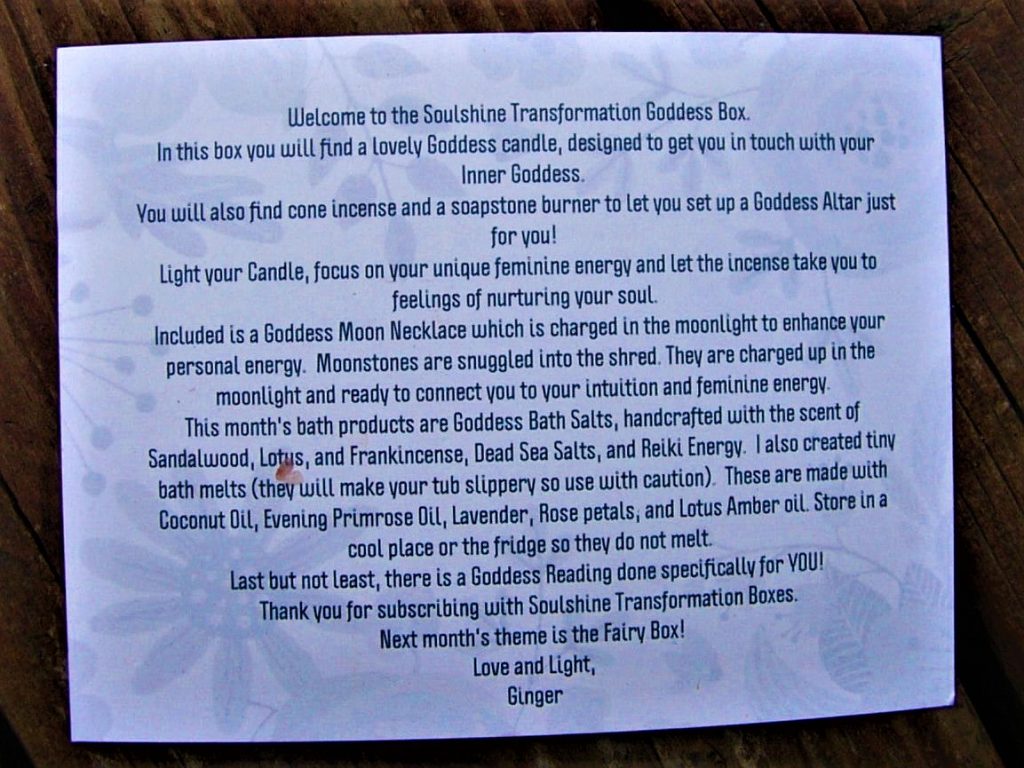 The back of the card lists the items included in the box while doubling as a letter from Ginger!  I love how Ginger goes in-depth about each item and how they were prepared for the box.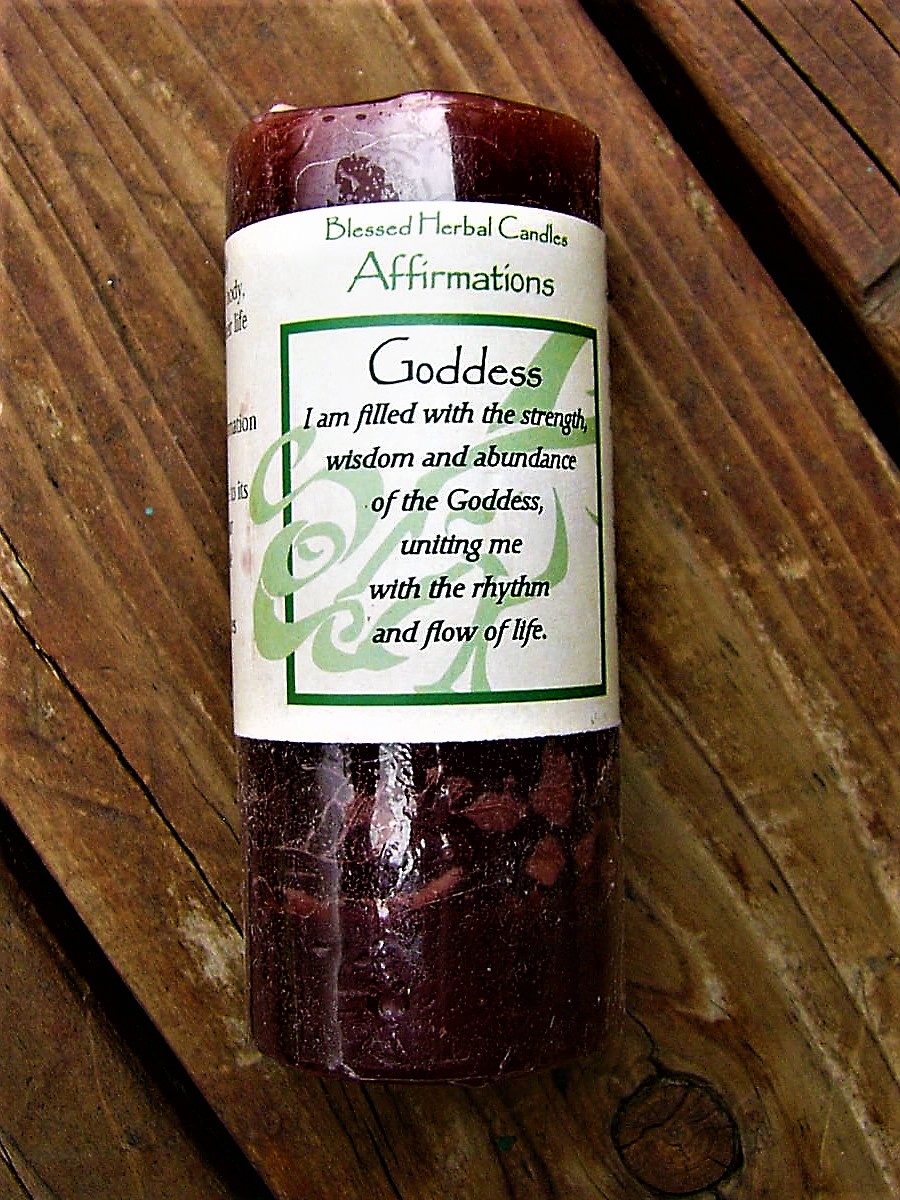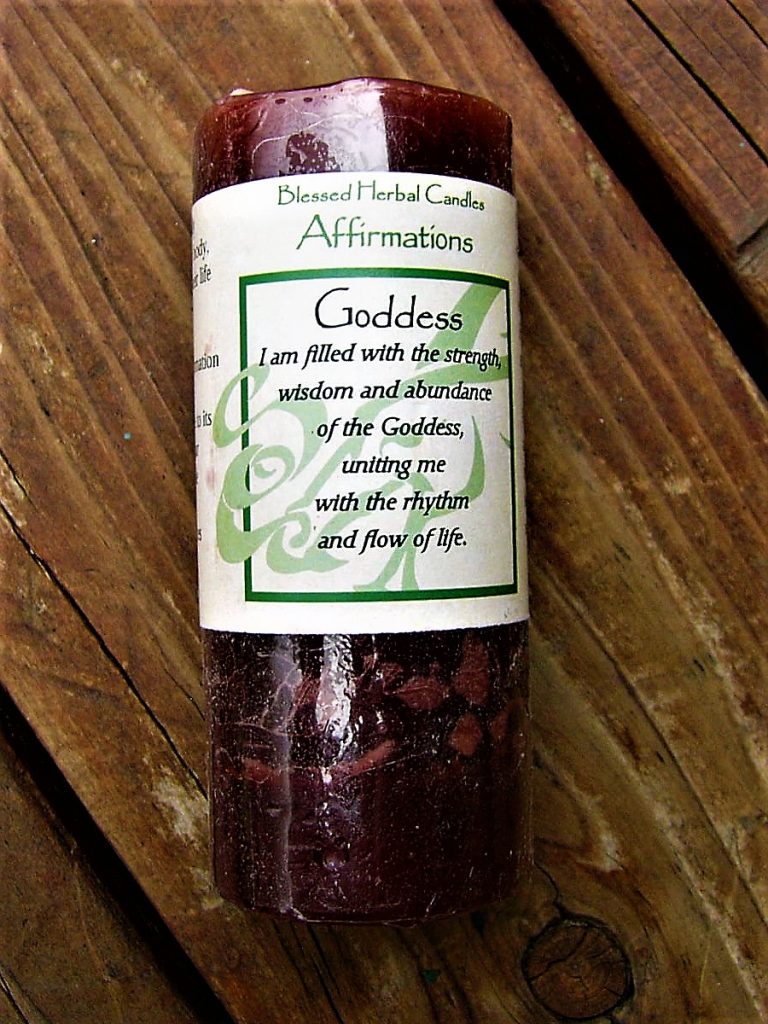 The first item in the box is a goddess candle to help the subscriber connect with the goddess.  The candle comes with a goddess affirmation, and it smells natural and sweet.  This is a great candle to tune in with the goddess within your own soul and body, and I have already put it on my altar!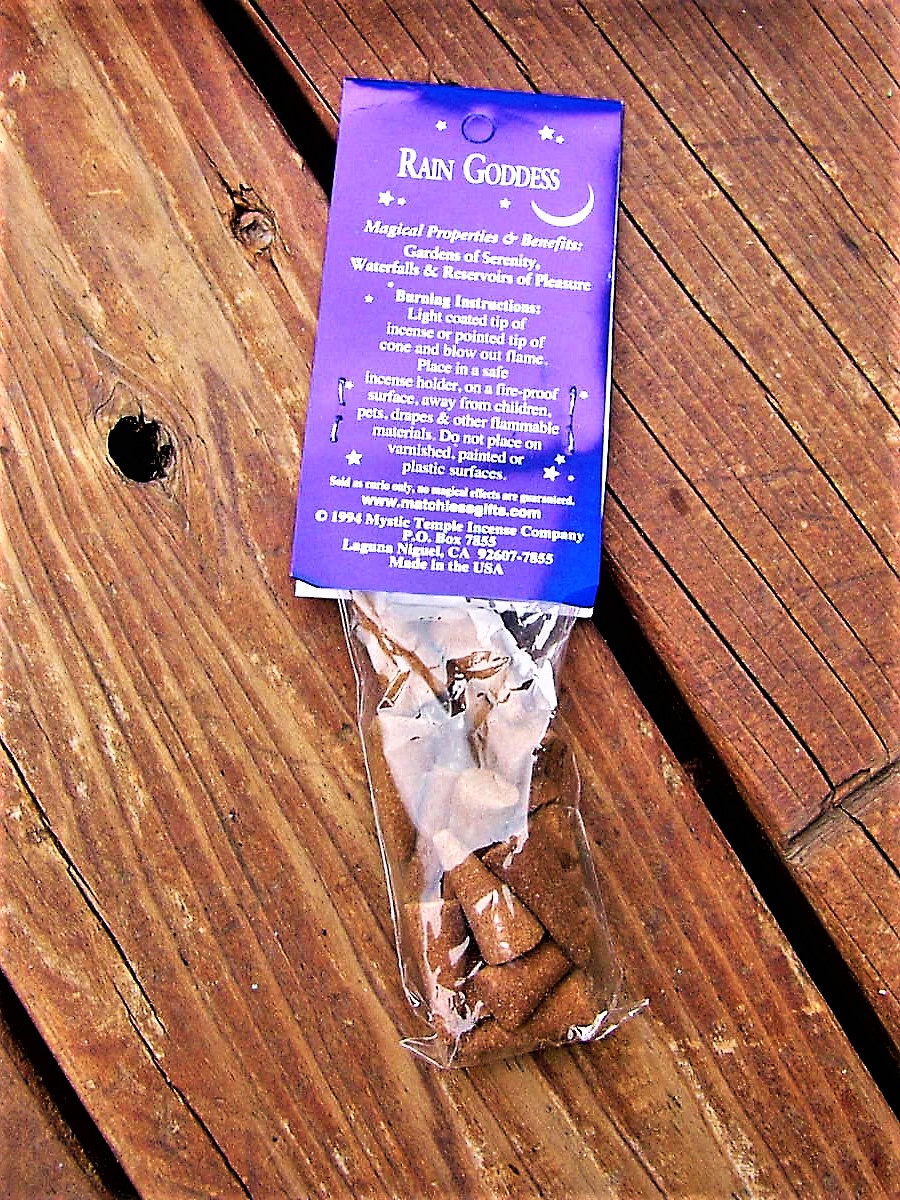 The next two items go with one another.  The first item is a pack of rain goddess incense cones.  This incense is great to use when invoking water goddesses!  It brings the peacefulness of waterfalls, reservoirs, and gardens to an altar space.
The second item is a soapstone burner that can be used with the incense.  This set is perfect to set on your altar to honor the goddess.  I love how peaceful the scent of the incense is, and the burner is just gorgeous!
Ginger's note says that the subscriber can light both the candle and the incense to bring feelings of nurturing to the soul!  This is a great method of self – care.
The next item is this Goddess Moon Necklace, and it has been charged in the moonlight to enhance its energy.  I love how gorgeous this necklace is, and I have already put it on.  The moon is my favorite goddess symbol.  I can feel the necklace's positivity radiating throughout me when wearing it.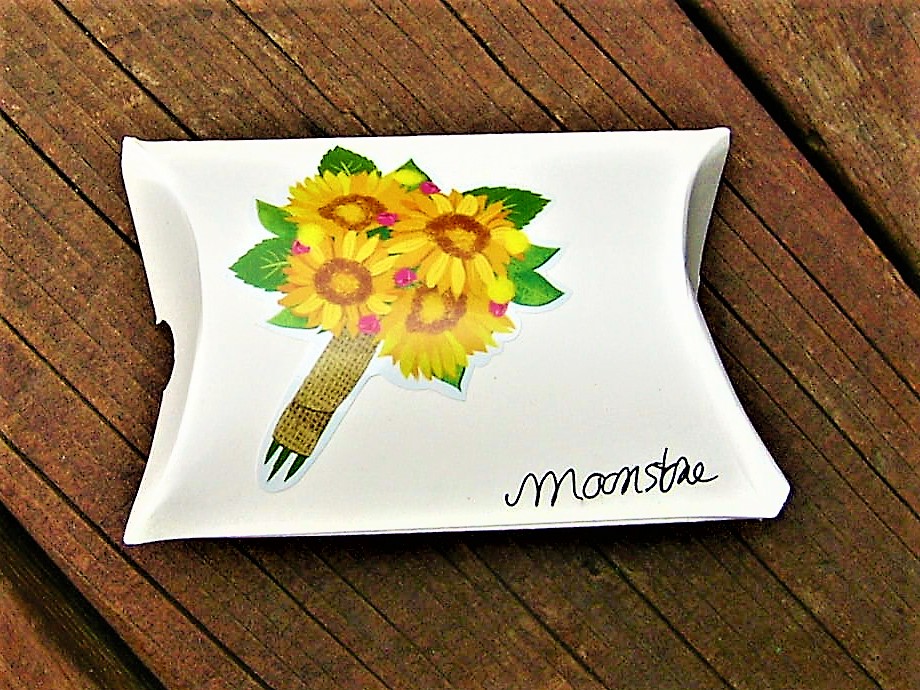 A pair of moonstones were also included in the box in this adorable packaging!
Moonstones are another great goddess stone.  These stones were charged under the moonlight and they are great for use when connecting to your intuition or feminine energy.
The next item is a pack of Goddess Bath Salts that are made with the scent of sandalwood, lotus, and frankincense, as well as dead sea salts and reiki energy.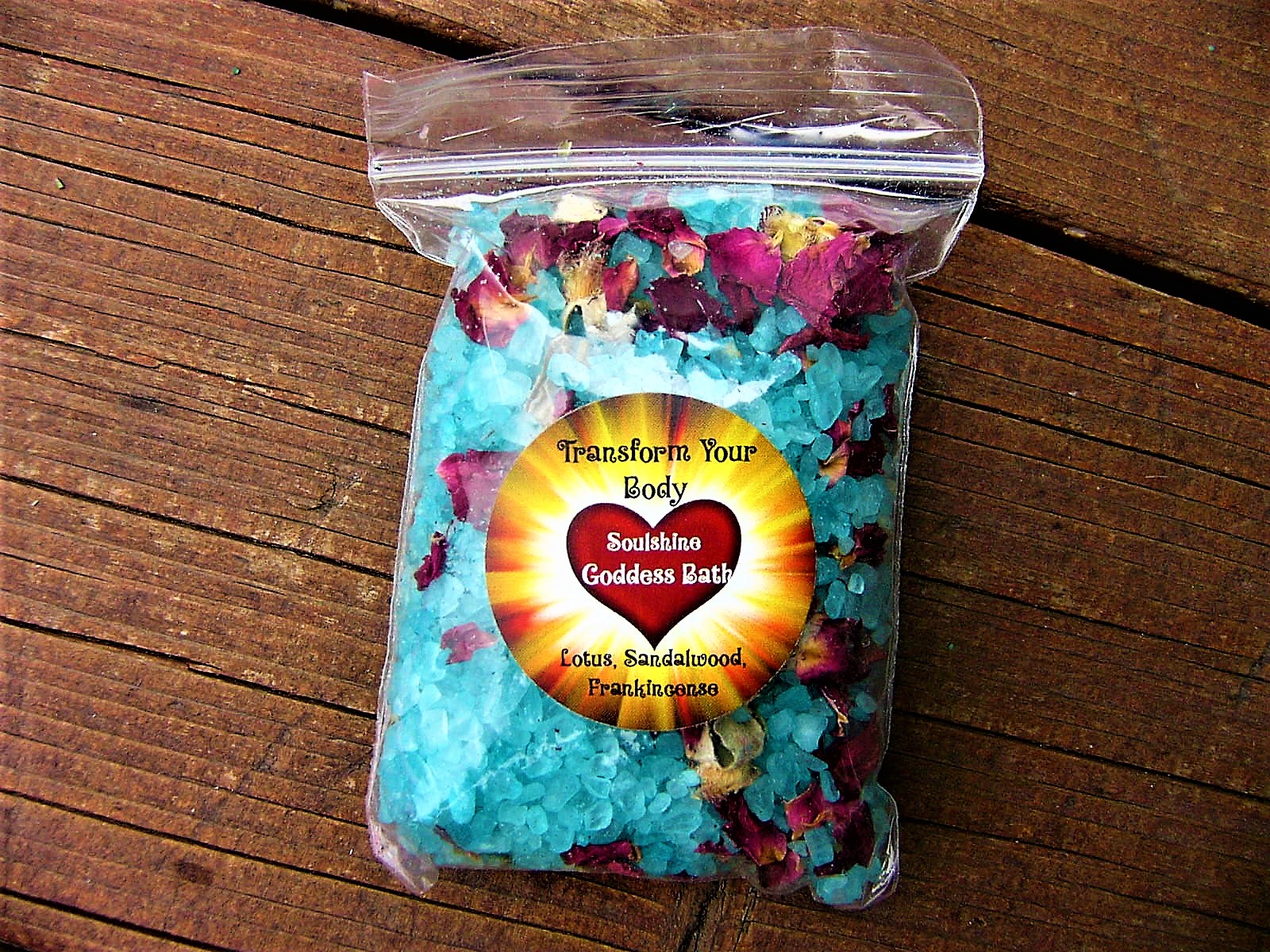 Here is a closer look at these gorgeous salts.  I love the color of the rose petals with the blue salt.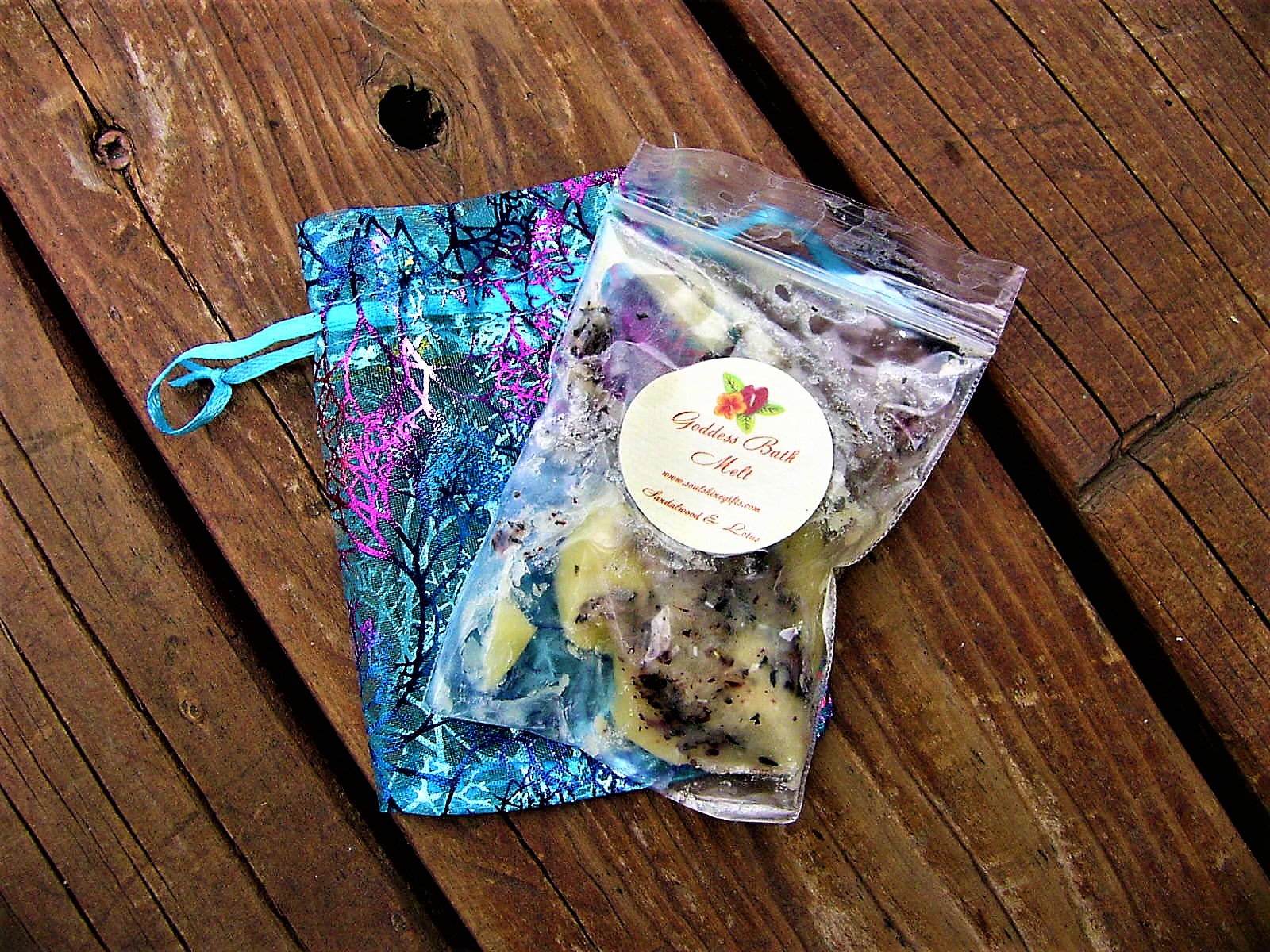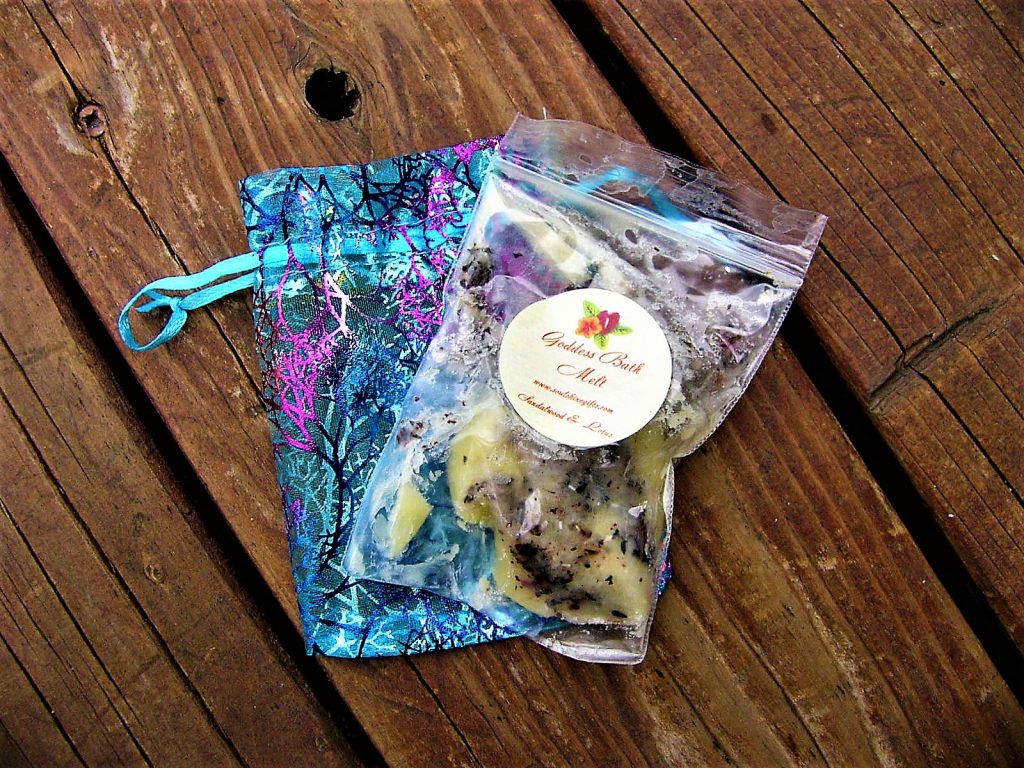 The last item in the box is this Goddess Bath Melt.  This melt is made with coconut oil, evening primrose oil, lavender, rose petals, and lotus amber oil.  I love how moisturizing bath melts are, and I can't wait to try this one out!.
Final Thought: Soulshine Transformation Box is a wonderful spiritual box!  It is the most unique and personalized spiritual box that I have tried, and I love how Ginger, the owner, puts her heart and soul into making the box.  I could feel my energy lifting as I went through all of the items, and this box has actually helped to alleviate some depression and anxiety I have been experiencing!  If you are looking for a personalized spiritual box, then Soulshine Transformation Box is the way to go!  I am positive that it will change your life.  Thank you, Ginger!
*NOTE: The Box Reviewers received this box to review.