IKEA is a popular furniture and décor company for all your home needs. You can get about every piece of furniture you need at home from IKEA. There are varieties of styles, sizes, colors, etc.
Nevertheless, one store can't have it all and when shopping. Personal preference plays a major role. You can go through IKEA's extensive catalog and still not find an item that meets your taste.
In addition, IKEA may not be available in your country. If so, you'll be unable to shop whether online or offline.
There are other furniture and home décor companies you can shop from. Check out the 15 best IKEA alternatives below:
Best IKEA Alternatives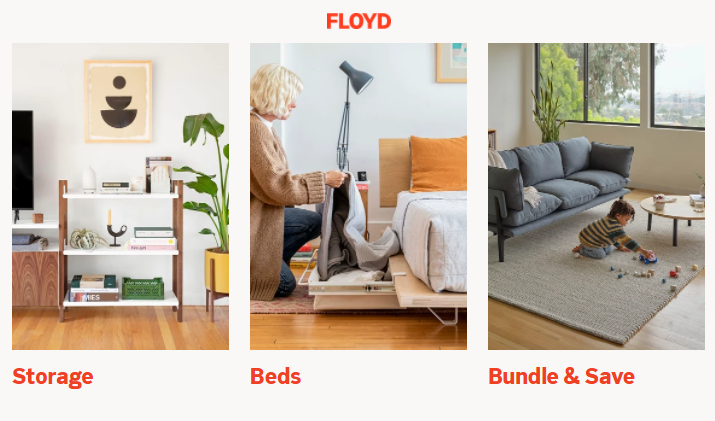 Floyd Home is a US-based home décor company. Although all their products are designed in the US, they are manufactured not only in the US but also in Mexico and China. You can purchase both non-outdoor and outdoor furniture from this IKEA-alternative store.
Most of Floyd Home's products are made using steel, natural linoleum, and birch. Some popular ones include the ultra-comfortable sectional and the bed frame. Other products include the mattress, the Floyd leg, the Sonos stand, and the media console. As a new customer, you can get $50 off when you make your first purchase.
Floyd Home ships products over and under 100lb through scheduled freight partners and FedEx Ground respectively. The shipping fee depends on the cost of your order but it's more expensive than IKEA's. You pay $5 if your order is worth less than $75. Orders worth up to $500 attract a $99 shipping fee.
How soon you receive your product depends on your location and shipping method. Shipping can take a few days to several weeks. Unlike IKEA, you can't purchase from Floyd Home in shops. You can only purchase online at the moment.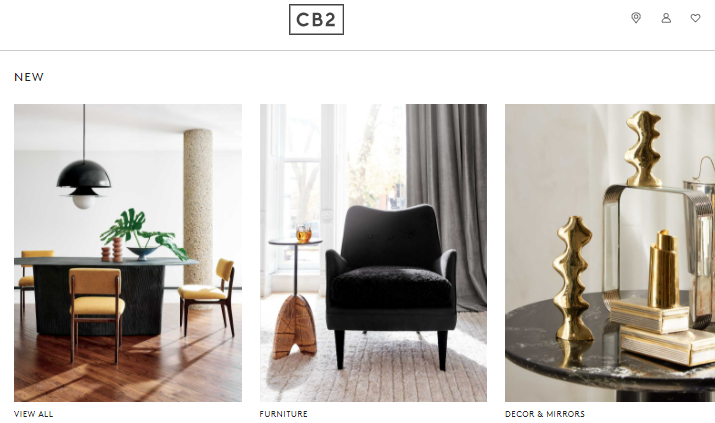 You can shop the latest modern furniture and home décor from CB2. This includes lighting, rugs, pillows & throws, bedding & bath, and outdoor furniture. With headquarters in Chicago, CB2 is open in 23 other locations in the United States and Canada.
Just like with IKEA, you can shop online and pick up your orders at any store of your choice. Some of CB2's eye-catching home products include the Angolo espresso velvet sofa, Strato 4-piece leather sectional sofa, Brace leather chair, and the Carve ivory storage bench.
You can also purchase outdoor rugs, planters, dining furniture, and furniture covers from CB2.
The CB2 store offers standard, premium, and express shipping. The cost depends on the total value of your order but standard shipping is relatively cheaper than IKEA shipping rates.
Standard shipping takes 3 to 5 business days to complete. However, if you're outside the United States or in US territories, standard shipping takes 7 to 15 business days. If there's a problem with your order, you can return non-furniture items within 90 days of receipt; the timeframe for furniture items is 30 days.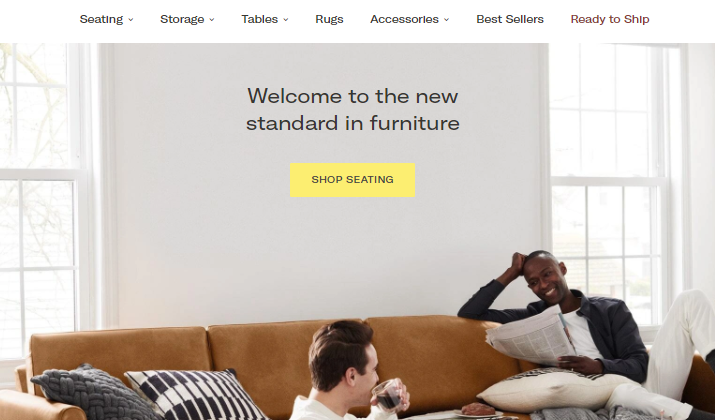 If you're looking for an IKEA alternative store where you can get custom furniture, you should check out Burrow. Burrow manufactures products with clever designs and another advantage is you get free shipping.
This company is based in New York. You can shop for seating and storage furniture, tables, rugs, and accessories on Burrow. Some of their best-selling products include the Nomad collection and the Range collection.
You don't have to pay shipping fees for any order on Burrow. This is thanks to the modular design of their products which makes them fit into manageable boxes. Hence, switching from IKEA to Burrow can help you save money on shipping costs.
The modular design also makes it easy to move furniture from one location to another. Note that IKEA does sell modular products like sofas. However, modularity means you have to set up each piece of furniture you purchase. There are easy-to-follow assembly instructions to do this.
Despite offering free shipping, Burrow delivery is relatively fast. You get your order within a week of payment; it depends on the products in your order.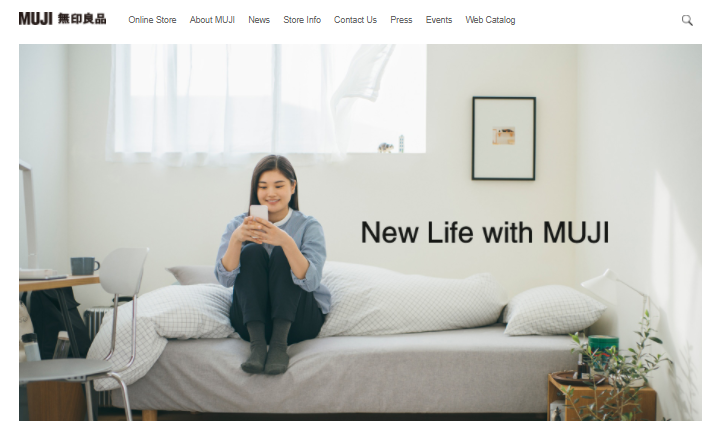 MUJI is a furniture and household item company based in Tokyo, Japan. However, the company has more than 500 office locations in more than 30 countries. MUJI makes an ideal alternative store if IKEA isn't available in your country.
MUJI has 17 locations in the United States. Products available on MUJI include furniture, stationery, home décor, apparel, and travel accessories. The company boasts of more than 7,000 products sold at some of the lowest prices you'll find.
With MUJI, you can shop both online and offline at walk-in stores. When you shop online, you can pick up the product at a store or have it sent to your address.
If you're shopping online, you only pay for the shipping of orders less than $100. Orders above $100 are delivered for free with standard shipping, although there are some exceptions.
Standard shipping takes 7 to 10 business days and attracts a $9 – $15 shipping fee. Express shipping takes 3 to 5 business days and attracts a flat $25 fee in addition to the regular shipping fee. Nevertheless, MUJI shipping fees are cheaper than IKEA's, especially for high-value orders.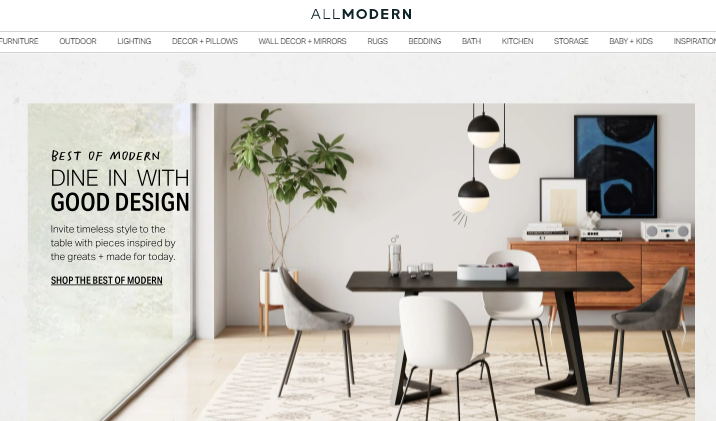 AllModern is a Wayfair company where you can purchase modern-style house furniture, décor, and other items. The company, which was launched in 2006, aims to make contemporary furniture available to everyone via affordable pricing.
The store is available in countries where Wayfair is available including the United States, UK, Germany, and Canada. You can purchase indoor furniture, outdoor furniture, lighting, décor & pillows, wall décor & mirrors, rugs, beddings, kitchen furniture, and storage furniture from AllModern among others.
All products are made in the United States from domestic and imported materials. AllModern is another reliable online furniture store that lets you save money on shipping costs.
The majority of the products in the store are available for free shipping. Those that don't attract a relatively cheap shipping rate of less than $5.
Your order either falls under small shipping (if less than 150 lbs), or large shipping (if up to 150 lbs). Small shipping is done using UPS and FedEx while large shipping is sent via trusted carriers.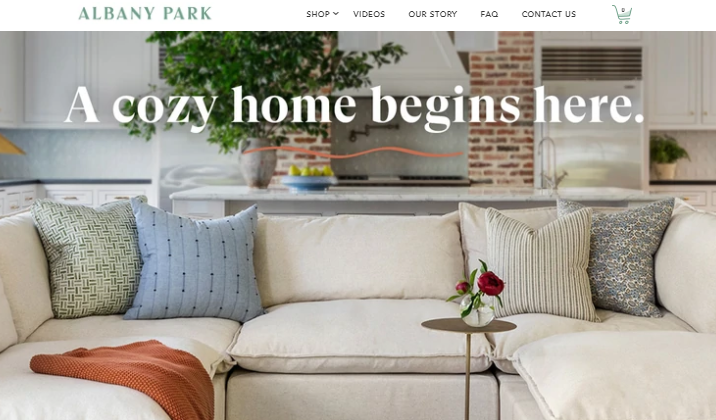 The Albany Park furniture company was launched in 2017 after the owners had difficulties purchasing sofas. The store is currently one of the top stores to get quality furniture without stress which makes it one of the best IKEA alternatives.
If you need an online shop to purchase anything other than sofas and chairs, then this store isn't for you.
You can only find sofas, sectionals, loveseats, armchairs, and ottomans in the catalog. The Kova Pit, Park Sectional Sofa, Park Armchair, L-shape ottoman, and corner sectional are some of Albany Park's top products.
As mentioned earlier, Albany Park is ideal for shopping with no stress. When you shop with Albany Park, you enjoy fast and free shipping. In addition, you can pay over time and don't have to worry about paying any interest.
Most of the sofas are modular for easy shipping and portability, and you'll find them easy to assemble. You get a lifetime warranty when you shop from Albany Park and the products are safe as they contain no harsh chemicals. This store ships products to your doorstep for free although delivery times vary.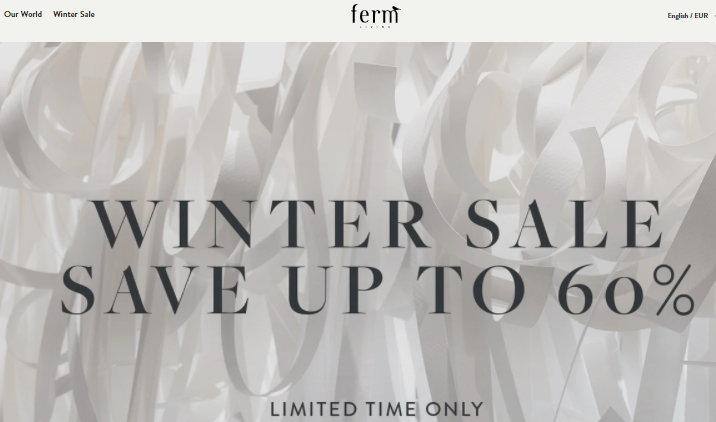 Are you a fan of Danish designs? If yes, then Danish-based Company, Ferm Living is another furniture store like IKEA that you'll want to shop from. Nevertheless, there are many other advantages of shopping with Ferm Living. You can shop on Ferm Living if you're in the US or any EU country.
Ferm Living boasts products with timeless designs including living room, kitchen, office, bathroom, bedroom, and also kid's furniture.
This furniture company store makes its products in different countries depending on the raw material source. Nevertheless, they only employ skilled and dedicated craftsmen.
Like some other alternatives on this list, free shipping is an advantage of shopping with Ferm Living over IKEA. You don't pay for orders above $160 and you'll get your order delivered within 1 to 5 business days if you're in the US.
For most EU countries, you get free shipping for orders above €135 and delivery within 1 to 3 days. In addition, as an EU customer, you can buy now and pay later using Klarna. Notably, you receive a tracking link via email when you place your order. Hence, you can monitor the location of your order.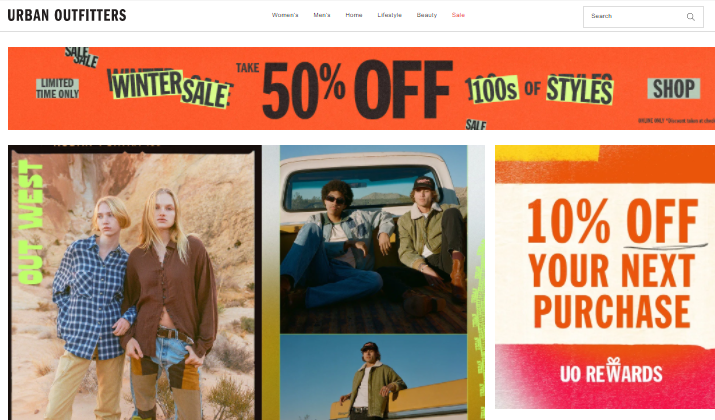 This retail outfit company mainly sells men's and women's clothing. However, their home & apparel section contains unique furniture and décor to rival IKEA. You can shop for bedding, living room furniture, rugs, kitchen & bar furniture, and mirrors & wall art.
You can shop from Urban Outfitters if you're in the US, Canada, or Europe. Some top products available in the store include the Alana Bookshelf, Levi Sliding Door Wardrobe, and Distressed Check Duvet Set. Urban Outfitters offers cheap standard shipping rates compared to IKEA.
You pay $4.95 if your order is under $50. If above, the order will be shipped for free. However, Express shipping costs $14.95 while Rush shipping costs $21.95. Shipping costs may be higher for oversized products.
Standard shipping takes 5 to 8 business days while Express shipping takes 2 to 3 business days. Rush shipping takes 1 to 2 business days. The shipping rates and time frame are different if you're not in the US or Canada.
Just like IKEA, Urban Outfitters features mobile apps for Android and iOS for more convenient mobile shopping.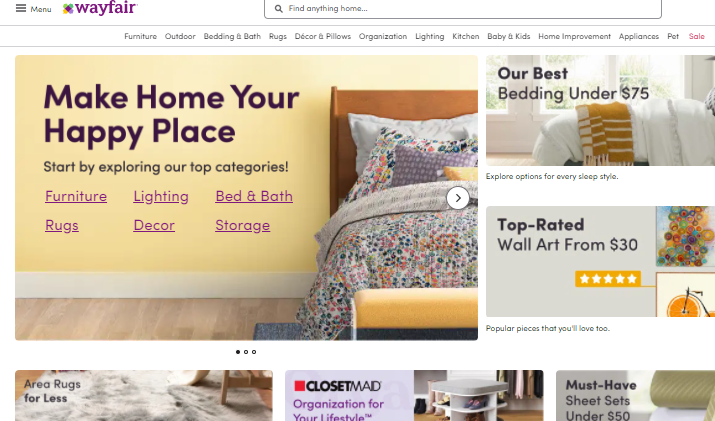 Wayfair is a popular online store for home furniture, décor, outdoor furniture, and more. As an international retail store, you can shop from Wayfair in the US, UK, Germany, Ireland, and Canada.
There are many more products available on Wayfair than on IKEA. The sections and product departments on the online store are endless. Aside from online, Wayfair has offline stores under different brand names in addition to the physical outlet location in Florence, New York.
When you shop with Wayfair, you don't pay for shipping if your order is more than $35. Orders under $35 attract a flat $4.99 shipping fee. Furthermore, Wayfair is an ideal online store if you need fast shipping.
You can have your product within two days of purchase and it's as fast and easy to return if there are any problems. Wayfair and IKEA both have mobile apps in the App Store and Google Play Store.
Furthermore, Wayfair and IKEA both have credit cards. With a Wayfair card, you get a $40 reward off your first order of more than $150.
Explore: Best Wayfair Alternatives
H&M Home is one of the many brands of the H&M Company. Founded in 2009, H&M Home boasts of 394 shops in shop stores, 25 concept stores, 51 store markets, and is present in 42 online markets.
Although very close, H&M has a bigger online presence than IKEA. H&M has exclusive online stores for countries in Africa, Asia, Europe, the Middle East, North America, South America, and Oceania.
However, H&M Home is only recommended if you need an IKEA alternative for home décor. The store doesn't sell furniture like sofas and cushions. Products available on H&M Home include decorations, bedding, rugs, curtains, blankets, dinnerware, tableware, cookware, and bakeware.
You can sort products by room, category, and concept. The store features some special discounts of up to 60% off. Also, you get 10% off your first purchase and rewards when you become an H&M member.
The delivery options available depend on where you're shopping from. There's standard shipping, expedited shipping, express shipping, and next-day shipping. You get free standard shipping if the order is above $25 and free expedited shipping if the order is above $40.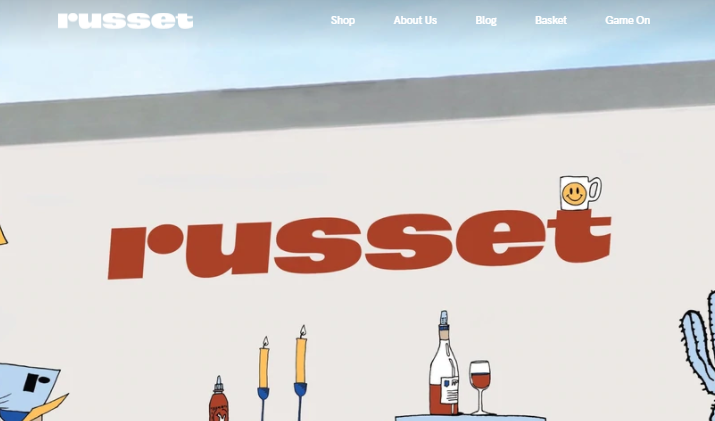 Russet is a relatively small company compared to IKEA but the design and elegance of their products will entice anyone. The company is based in Los Angeles and is ideal for US shoppers only. Nevertheless, the company is currently working to accommodate foreign shoppers.
Russet has five main products on display and they include; The Champ, The Sidekick, The Tote, The Mallet, and The Sweats. The furniture products are made using solid wood veneer and certified plywood core while the wears are made with 100% cotton.
Despite Russet products being affordable, you get free shipping for every purchase; no matter where you reside in the US. For a relatively small company, this is impressive considering IKEA offers no free delivery.
In addition, Russet delivers products within 3 to 7 days after processing. Processing takes a day or two depending on the number of products you order. You'll get an email with tracking information after the purchase.
If you have any problem with your order, you can return it within 30 days of purchase. You'll get a full refund within 14 days after Russet receives and examines the product.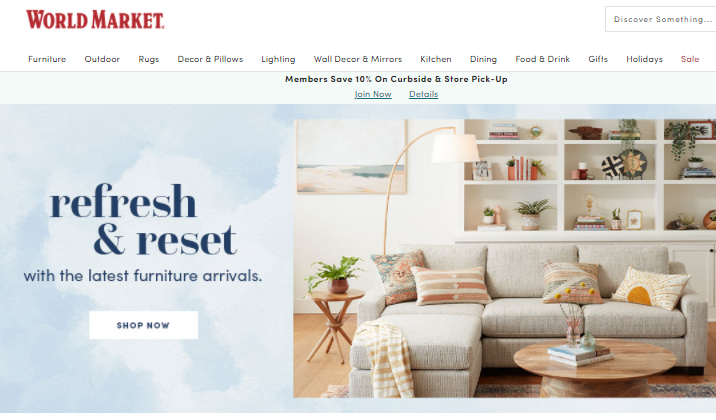 Previously known as Cost Plus World Market until 2021, World Market has more than 240 locations in the United States. The store is popular for its amazing low prices. You can shop furniture and home décor at World Market.
World Market has four main product categories: furniture, décor, kitchen & dining, and others. These are not different from the product categories you get at IKEA. You can purchase outdoor chairs & lounges, industrial furniture, mid-century furniture, Adirondack chairs, mirrors, rugs, and a lot more.
Notably, you should check out World Market if you need a furniture company to shop Asian products like dinnerware and cookware. By simply entering your email address, you enjoy 15% off your purchase.
World Market offers three main shipping options including Standard Ground Delivery, Expedited Delivery, and Freight. Just like IKEA, there is no free shipping and rates depend on the products and delivery location.
Standard ground delivery takes 3 to 8 business days while Expedited Delivery takes 1 to 3 business days. Freight is only for oversized items and takes 7 to 14 business days.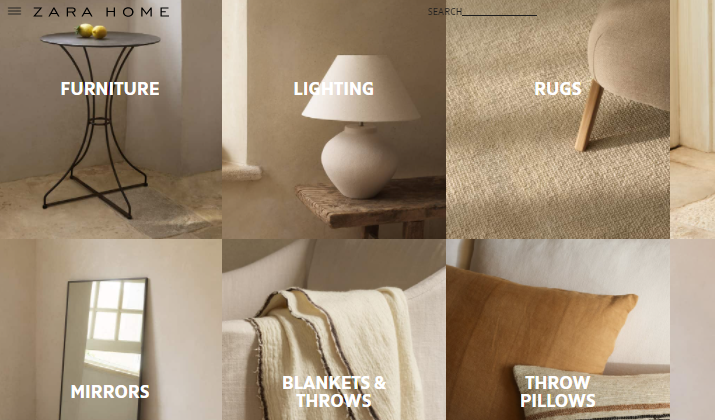 Zara Home provides a state of living home furniture and décor Retail Company with headquarters in A Coruña, Spain. The store mainly targets EU shoppers with over 400 stores spread across more than 25 European countries.
Zara Home also has stores in Africa, the Americas, Asia, and Oceania. Product categories available at Zara Home include bedroom, living room, dining, and bathroom furniture. You can purchase clothing & footwear as well.
Some popular products in the store include the XL floor cushion with handle, linen armchair cushion, and the checkered pet bed. Zara Home lets you shop as a guest, hence, you don't need to create an account. Shopping via the online website is seamless and there are Android and iOS mobile apps you can use too.
However, Zara Home charges a flat 45 EUR shipping fee for all home deliveries for EU countries, which is relatively high compared to IKEA. In addition, delivery is between 7 to 10 business days. If you're shopping from the US, you enjoy free delivery for orders above $50 with delivery within 2 to 4 business days.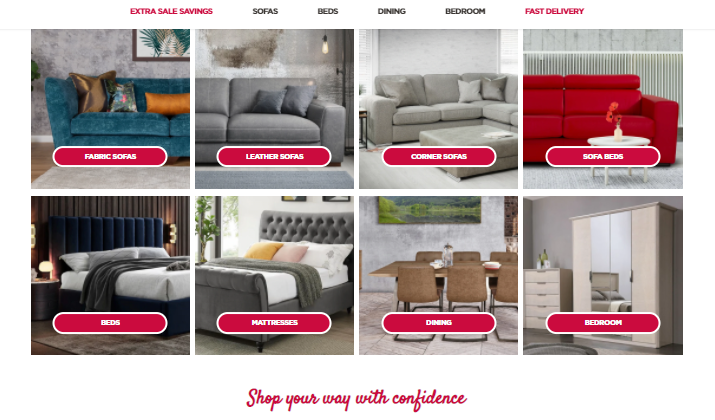 Fab Furniture is a popular store like IKEA that focuses on furniture. You can purchase sofas, beds, dining, and bedroom furniture from this store. Like IKEA, you can shop online and offline. However, offline stores are only in the UK.
Hence, Fab Furniture is a recommended IKEA substitute only if you reside in the UK. Products on Fab Furniture include fabric sofas, sofa beds, leather recliners, leather chairs, dining sets, bed frames, chest of drawers, and storage furniture among others.
You get a lifetime warranty when you buy from Fab Furniture as the products are built to last. Also, you can buy products worth up to £300 in installments for five years without interest.
Shipping is expensive with Fab Furniture compared to IKEA. You pay £69 if you're in England while shoppers in Scotland and Wales pay £120 for delivery. The Fab Furniture store offers reliable support to customers. If you have any difficulties with shopping, you can request video or voice call assistance.
Modern furniture, home décor, and lighting are some of the products available in the West Elm store.
Popular products you'll find on West Elm include the Mid-Century Nightstand, Anton Solid Wood Dining Table, Seamless Medicine Cabinet, Lana Upholstered Bed, and the Cozy Swivel Chair.
These are exquisite pieces of furniture you'll love if you can't find the perfect furniture at IKEA. Furthermore, West Elm offers some discount deals that let you save as much as 40% to 70%.
West Elm ships products via companies like UPS and USPS to your doorstep. Larger items are shipped using Truck Delivery Shipping rates vary depending on the total value of your order.
Standard delivery takes 4 to 5 business days. For an extra $26, you can have your products delivered the next day. Free standard shipping is only available for minimal items.
Bottom Line
To many, IKEA is the number one store for purchasing furniture and home décor. However, if you can't find your ideal product on IKEA, don't fret, you can check out any of the 15 alternatives listed above.