Since the explosion of online shopping, it has been incredibly easy to buy pretty much anything over the internet and have it delivered to your house in a few days.
Some retail outlets have even made extra layers of convenience to online shopping by making it possible for you to compare products, swipe to shop, and even checkout with various payment options.
One of such platforms is Quality Value Convenience (QVC) an on-air and online multinational retail corporation that allows you to shop for all kinds of products, at tantalizingly low prices, from the comfort of your home.
Despite the popularity of QVC, it might not be right for everyone. You might want to explore other alternative platforms that offer more flexible payment options or transparent returns policy, or even better prices.
For these reasons, we're going to be walking you through some of the best QVC alternatives on the market that are worth considering the next time you're looking for an amazing online store to buy from.
Best QVC Alternatives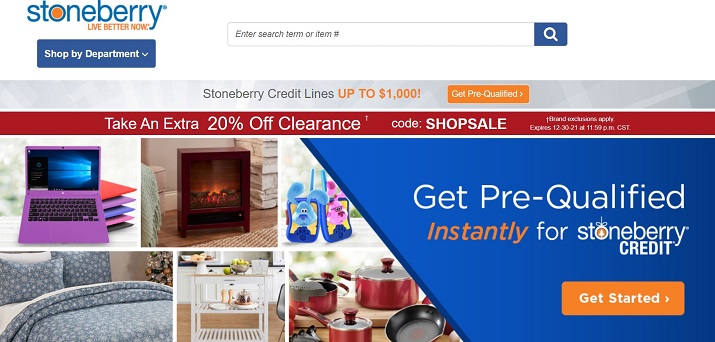 Stoneberry is an online shopping retail site similar to QVC that allows you to buy products of your choosing on credit, without having to pay full price for them right away. The purchasing experience on Stoneberry is designed to be simple and hiccup-free.
With Stoneberry, you get access to quality products at relatively low prices, with guarantees to go with your order.
The platform offers free shipping and an uncomplicated return policy, so you don't have to worry about being stuck with the wrong item if something goes wrong with your order or product delivery.
For those who prefer to shop on their mobile phones, Stoneberry provides mobile applications for both iOS and Android devices.
All you have to do is sign up and begin shopping for your brand name furniture, jewellery, apparel, kitchenware, electronics, footwear, personal care items and more.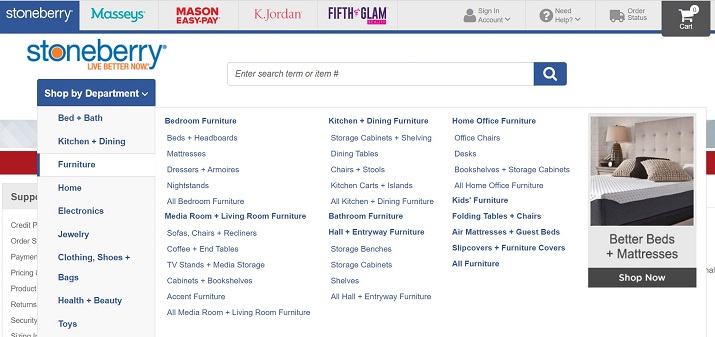 Additionally, Stoneberry offers a credit plan, allowing you to shop now and pay at a later time. You can enjoy installmental payments for as low as $5.99 per month depending on the price of the product you purchase.
Stoneberry doesn't charge you a membership fee or an over limit fee. You can get prequalified for a Stoneberry credit plan immediately without worrying about your credit score being affected.
Like its rival, QVC, Stoneberry boasts of a reliable customer support function so you can easily chat with a live agent directly to address any concerns or problems you might have.
Thanks to Stoneberry's encryption feature, you can securely store your credit card information on your accounts so you don't have to enter it every time you want to complete a new transaction.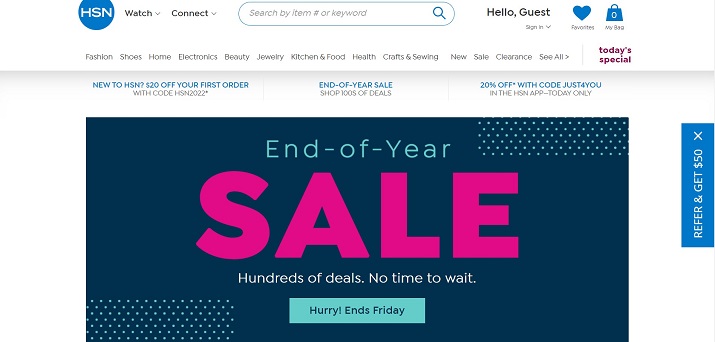 Launched in 1982 as the Home Shopping Club, HSN grew to become the first national shopping network channel in the United States, after which it changed its name to reflect this reality.
Home Shopping Network appeared on the scene before QVC and it originated the idea of making televised sales pitches for consumer facing products and services.
Home Shopping Network brings multiple brands selling all kinds of products together under one roof, where you can easily access them. The platform offers amazing deals on these products, enabling you to save more money on your purchases.
If you're looking for an interactive buying experience or a large platform where you can shop for pretty much anything, HSN delivers these and more.
From streaming to broadcast, mobile, and social media platforms, Home Shopping Network provides multiple avenues for you to shop from the comfort of your home or wherever are.
Like QVC, all the products listed on the HSN website have been organized into descriptive categories to allow for easier searching and shopping. Home Shopping Network also offers convenient payment plans depending on the price of the goods.
For cheaper items, the instalments will be smaller and limited to a short payment period, while more expensive products will come with larger instalments and longer payment periods.
This way, you can purchase any product you want, when you want it without worrying about not being able to afford it at the moment.
The Home Shopping Network website interface is designed to be accessible and easy to use. Each item listed on the site is properly categorized and accompanied by description.
This QVC alternative has been around since 1948, helping millions of people find amazing deals on the products they love and want. Fingerhut stocks a wide variety of brands and it provides credit support for those who cannot afford to pay full price right away.
You can shop a long list of reputable brands such as Samsung, KitchenAid, Skechers, Dyson, and more. Fingerhut has everything you might need for your living room, office, kitchen or bathroom from decor items to furniture, electronics, accessories, and even clothing.
You can apply for a Fingerhut credit account and get an answer right away telling you whether you qualify or not. It doesn't matter whether you have a poor credit history and have already been turned down by other outlets, Fingerhut was built to cater to people like that.
You can shop whatever you want, whenever you like, up to your given credit limit. Another reason that makes the platform a worthy alternative to QVC is that it doesn't charge yearly fees and it will help you build a new credit history by reporting your details to the credit bureaus as you keep making purchases and payments.
In addition, Fingerhut gives you a credit-line increase after you make three on-time payments. You get to enjoy low monthly payments on the items you buy with a flexible payment structure that starts at $9.99 per month and is adjusted based on the price of the product.
Fingerhut's product categories are arranged in a way that makes it easy for you to pick the items you want and even compare prices from various brands before making a decision.
The website boasts of a modern, user friendly design and UI that enables visitors and customers to browse efficiently.
Shop LC, formerly known as The Jewellery Channel was founded in 2007 in the United States.
Shortly afterwards, the nation slipped into a recession and the company changed its name to Liquidation Channel based on the expectation that it would have to liquidate all its merchandise and shut down permanently.
However, contrary to expectations, the business kept growing steadily and the name was changed to Shop LC in 2017 to reflect its commitment to helping people shop low cost. Today, you can't talk about the best QVC alternatives without giving a nod to Shop LC.
Whether you want to shop for gorgeous jewelry, home decor, skincare essentials, fashion accessories, and other lifestyle products, you can find them on Shop LC at affordable prices.
Like QVC, the website takes consumer education very seriously so it provides product details and customer stories for its listed items to enable you to make informed buying decisions.
Another great thing about Shop LC that gives it an edge over QVC is its easy returns policy. If you somehow end up with a product you don't like or one that doesn't quite match your expectations, Shop LC gives you up to 30 days to return the item with no questions asked and get a refund as long as the item has not been used.
Beyond low prices and a seamless shopping experience, Shop LC also provides excellent you-centric customer service so you can easily contact the support team whenever you encounter any issues and have them resolved quickly.
In addition, Shop LC offers flexible payment plans to make shopping as convenient as possible. It also regularly organizes online auctions that you can participate in and buy the items on offer at rock bottom prices.
Say goodbye to the inconvenience of having to leave your house and go to a store whenever you need to shop for clothes, jewelry, accessories, handbags, shoes, and gifts.
With Monroe and Main, you can just hop on your computer or mobile phone, head over to the website, browse through the available categories and find what you want.
Unlike QVC which is more like a Jack of all trades store, Monroe and Main specializes in everything fashion, so no matter the event you can count on it for your lifestyle and head-to-toe wardrobe needs.
Monroe and Main offers outfits for people of all sizes from skinny to plus and they're all designed to be comfortable and durable.
Whether you're looking for timeless pieces or the latest fashion trends, Monroe and Main offers an endless list of style options and vibrant color choices to pick from to help you feel your most confident.
The website even has a blog where you can find outfit ideas and styling tips to help you create perfect and flattering fits while expressing your unique personal style.
One of the amazing benefits that shopping on Monroe and Main offers that you can't find on QVC is the ability to create a credit plan and buy the products you need and pay it back in little monthly instalments.
With payments as low as $20 a month, you can shop to your heart's content without putting a strain on your finances.
Once you answer the required questions and submit your credit order, Monroe and Main will let you know whether you've been approved within 24 hours.
What's more, the retail platform offers a "you gotta love it guarantee", which means if you buy an item and you don't love it, you can return it within 60 days to get an exchange or refund.
Next on our list of best QVC alternatives is Little Woods, an amazing shopping portal available to users in the United Kingdom that gives you over 40,000 products to choose from.
You can even compare prices and specs from different brands and vendors before deciding on the merchandise that's right for you.
The categories of products you can purchase on Little Woods include gaming, beauty, toys, electricals, men/women's apparel, sports & leisure, home & garden, child & baby, and gifts & jewelry.
You can browse and shop by brands as the platform houses thousands of brands and groups all the products it offers by each brand together.
One of the best things about this QVC alternative is that it offers multiple payment options so you select the one that best suits you.
Also, the platform provides in-depth product information so you can get to know what you intend to buy and ensure it's the best one for your needs before making a move.
Although QVC doesn't give customers access to credit options when shopping on the platform, Little Woods does and all you have to do to qualify is 18 years or over and not have a declaration of bankruptcy in the last 12 months.
It only takes 60 seconds to find out whether your application for a Little Woods credit card will be approved if you apply for one and carrying out this check will not affect your credit score in any way.
The website offers an interactive, stylish, and engaging interface that makes navigation a breeze. If you want an even simpler and more convenient shopping experience, Little Woods has mobile applications for Android and iOS that you can download from your app store.
Another alternative to QVC that's worth exploring is Ginny's. The popular retail store stocks everything from health to bed, toys, bath, kitchen, gifts, wellness, and furniture, so you can shop for a everything you need from a single location.
One of the reasons why Ginny's is a better shopping platform than QVC is its provision of a credit plan that gives customers the option to buy now and complete payment over time.
To top it off, the products available on Ginny are offered at budget friendly prices so you don't have to worry about high interest rates or breaking the bank to get what you want.
With Ginny, you can enjoy budget-friendly monthly payments on the items you purchase on credit.
For instance, you'll only have to pay $10 per month for goods that cost up to $100, $20/month when you buy up to $200, and $25/per month for purchases up to $400.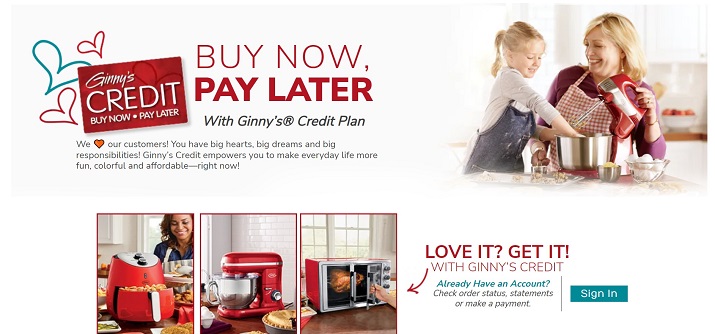 You can build your credit score and unlock higher credit limits to buy even more products from Ginnys when you pay back your instalments in a timely manner.
Even if you're in the process of rebuilding your credit, you can still take advantage of Ginny's credit plans via its down payment options.
When you shop on Ginny, your satisfaction is pretty much guaranteed. The platform has a simple and transparent return policy so if you're not satisfied with your purchase, you can return the product and get a replacement or have the amount you paid refunded to your account within 48-72 hours.
Thanks to Ginny's secure checkout processes and account management systems, you can feel at ease when shopping online because all your confidential information will be kept safe and protected.
Seventh Avenue is an online store in the United States and parts of Canada that sells electronics, furniture, gifts, clothing, edible treats, outdoor equipment, products for your pets, and more.
You can view and purchase any of the goods available on the website at discounted prices or take advantage of delicious exclusive offers.
Just like with QVC, Seventh Avenue takes security very seriously and goes to great lengths to encrypt your data and ensure that your personal and financial information are protected against third party access and malware attacks.
Every item displayed on the platform includes a description so you know exactly what you're buying and what the product can do before deciding to add it to your cart.
However, unlike QVC, Seventh Avenue offers a differentiated and engaging shopping experience by empowering you to buy anything you want and make budget-friendly payments at a later time with its credit options.
All you have to do is shop for the item you want, then select Seventh Avenue credit at checkout, supply answers to a few questions, and submit your order.
You'll hear back within 24 hours and find out whether your request was approved or not. Seventh Avenue's monthly payment plans typically start at $20 a month and you can improve your credit score and unlock higher limits by making your payments on time.
New products are constantly being added to Seventh Avenue's catalog, so you'll always find more options that you can explore until you find the item that matches your preferences and speaks to your needs.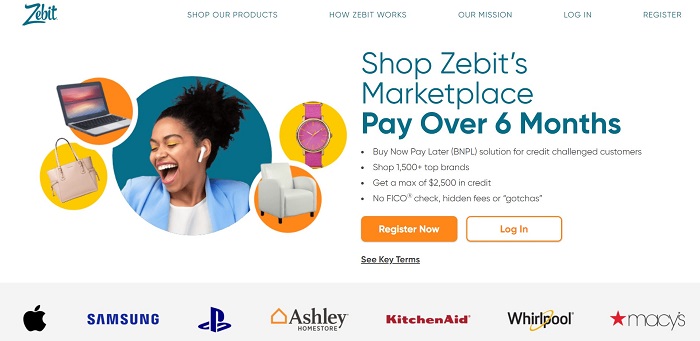 If you're looking to shop mainly electronics, kitchen products, home decor pieces, and lifestyle items, Zebit is another site like QVC that's worth checking out. Zebit stocks over 1,500 known brands so you can be sure of getting quality, durable products.
You can shop brands like KitchenAid, Samsung, Apple, Macy's, Ashley Homestore and more easily and quickly. Thanks to Zebit's stylish and intuitive interface, you can enjoy a hassle-free shopping experience every time.
With Zebit, you can buy your dream items right away and pay for them over time if you can't afford to pay for them in full instantly.
When you're ready to check out, Zebit will ask you to make a down payment for the products of between 20% to 30%, then you will pay back the rest in monthly or biweekly instalments depending on your income schedule.
Unlike QVC and most of its counterparts, you don't have to worry about your credit score when applying for a Zebit credit account because the brand does not require or use this information.
It won't check your FICO score, you simply have to fill a form, submit your application, and wait for your approval to come through, after which you can shop till you drop.
Zebit provides credit of up to 2,500, with a minimum monthly payment instalment of $20 spread over 6 months. There are no hidden fees on Zebit, so what you see is exactly what you'll get.
To qualify for Zebit credit, you need to be above 18 years old or of legal age, and the website needs to be able to validate your identity, as well as your employment or income.
10. FlexShopper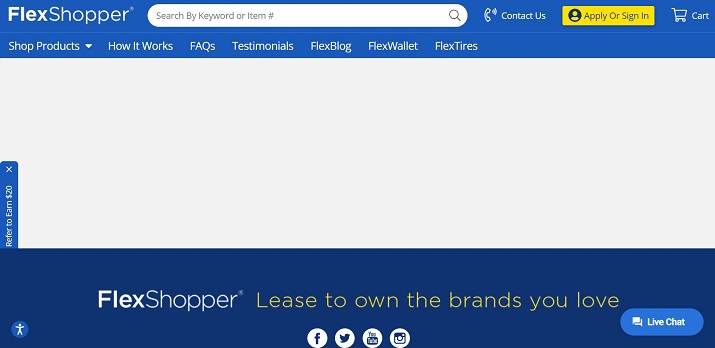 FlexShopper is a retail outlet like QVC that lets you shop from its listing of over 80,000 products ranging from furniture to appliances, cell phones, video games, TVs, and more. It stocks various brands so you can probably count on finding your favourite brands and shopping your beloved products easily.
The platform supplies detailed product descriptions for every item it lists so you can fully understand what you'll be getting if you choose to buy. Flexshopper also provides customer reviews so you can see what other people who have used the service have to say about their experiences.
Whether you want to purchase an item outrightly, rent it, or buy now and pay as you go, FlexShopper provides different options to suit your preferences, budget, or financial situation.
To use the pay as you go option, all you have to do is apply for a spending limit of up to $2,500, get instant approval, begin shopping for the products you need, and pay installmentally.
Once the products you bought get delivered, your first payment will be deducted from your account automatically and you'll be charged weekly for subsequent payments until you're done paying it off.
Flexshppper offers flexible payment options, so you'll get up to 12 months to complete your payments and own the items you buy.
FlexShopper currently boasts of the largest digital selection of lease-to-own products so you'll be hard pressed to find an item you want that isn't available on the platform.
This combined with a comfortable shopping experience and an easy to navigate interface makes Flexshopper one of the best sites like QVC you can use.
Conclusion
The world of online shopping has gotten so much bigger thanks to outlets like QVC that are committed to delivering easy and convenient shopping experiences to users. Now no matter where you are or what time it is, anything you want is just right at your fingertips.
Whether you're looking to try a different retail platform, or you're looking for specific items, or flexible payment options that you can't find on QVC, these alternatives can come in handy.