Finding the right furniture for your needs can be tricky. On one hand, you want tasteful pieces that complement your space. On the other, you definitely don't want to overspend.
Whether you're searching for Scandinavian furniture, mid-century modern pieces, minimalist, or cheap bohemian furnishings, it's important to know where to get the pieces worth your investment.
From desks and outdoor furniture to cute and comfortable chairs, there are many stores available that stock a wide range of furniture and related accessories that cater to all tastes.
Wayfair is just one of the discount furniture and home goods stores that offers products to help you spruce up your space without breaking the bank.
While you may find great buys and daily sales on furniture and other home items, Wayfair has been making headlines for the wrong reasons.
Not only that but there are several other drawbacks to using Wayfair:
Shipping may take time
You must report issues within 30 days of delivery
Most items require assembly
You pay to return what you don't like
It's hard to know if you'll like the item until you get it
Sometimes, items disappear or get damaged in the mail
With all these issues around Wayfair, it can be hard to figure out other affordable places to get your home furniture and décor.
Fortunately for you, we've rounded up a list of the best Wayfair alternatives to give you more options to choose from.
Best Wayfair Alternatives
Amazon is the biggest online retailer selling electronics, books, food, clothes, smart gadgets, and more. Like Wayfair, you can also find furniture and other home furnishings on Amazon, except that Amazon commands more buyers and revenues than Wayfair.
Plus, they're both in direct competition but Wayfair pales in comparison in terms of size, net worth, and popularity. The platforms can have some overlap in products, but Amazon has a wider range of selection and varied pricing to help you find what you want.
You can find furniture quickly if you're short on time and want a budget buy. Plus most items ship free and the package will arrive quickly.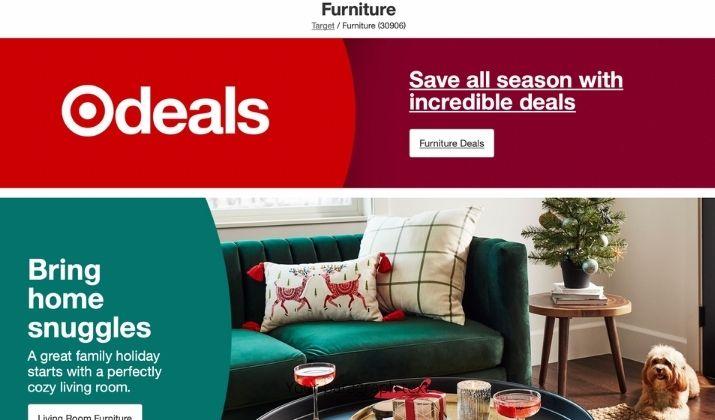 This is another huge retailer that also sells home décor and furniture from different designers who partner with them to bring lower-priced products to consumers.
Target stocks a range of furniture styles including mid-century modern styles at affordable prices, and Opalhouse whose home objects have a unique and special feel.
You'll find a great selection of styles and everything from office furniture, real plants, and more.
What stands out for Target that makes it a great Wayfair alternative is that it has physical stores, unlike Wayfair – which is an internet-only retailer.
If you like contemporary designs, you'll love Rove Concepts. The furniture store offers high-quality items made from long-lasting materials.
The company's hands-on approach to making furniture can be seen in its contemporary style design, which offers comfort and longevity for years to come.
Unlike Wayfair, which is predominantly online even though it has a physical store now, Rove Concepts has its own artisan workshop where the production of most of its furniture is handled. So you'll get quality materials and construction of furniture.
Rove Concepts has real staying power and you're sure of what you're buying. You get luxury items for your everyday needs and get access to early sales and better pricing.
Plus, the company offers vouchers – which you can apply to future purchases and save more on buying furniture even if you plan to purchase just one piece from the retailer.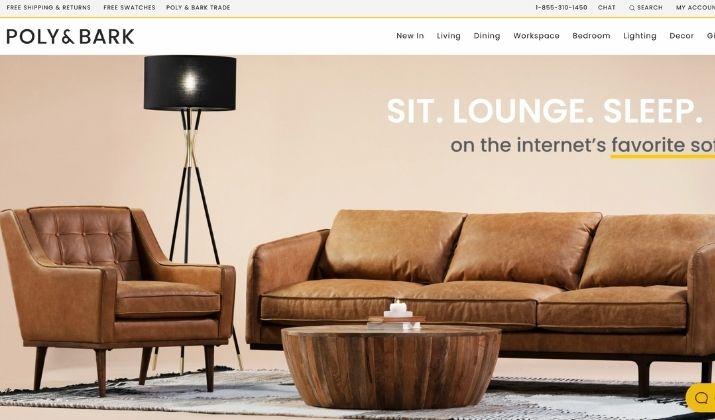 Poly & Bark is a direct-to-consumer furniture brand that does its business with a solid customer-first approach. You can get quality furniture that's budget-friendly and is made from premium materials like pure-aniline or full-grain leather.
The company offers furniture that can outfit every room in your home with options for armchairs, desks, sofas, beds, dining sets, décor, accent lights, dressers, and more.
It's great for first-time homeowners looking to furnish their spaces with quality pieces that won't break the bank.
Plus, Poly & Bark offers unlimited complimentary swatches, and everything ships to your door with a generous 100-day return, compared to the 30-days that Wayfair gives.
If you don't like what you bought, you can leverage the no-cost return shipping the company provides – which also applies to other purchases – not just clearance or sale items.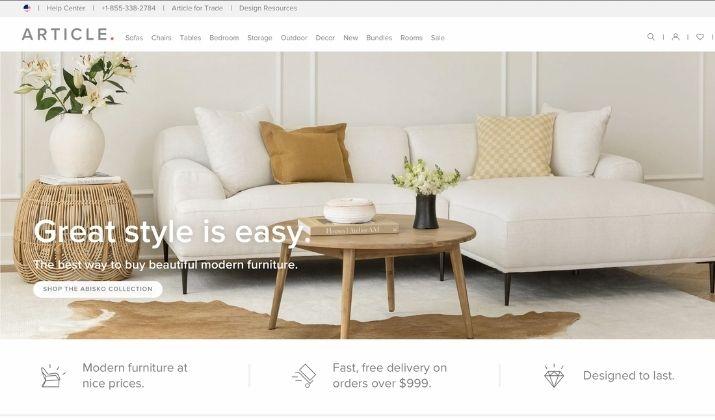 Article stocks modern furniture with a wide range of stylish options to choose from. Like Wayfair, this mostly online-only furniture business caters to customers seeking simple, modern-aesthetic furniture for their spaces.
You'll get options for accent colors, but mostly in neutral-heavy palettes – especially in fabric upholstery like ottomans or armchairs.
Article's emphasis is on quality materials and construction with the majority of the pieces made from solid wood construction or full-aniline leather upholstery.
If you want some good style but you're not sure where to start, Article provides furniture bundles – which Wayfair doesn't. Its one-click buying option offers a discount for buying multiple items and ensures everything looks good together.
Plus, you can return goods within 30 days for a flat $49 pick-up fee and exchange any item for free within that grace period – at no cost.
IKEA is a popular brand that provides affordable, stylish furniture. You can shop through their selections and check out everything from folding dining tables to futons online.
There's no shortage of variety in their offerings, so you can shop the basics or splurge on premium finishes and materials. The space-saving furniture is smartly designed and sports carefully engineered features, meaning the desks, tables, beds, and other items can stand up to daily use for years to come.
The furniture is ready to assemble and can suit any backyard or outdoor needs too. You'll get lots of picks designed with larger patios in mind, but you can also find furniture sets for balconies and other small spaces.
Regardless of the space, you also get a guide with popular furniture material definitions to help you plan your space so you can make a more informed purchase.
IKEA beats Wayfair in its return policy. You can return items within 365 days compared to Wayfair – whose policy is only 30 days. Plus, IKEA has showrooms while Wayfair doesn't, and you get limited warranties – which Wayfair doesn't offer either.
Explore: Best IKEA Altfernatives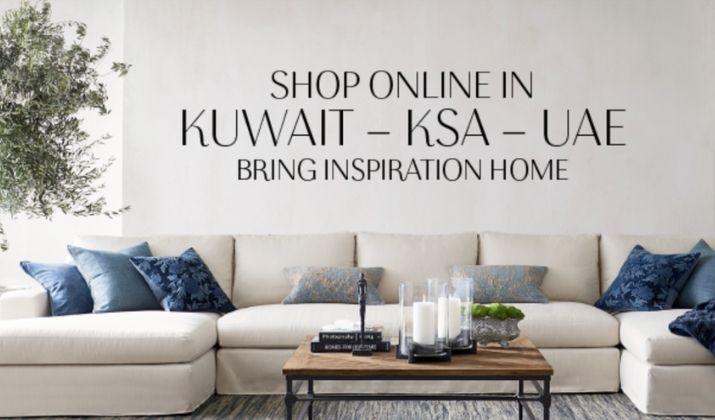 Pottery Barn is home to traditional and eco-friendly furniture – which you can find both in-store and online – compared to Wayfair that mostly sells items on its online store and you can't see or examine the furnishings before you buy.
The company offers a large selection of furniture with complimentary fabric and leather swatches.
You also get white glove delivery service, design consultations, a 30-day return policy, and flat rate shipping for non-parcel items.
The company has been around since 1949, compared to Wayfair – which was founded in 2002 – so it's well established and offers the same or better quality, stylish furniture, and home décor.
And you can make an appointment with their interior design crew at your home, in-store, or chat with them online – all at no cost. You get a virtual room planner on its online store where you can visualize and reorganize furniture pieces to design your ideal combination.
Everything from supersized sectionals and simple sofas to home office essentials and nursery furniture is available on Pottery Barn.
Most items at Wayfair require assembly via Handy.com or by yourself for a fee. Pottery Barn has some furnishings that need assembly, but they also have ready-made items that can be delivered to your location – which is more convenient and less of a hassle than assembling yourself.
Both companies offer a limited 30-day window for returning unwanted or defective products, and none offers additional warranties. However, Pottery Barn gives you seven days to return a ready-made sofa for a full refund.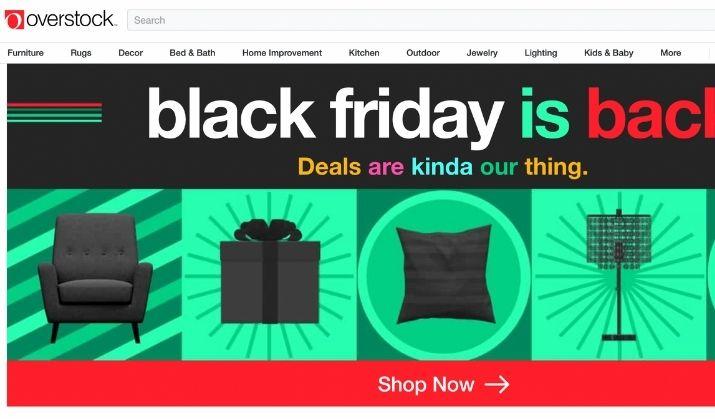 Overstock is a budget-friendly option for furniture. Like Wayfair, Overstock is an online retailer with tons of furniture options – some on sale and others at affordable price points.
From bistro sets to loveseats and swings, Overstock has almost anything you could need to set up your patio. There are different styles and pieces that will work well with your needs and specific budget.
Plus, they categorize their pieces in different price ranges and offer regular sales and promotions so you'll be able to save some money. They also offer free delivery on shipping their furniture.
Since 1999, the company has been on the online home shopping scene and has grown to offer even kitchen appliances and rugs. You can find home goods in a wide range of styles, plus ideas to decorate your home, a clearance section, and flash deals.
You can also shop through the Overstock app, browse by category, and narrow your furniture search by brand, material type, ratings, and more.
Plus, you get budget-friendly deals and seasonal deals or limited-time flash deals. You can join the Club O loyalty program and get more perks including five percent rewards on purchases and a rewards store to earn back more on chosen items.
Both stores offer rock bottom deals but Overstock shines in its generous percentages with new products added to its daily flash deals every day.
Bed Bath & Beyond is a retailer that offers everything you need for organized living – except indoor furniture. The company sells a sizable selection of patio furniture, weather resilient and lightweight items, and expanded patio sets.
The mega-retailer sells dining sets, chairs, chaises, and more for outdoor living, though most of the patio sets are sold and only available online.
You'll get practical patio furniture like benches, Adirondack chairs, zero gravity chairs, and simple folding tables. Bed Bath & Beyond also offers an abundance of aluminum items with some resin wicker options, and patio seating sets for larger groups.
When it comes to pricing, Bed Bath & Beyond offers fair rates, plus you get free shipping on items from $19 compared to Wayfair whose free shipping starts on items $35 or higher.
West Elm is a good Wayfair alternative if you want to get mid-century modern furniture. The popular site focuses on quality finishes and materials sourced sustainably so its furniture looks good – but is also good for the environment.
Many wooden items like beds, dressers, and side tables are made with Fair Trade Certified wood and they're customizable.
What sets the brand apart from Wayfair is that you can customize color and upholstery options using its online shopping tool. For some items like sectionals and sofas, you can select options like seat depth, width, and other parameters for semi-custom furniture that fits your space.
West Elm allows you to shop furniture collections by style, including their industrial-inspired pieces and mid-century modern silhouettes.
But you can find your greatest selection at the company's online storefront, but they also have physical stores where you can check out their furniture in person.
West Elm offers unlimited flat rate shipping on large-item orders while Wayfair's flat shipping rate of $4.99 applies only for orders below $35.
Urban Outfitters is a trendy online store that offers a ton of small items and furniture with a large selection of adorable, gift-worthy items.
The company emphasizes natural materials and rich textiles, with unique and eclectic options available for anyone to choose from.
They have unique finds, incredible furniture, and different price points plus a sale section that allows you to get great items at a bargain.
You can shop the store – though it's online-only – and find a wide range of large furnishings like beds, couches, armchairs, and more. You can buy furniture that's not boring or basic, and find unique forms, shapes, and whether you're looking for a modern sofa for your living room or a boho look for your bedroom.
Unlike Wayfair, whose flat shipping rate applies to orders under $35, Urban Outfitters offers a flat rate for your entire furniture order, meaning if you're shopping for several items, you can bundle them together in one and save.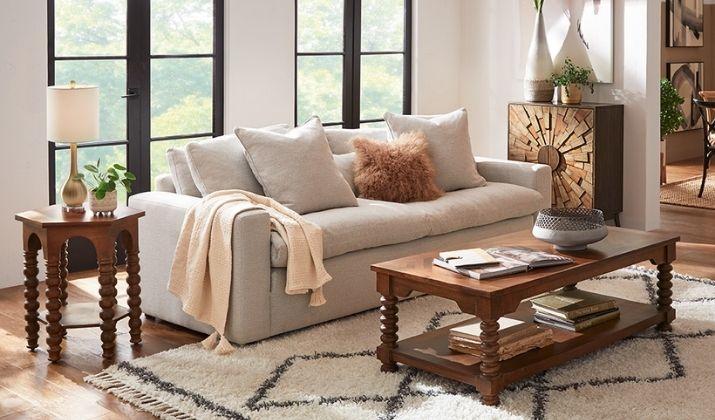 Home Depot is another established store that offers a large selection of furniture with free delivery to your home or local store.
You can get furniture from other popular retailers in-store or online and get furniture for the dining, bedroom, living room, and home office.
The furniture available comes in different design styles including contemporary interior, modern, and traditional among others.
You can shop online and arrange for free delivery to your location from the nearest store.
And Home Depot gives a more generous return policy of 180 days, unlike Wayfair's – which is only 30 days.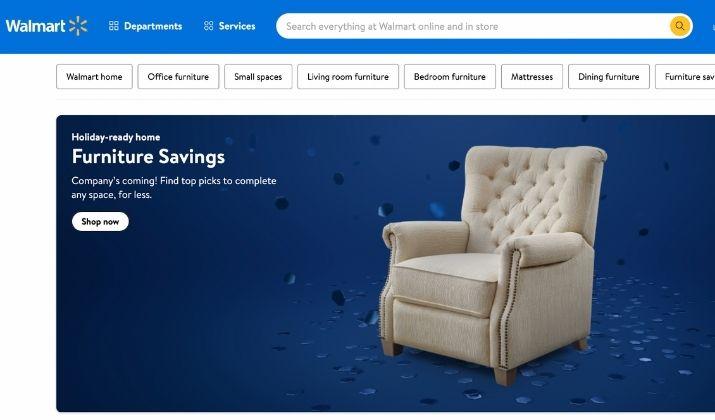 Walmart is another established store with budget-friendly furniture for every room.
Compared to Wayfair, you can get free shipping on your purchases, and get them delivered to your home at no extra cost.
Their 90-day return policy is also generous compared to Wayfair's 30-day policy.
You can shop for media consoles, accent chairs, couches, bed frames, and other budget furnishings for any room of your home. Some stores carry a limited furniture selection, but their online store has the widest variety.
Walmart emphasizes value so most items will be made of MDF, so you'll be hard-pressed to find premium materials like solid wood or leather construction.
If you're looking for comfortable modular furniture, you can get it on Burrow. The company creates stylish yet functional furniture like shelves, sofas, coffee tables, and more though they're expanding quickly into lighting, rugs, and accessories.
You'll get pieces like modular seating options that you can reorganize and split into a sectional or into two separate pieces.
If you're a frequent mover or apartment dweller, you'll find it easier to move Burrow furniture around your space, and transport individual sections when you want.
Shipping is always free on every single order unlike for Wayfair, where it's for orders of $35 or less. And there are no fine print or minimums – just a promise to get your new furniture as soon as possible.
Joybird is a relatively new brand on the market. The company is best known for its moderately-sized collection that's more budget-friendly.
You'll find a mid-century collection of modern furniture and though you can't view the items in person as many other stores do, you'll enjoy its customization.
Most pieces are available in various wood finishes and more than 50 colors and fabrics. You can easily order free swatches before you commit and get more affordable shipping compared to other brands.
Joybird offers faster shipping than Wayfair, and they offer in-store pickup, email discounts, in-store layaway, and a sustainability commitment.
Wrapping Up
Shopping for home goods is easier today than it used to be. Today, you'll find countless online retailers that let you find the furniture you need for your space easily by adding to your cart and having them shipped right to your door.
If you're looking to switch from Wayfair or want options with easier shipping options and better prices, any of these 15 Wayfair alternatives are good picks to consider.