Shein is a Chinese fast fashion retailer that was established back in 2008. Over the years it grew to become a popular destination for individuals that wanted quality apparel at cheap rates.
However, the company has received stiff competition from alternative companies that provide an array of products, offer excellent services, and even provide quality apparel at more affordable rates.
Below are some of the companies that come across as excellent substitutes for Shein. Take a look if you want to explore more shopping options to find out the best deals.
Also Read: Best Websites Like Shein For Men
Best Shein Alternatives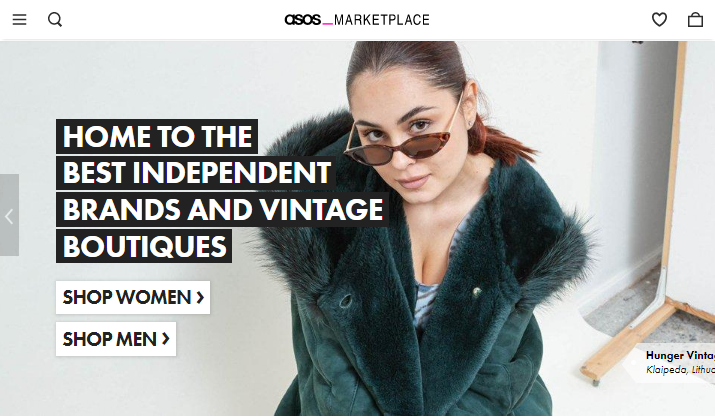 First up on this list is ASOS, which is the short form for As Seen On Screen. The company started as a celebrity-centric clothing website with replicas of outfits that were often worn by actors and actresses in TV shows and films.
It later changed to become an all-inclusive online apparel marketplace with products for just about anyone including men and women.
The company was founded in 2000 and has its headquarters in London, United Kingdom. It also has satellite offices in locations such as Berlin and Birmingham.
One of the reasons why this company stands out is that it has a wide range of clothing brands to choose from. It has over 850 brands under its online marketplace including at least 17 of its own.
Some of its own brands include ASOS Design, AsYou, Crooked Tongues, TopShop, Reclaimed Vintage, and Dark Future. It partners with independent brands such as Crayola, LaQuan Smith, VFILES, and The Simpsons.
The company also avails some of the most popular cosmetic brands in the market today. These include Revolution, Olaplex, Dr. Barbra Sturm, MAC, NEOM, and Sol De Janeiro.
Other things you can find on the ASOS marketplace include accessories such as sunglasses, bags & purses, hats, phone cases, jewelry, watches, scarves, gloves, and shoes.
Another thing that makes this company impressive is that it can deliver products to every country in the world. Additionally, customers that spend over $60 on purchases can have their items shipped free of charge.
ASOS is one of the companies that believe in upholding strong corporate values which is why it also supports eco-friendly projects.

Urban Outfitters is a multinational lifestyle retail corporation that was founded in 1970. It has its headquarters in Pennsylvania.
The retailer has a strong presence in various countries including Spain, France, United Arab Emirates, Belgium, Portugal, Ireland, and Germany.
The company has a strong online presence and publishes its entire list of products to ensure that customers know exactly what they can find. It differs slightly from Shein because it includes a variety of items from different categories.
Of course, it is most popularly known for offering some of the best quality apparel for both men and women. However, it also offers items such as footwear, accessories, houseware, sportswear, and beauty & wellness products.
This is another company that provides free shipping globally as long as customer orders are over $75. In most cases, such standard orders arrive within five to eight business days.
If a customer wants an order delivered sooner, they may have to choose a different shipping arrangement which costs a specific amount of money depending on specific parameters.
Urban Outfitters offers an array of products from different brands including Vagabond Shoemakers, Valentina Ramos, Valley Cruise Press, Vanity Planet, Half Caked, and Hanhoo.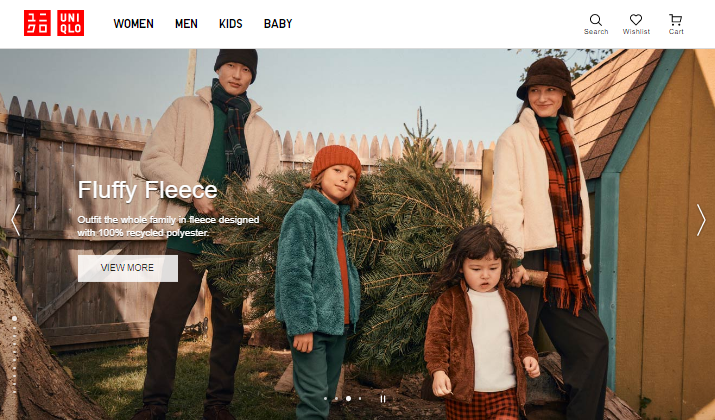 Another excellent company considered a formidable alternative to Shein is Uniqlo. It is a Japanese casual wear designer, manufacturer, and retailer with headquarters in Yamaguchi, Japan.
This company has stores in different parts of the world with the United States being one of the most important markets. That is why it has over 46 brand stores in the U.S.
The company offers clothing products for women, men, and kids. One of the things that make it stand out is that it places a lot of emphasis on creating top-quality products.
It also creates products in a wide array of colors making it possible for just about anyone to find something they fancy. What's more, the company strongly believes that quality products should be made accessible to people at a relatively cheap rate.
While individuals can walk into any of the brand's stores and pick up the products they need, they also have the option of making purchases through the company's online store.
The good thing about shopping through the company's website is that customers get to browse through products that are organized under specific categories. Customers can also make their shopping experience better by downloading and using the company's mobile app.
Uniqlo is another company that upholds corporate responsibility which is why it supports various social and environmental programs in different locations around the world.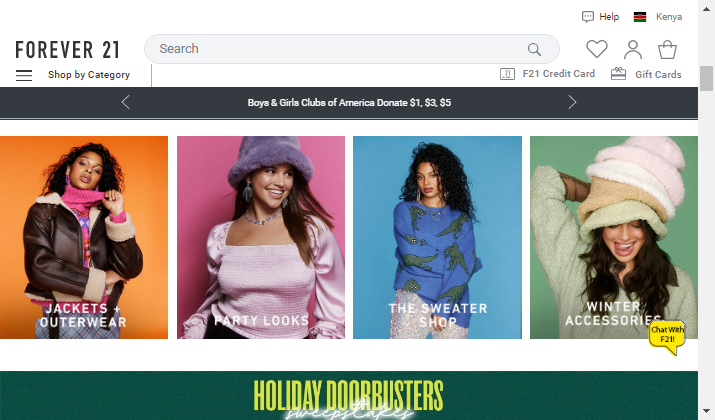 Another exceptional alternative you can consider is Forever 21. It is one of the most popular multinational fast-fashion retailers in the world.
It has its headquarters in Los Angeles, and has over 540 outlets distributed in different regions. This is the go-to retailer for individuals that wish to get all the latest in fashion clothing.
It offers items for men, women, and children. Additionally, it deals with products such as cosmetics and accessories.
One of the reasons why this retailer is popular is that it often runs promotional campaigns that help customers acquire whatever they want at discounted rates. The deals become even better for those who shop online because of the convenience they tend to enjoy.
With this retailer, individuals can buy items online and then pick up their orders physically at a local store. Alternatively, individuals can make purchases and have them delivered to the place they find most convenient.
Individuals within the United States can expect to get free shipping for orders worth $50 and above.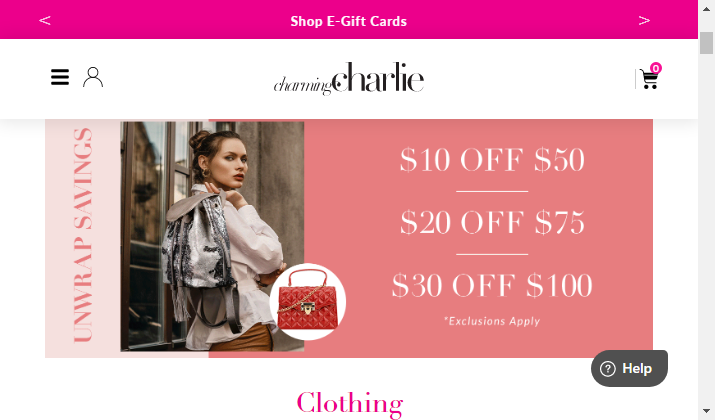 Charming Charlie is the next of the best Shein alternatives you might want to try out. It was founded in 2004 and has its headquarters in Texas.
Unlike Shein, Charming Charlie is known for offering contemporary fashion options and accessories for women. One of the things that makes the retailer stand out is the fact that it organizes its products according to color.
If you walk into a local outlet, you'll be able to choose dresses, pants, and other types of clothing based on color. While it only operates a few outlets, it has a big online presence.
That is why it focuses more on appealing to customers through the online space. Its website has a simple interface allowing customers to easily browse through different sections and choose the items they want.
Online ordering is also simplified thanks to a straightforward checkout process. Like most companies on this list, Charming Charlie frequently runs promotions that ensure customers save some money when they buy items.
It also provides free shipping for items that are worth more than $50.
Beginning Boutique is an Australian eCommerce store with headquarters in Brisbane, Australia. It was founded in 2008 by Sarah Timmerman.
This particular store differs from Shein because it specializes in offering products targeted at women. Some of the items you can find in this store include dresses, swimwear, shirts, bottoms, festival outfits, and accessories.
Over the years, the company has become so popular that it even got the chance to showcase some of its products at prestigious events such as Coachella and Splendour in the Grass.
One of the things that makes this particular retailer stand out is that it has a unique and diverse collection of women's dresses. For instance, you can find some of the most fashionable cocktail dresses, party dresses, and casual wear on the site.
The company is committed to upholding sound values with regard to sustainability and social responsibility. That is why it works behind the scenes with BBHQ and even uses 100% compostable materials for packaging.
The company runs various sales promotions and offers free shipping for items worth $150 and above.

American Eagle Outfitters is another excellent lifestyle, clothing, and accessories retailer you might want to check out. It was founded in 1977 and has its headquarters in Pennsylvania.
This retailer offers both men's and women's clothing products at some of the most competitive rates. Some of the items available through the retailer include dresses, jeans, jackets, bottoms, swimwear, tops, and shoes.
American Eagle Outfitters operates over 880 stores across the globe. However, anyone that does not wish to pay a physical visit to the stores can hop on to their website and browse through the collection of products available.
The company is known to run frequent sales and promotions to ensure that its customers get the items they need without breaking the bank. It is worth pointing out that orders above $100 are subject to free shipping.
This is one of the companies that takes a proactive role in protecting its brand name and reports any counterfeit goods developed under its name. Customers can get in touch with the company through Live Chat, email, and telephone calls.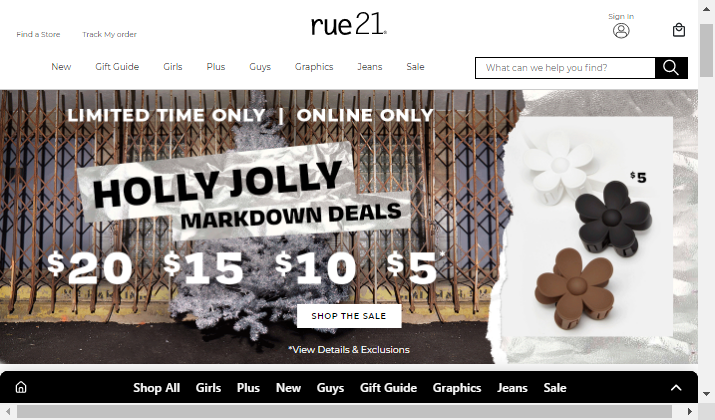 rue21 is another American specialty retailer of women's and men's casual clothing and accessories. It was founded in 1976 and has its headquarters in Pennsylvania.
The retailer is committed to providing its customers with some of the trendiest outfits at the most affordable rates. Customers can expect to find a wide range of products that can be sporty, simple & chic, grunge, and even preppy.
Not only does the retailer offer competitive pricing, but it also runs various promotional programs to ensure that customers save cash on purchases. Customers can also expect to get free shipping for orders worth more than $30.
Rue21 has a website with a simple interface for quick and easy navigation. Customers can expect to find items organized in specific sections including Girls, Plus Size, Guys, Graphics, Jeans, and Gift Guide.

Pact Apparel was founded in 2009 and has its headquarters in the Greater Denver Area.
This is another company that is committed to upholding sound social values and sustainability. It specializes in the manufacture and sale of organic cotton clothing for both men and women.
The company makes it a requirement for all its distributors to package products in compostable paper rather than using plastic materials. It is also deliberate in ensuring that all its employees and partners adhere to acceptable fair trade rules and regulations.
Pact Apparel is also one of the companies that offer some of the latest fashion clothing at reasonable rates. As if that is not enough, it runs various promotional programs to ensure customers save when making purchases.
For instance, signing up for the website comes with a 20% discount on your first purchase. Some of the things you can get through this company include baby clothes, men's and women's bottoms, tops, pants, dresses, sweaters, and other clothing accessories.

Cotton On Group is one of Australia's largest fashion companies. It has a presence in over 18 countries with over 1,500 stores distributed throughout.
The company was founded in 1991 by Nigel Austin and has its headquarters in Geelong Australia. It has employed over 22,000 people across its stores.
One of the things that make the company so popular is that it offers some of the latest fashion clothing at relatively cheap rates. It is also committed to protecting the planet which is why it engages in sustainable practices.
Some of the items you can get from the company's website and stores include dresses, lingerie, tops, swimwear, sleepwear, shoes, and accessories such as bags, sunglasses, and jewelry.

Shuuk is another exceptional clothing company that offers products for both men and women. It was founded in 2020 with the aim of availing some of the latest and trendiest products at reasonable rates.
The company is based in Punta Del Este, Uruguay but has an excellent online website where people from across the globe can make purchases. Not only does it focus on trendy clothing, but it also ensures that the products available offer an exceptional level of comfort.
The company offers free shipping for orders above $50. It also accepts free returns in case customers receive a damaged product.
This company also offers wholesale deals for anyone that wants to buy products in bulk.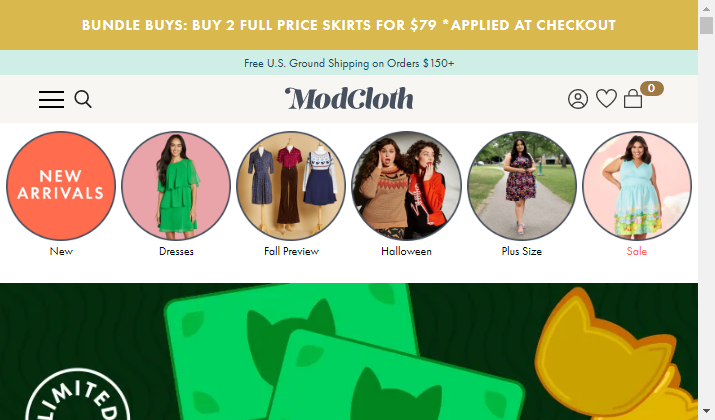 ModCloth is another American company that mainly focuses on selling its products online rather than having a physical presence in the form of outlets. The company was founded in 2002 and has its headquarters in California.
It has just over 350 employees but does an excellent job when it comes to the distribution of products. In contrast to Shein, this company mainly deals with the sale of indie and vintage-inspired clothing for women.
It has a huge selection of dresses in different styles and colors. It also features sweaters, robe coats, skirts, shoes, and plus-size products.
ModCloth is known for its unique discounts and competitive pricing. The company offers free ground shipping for orders worth over $150.

The next alternative to Shein you should think about is Depop. This is a peer-to-peer social eCommerce company that was founded in 2011.
It has its headquarters in London but also operates additional offices in places such as New York, Milan, and Manchester. The company differs from Shein because it allows designers and sellers to post products on its website and eventually make sales.
Some of the products available include second-hand clothing, designer, and even vintage products. These include dresses, sweaters, pants, lingerie, shoes, and other accessories.
Because of the liberal nature of the website, individuals can get products that go for under $10 or those that cost well over $100. That means there is always the possibility for anyone to find something regardless of their financial status.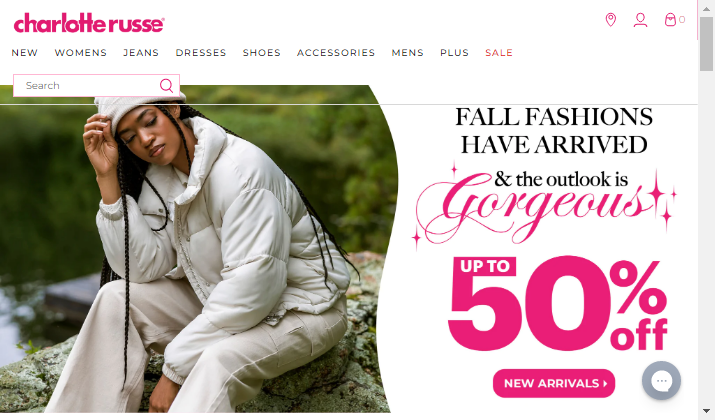 Next up on this list of the best Shein alternatives is Charlotte Russe. It is an American clothing retail chain store with outlets distributed in different locations within the United States.
It was founded in 1975 and has its headquarters in San Diego. The retail chain focuses mainly on providing women's clothes and accessories.
However, men can also find an array of products to suit their needs. Some of the products available through this company include dresses, skirts, pants, shoes, jewelry, and other accessories.
It is another company that offers different promotional discounts and affordable products.

Finally, Hot Topic makes it to this list because of its unique product offerings. The company has its headquarters in Montclair, and was founded in 1989.
It mainly focuses on pop culture and music-inspired fashion. That is why you can expect it to have trendy jeans for both men and women, skater skirts, plaid pants, themed leggings, cool hoodies, and short sleeve button-up shirts.
The company also offers a variety of items including bags, jewelry, toys & collectibles, wallets, and tech accessories. If you love pop culture and music-inspired fashion, this is definitely one of the best places for you to shop.
Wrap Up
The above listed make up some of the best Shein alternatives you can find. They offer top-quality products at surprisingly competitive rates.
However, ASOS stands out as the best alternative because of its fair trade practices, sustainability, variety of brands and products, plus competitive pricing.