These days, everyone is interested in finding ways to save money. You can observe a lot of corporations working hard to differentiate themselves from other businesses in the industry by providing cheaper items.
However, for a company to provide cheaper rates without losing money on each transaction, it must have evaluated several avenues before implementation.
As a result of the fact that individuals are always seeking new methods to cut costs beyond what they are currently doing, online retailers have decided to sell cheaper clothing at reduced rates on their websites.
If you enjoy shopping and are interested in fashion, there is a good possibility that you have heard of SHEIN.
But why is SHEIN more affordable than other brands? Where do they manufacture their goods? This post will help you understand all the answers to these questions.
Also Read: Best Websites Like Shein For Men
What is SHEIN?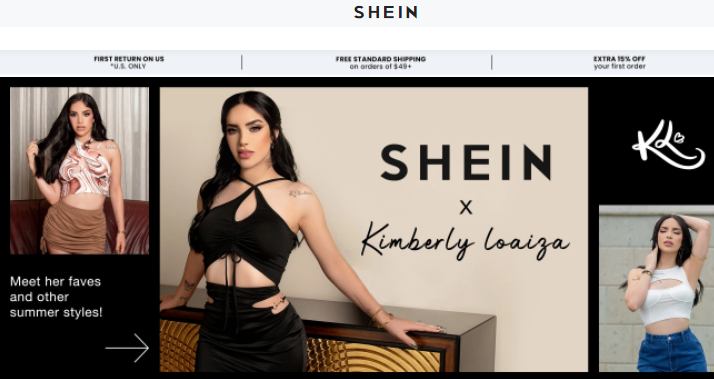 SHEIN is a brand of clothing established in 2008 by Chris Xu, an American citizen of Chinese ancestry. They ship to more than 150 countries worldwide.
This Chinese retailer is also a sales powerhouse because of its low pricing, its attractive items, and its huge presence on social networks such as TikTok. All of these factors contribute to the store's popularity.
Their garments feature a plethora of designs, ranging from the most up-to-date trends to alternative forms of apparel. Because of this, an increasing number of young people and individuals with influence are shopping here.
The sizes range from extra small to five extra-large, and the company even has its line of plus-size clothing.
It has a sizable following on social networking platforms, and its mobile application is among the most popular shopping apps available for download.
SHEIN makes it incredibly simple to shop for and return clothing items, with the delivery either completely free or very inexpensive.
It has rapidly risen to become one of the most reputable online retailers of inexpensive clothing. Because their prices are so competitively priced, many people have started their businesses by reselling SHEIN clothing.
Also Read: Best Alternatives To Shein
5 Reasons Why is SHEIN So Cheap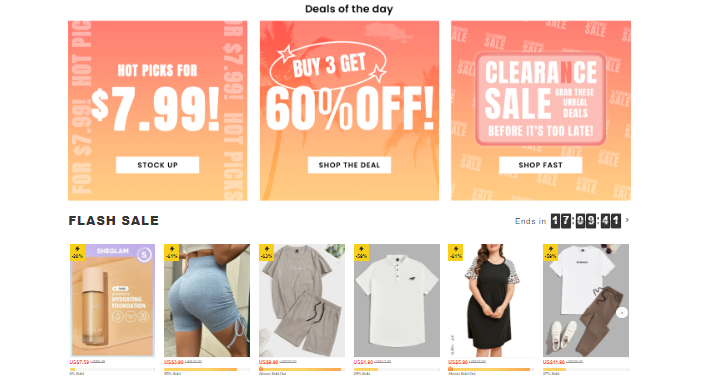 Because their manufacturers produce clothing daily and their warehouse operators ship items to clients who place orders through their online shop, SHEIN can sell their products at low prices.
Its goal is to sell a large quantity of clothing at a price that is equivalent to that of selling expensive clothing that is made of superior materials and is more conscious of its impact on the environment but is sold for a higher price because its production requires a significant investment of money and time.
Here are some of the factors that contribute to SHEIN being so cheap.
1. Cheap Shipping Cost

The shipment of its big cargo also contributes to SHEIN's low-cost shipping, as more orders are sent. The reason why shipments are so inexpensive is that companies charter whole planes to load with as much stuff as they can, and the price per box for the expense of delivery is kept to a minimum.
The company works with shipping firms that make it affordable to deliver more products. The shipments can always be relied upon. There is no chance that your order will be misplaced.
The shipments are comparable to those offered by AliExpress, and all orders are delivered without incident, even if the customer chooses not to pay for the order's insurance.
This is something that every customer acknowledges and confirms, saying that they have not experienced any issues related to the receipt of their orders.
Also Read: Best Wayfair Alternatives
2. Shein's Clothes Quality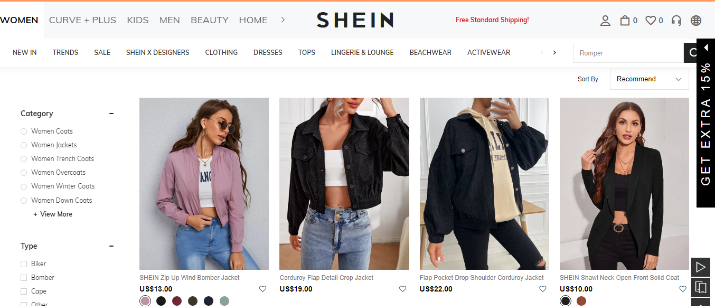 To make their products more affordable, SHEIN reduces the quality of the fabrics used in some of their garments. However, you should be aware that this is not the case with all of their items; rather, they only reduce the quality of their most expensive fabrics. This is because the value of different fabrics varies.
For instance, the fabric used to make jeans is not very pricey, and jeans rarely have issues with their quality; in this regard, jeans are comparable to the conventional retailers from which they make their purchases.
However, to give you an example, a fairly pricey linen fabric could surprise you by being of a finer and more see-through quality than it ought to be.
3. Business Model
In contrast to other retailers that purchase their items from wholesalers, SHEIN purchases items directly from Chinese producers to avoid unnecessary expenses. This strategy enables them to sell items at lower prices than competing stores.
However, this is a typical business strategy in China, similar to that of other firms like Xiaomi: selling a basic product at an amazing price.
For this model to be profitable, a few conditions need to be fulfilled, but these conditions can't compromise the product's quality. The following is a list of the reasons why SHEIN's clothes are so reasonably priced:
Fewer middlemen
After being manufactured in various factories worldwide, the clothes are shipped to distribution centers situated on several continents before finally making their way to retail outlets or, if you place an order online, directly to your home.
On the other hand, SHEIN eliminates the need for intermediaries by transporting the finished clothing directly from the manufacturer to the storage facility. They are then controlled and sent to other locations throughout the world.
Check Out: Best QVC Alternatives
No Actual Stores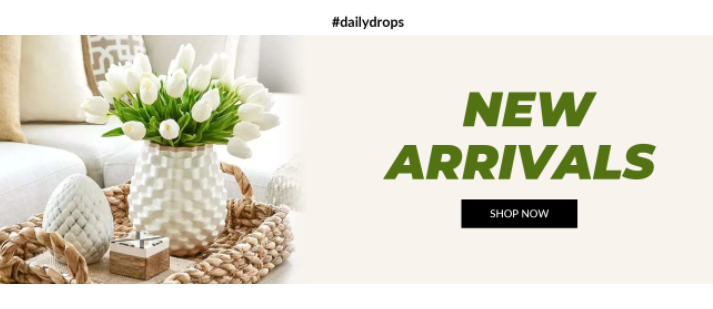 Going to a store to try on clothes is a convenient option. Nevertheless, it comes at a great price in rent, labor, and upkeep. Since SHEIN does not operate any physical stores, they can provide the lowest prices possible for their products.
SHEIN makes up for this by providing accurate information on their clothing materials, finishes, sizing guide, etc., and offering free returns worldwide. That way, you won't need to worry about leaving the comfort of your house to go shopping.
SHEIN has created pop-up stores in several places where there is significant demand. This is one method in which the brand may become closer to the people who buy it. Besides, the costs associated with these campaigns are quite low compared to those of a traditional business.
Reduce Marketing Expenditures
SHEIN has shifted its emphasis to digital marketing in place of traditional forms of advertising such as billboards and television ads.
Because of this, the brand now has a strong community to make its name recognized naturally with a comparatively small amount of financial effort.
Explore: Best IKEA Alternatives
4. Plenty of Offers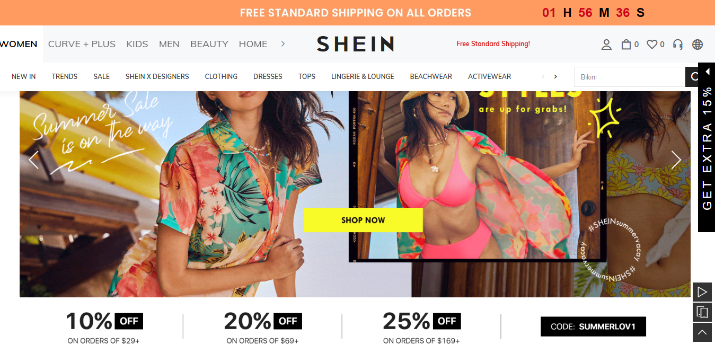 You may be already aware of the daily offers available. There are marked-down prices on clothing, but they also provide further markdowns and coupons, allowing customers to make even greater savings.
SHEIN is continuously trying to rotate its stock; the company believes it is preferable to sell everything even if the profit margin is lower than keeping the goods in a warehouse. They can clear out the extra merchandise in the warehouses by holding flash sales.
People who have purchased at SHEIN in the past will likely agree that the company's website constantly has deals going on, which results in its items being more affordable than those sold at other online retailers.
They will lower the costs of certain products and ensure that consumers receive a better bargain when they shop with them. This will apply to both seasonal sales and anniversary sales.
As if its low pricing and promotions weren't enough, the business also provides deals on chosen goods every day and additional money-saving choices such as coupons and promo codes across the week, which consumers can use to obtain discounts of up to 70 percent off some designs!
Another beneficial aspect of doing business with the company is that it frequently provides customers with promotional codes and coupons for their subsequent purchases by disseminating them through various social media and email channels.
5. Provides a Good Return Policy
If you have purchased something from SHEIN and are unhappy with it, you may send it back to them within 30 days to receive a complete refund, and they won't even ask you why!
The shop not only provides free shipping and free returns, but it also gives consumers an extended period of 60 days during which they can change their minds about purchases they've already made.
How to Determine What to Purchase from SHEIN?
You should be aware that it is worthwhile to purchase anything in SHEIN. Even though some of their products are low quality, they can still last for a long time.
Another approach to determining what is worth buying is to glance at the customers' opinions and examine if the product is of good quality or not. You will know this immediately by examining if the cloth is highly wrinkled or partially wrinkled.
And if you don't trust the company, you can always make your first purchase using the free trial shipping option, and if you like what you get, you may purchase other items from them.
Is SHEIN a Trustworthy Company?
If you are unsure whether SHEIN is a reputable retailer, the platform is so secure and modern that it is even safer than the internet store in your neighborhood for card entry.
This is because they have an excellent staff responsible for guaranteeing its safety. They will never engage in fraudulent activity because it is essential to the success of SHEIN.
It is one of the most well-known online shopping portals. Its delivery, dependability, and quality are equivalent to AliExpress.
FAQs
How long does SHEIN take to ship?
In most cases, it will take anywhere from one to three weeks for your SHEIN order to arrive at your front door. The actual delivery time may vary depending on where you are located and the kind of shipment you select.
Where do SHEIN products ship from?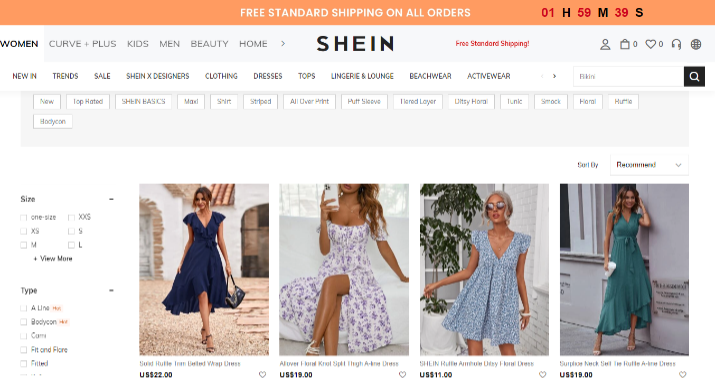 Even though the vast majority of SHEIN's products originate in China, the company does maintain a store in the United States. Items have taken as little as two business days to arrive, but they have also taken up to fifteen business days.
If you want an outfit urgently, I recommend placing your order as early as possible, even if this is often dependent on the number of goods you purchase.
Does SHEIN charge sales tax for its products?
Customers who make purchases from SHEIN will be subject to a Sales and Use Tax, sometimes known as "Sales Tax," from the appropriate states in the United States.
In such states, the law requires SHEIN to collect sales tax from their customers. After you have finished confirming your shipping details and have moved on to the checkout page, you will be able to view the sales tax that has been charged to your transaction.
Does SHEIN take debit cards?
Yes, it's possible. You have to Tap "Pay with Debit Card," and you will be sent to a page where you may safely input your card details or finish your payment using PayPal.
Can two orders be placed on SHEIN?
On SHEIN, it is possible to place more than one order. You can place the orders separately or all at once.
What happens if SHEIN delivers the incorrect product?
You have 15 calendar days beginning the day the item was delivered to make a return or exchange request.
If you get things that are damaged, faulty, or incorrect, please get in touch with SHEIN Customer Service as soon as possible for assistance.
Can I exchange my goods at SHEIN?
You have up to 45 days from the date of purchase to submit a request for a refund or exchange using your SHEIN account. If the item you want is in stock, you will be given the option to swap it. If not, you can seek a refund.
Conclusion
We've confirmed that SHEIN is cheaper compared to other shopping platforms. Numerous factors make that possible. The key reason is its business model structure. It facilitates shoppers to get products at a lower cost.
Besides, the platform is reliable; you are guaranteed your product will get to you safely. Moreover, it has robust customer service.