It's easy to figure out why people are looking for websites like Shein. Don't get me wrong, Shien is an excellent website to find affordable and quality wear.
The website is easy to navigate plus they offer free shipping on orders that are over $50. Also, they offer a 10% discount on all first orders.
You will get a variety of styles for all seasons including shoes, bags, and jewelry. The platform also has mobile apps to make your shopping easier and they ship worldwide.
However, despite all these benefits, Shein has some downfalls that push some men to check out alternative websites. One of the major problems they have is the sizing.
Because it's an Asian-based clothing online store, its clothing sizes are usually smaller than EU and US sizes. So, it's a bit tricky ordering the perfect fit from the platform.
Fortunately, Shein is not the only website where you find affordable wear for men. Other great online stores offer similar stylish clothes without having you spend too much.
In this post, I will review other websites like Shein where you will find affordable and stylish clothing to fit any occasion.
Without much ado, let's dive in!
Also Read: Best Alternatives To Shein
Websites Like Shein For Men
ARKET is your home for all casual and affordable clothing like t-shirts, trousers, sweatshirts, hoodies, caps, sneakers, socks, knitwear, underwear, and swim shorts. The website is properly categorized such that you can easily find what you are looking for.
There is a search box that also eases up your searches just like you'll find in Shein. Each piece displayed on the platform comes with detailed descriptions including sizes and colors.
ARKET also shows you similar pieces that have been purchased by other users. On top of that, the platform offers a 10% discount on your first purchase when you sign up.
I love that ARKET also caters to women and children. So, while shopping for yourself, you can easily breeze in and pick up some clothes for your wife, girlfriend, or baby.
Overall, the website has a size guide to help you find the right size for you. You'll see the differences between EU, UK, and US sizes.
That way, you will get exactly what you ordered. No regrets!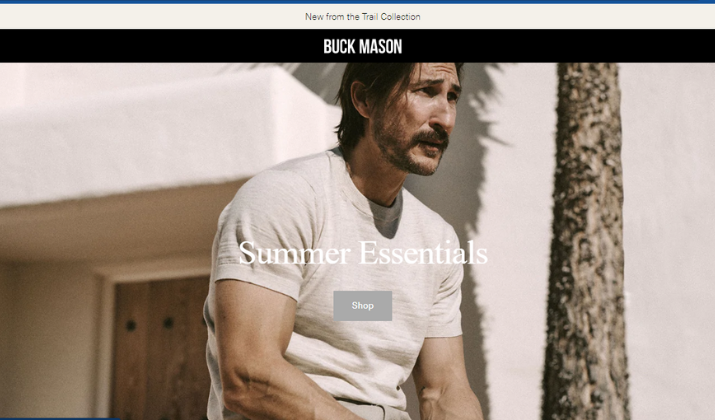 Buck Mason is another affordable clothing website for men like Shein. It's your go-to platform for all of your summer essentials; a foundation for the modern American wardrobe.
I particularly love how they give a full discount for your first order once you create an account and subscribe to their website. Upon subscribing to their newsletter, you'll get timeless style guides delivered to your email weekly.
Like Shein, all of the items on Buck Mason have detailed descriptions including colors and sizes, down to the fabric. The platform also tells you how to care for the items when you wash and dry them.
There are reviews and ratings from other buyers to help you make a better choice. The best part is that the platform delivers worldwide, like Shein.
Overall, Buck Mason's website is very responsive and easy to navigate.
Bonobos is another menswear website worth checking out. You don't need to shell out much to purchase your favorite stylish clothing from pants and jeans to shirts, sweaters, swimwear, outerwear, and even suits and blazers.
The search box can help you easily locate the piece you want. I think the most exciting part of this website is that even though you may be confused about what to wear, their well-trained style team is available to walk you through and help you pick out the perfect jeans or shirt to wear in summer, how to style your suit, and make sure that you are always well-dressed.
A lot of websites, Shein inclusive, don't have such a feature and it's a big plus to Bonobos. Though both websites also have mobile applications that work on Android and iOS devices.
Bonobos not only offers a 15% discount for all first customers but also assures you of free shipping, exchanges, and returns on all orders made in the United States. You can even create a fit profile to ensure that you always pick products that suit your body size and type from skinny, slim, athletic, straight, or tailored.
Would you believe that there are quality clothes you can buy for as low as $15? That's how affordable ASOS is.
All of their products including jeans, shorts, t-shirts, suits, and tracksuits are all neatly categorized for easy navigation. If you are a student, once you sign up on the website, you are automatically awarded a 10% discount on all your purchases until you graduate from school. How awesome!
Other customers are also offered 25% off everything when they spend $100 or more. Like Shein, all of the items displayed on the website have product details like brands and how to care for the piece.
Not sure how what style matches an occasion or event? ASOS has your back. There is a section on the website dedicated to showcasing trending styles from swimming, parties, vacation, and summer.
Their style feed is also filled with lots of inspiration that you can choose from. Aside from clothes, you can also shop for shoes, wallets, bracelets, wrist watches, boots, and necklaces from ASOS.
If you are looking for the best online clothing store to buy premium-grade jeans at a reasonable and affordable price, look no further! Mott & Bow is the home for everything denim and this makes it stand apart from Shein.
You can either use the search box to locate your desired product or filter your search by size, color, and body type. Alternatively, you can look at the ratings and reviews of other customers to make your choice.
Mott & Bow has good customer care representatives, so, be sure to have all your inquiries properly addressed and on time. There are also free shipping opportunities available to all first-time customers.
Also, all returning customers are offered free shipping on orders above $150.
Overall, Mott & Bow delivers worldwide and is an awesome alternative to Shein. It gives you the jeans you will reach for any time and caters to both men and women.
Mango is your one-stop online shopping website for all menswear and accessories. And no, you don't need to empty your savings to purchase their products. It's affordable!
I love how the website is properly and neatly categorized into different sections like shirts, pants, summer postcards, linen collection, the basics, and improved collections. That means you won't spend a lot of time time trying to locate what you want.
Upon clicking any of the products, you will see the features, sizes available, and similar products. And if you don't have the funds to go through with your purchase, you can simply select the clothes you like and add them to your wishlist.
Like Shein, Mango has a mobile app that can be downloaded from the PlayStore or Apple store. This makes it easier to access the platform, anytime and from anywhere.
If you ever encounter an issue with placing your order or getting it delivered, you can easily contact their sales representative team. You can either send them an email or use the chat box on the website to communicate with them.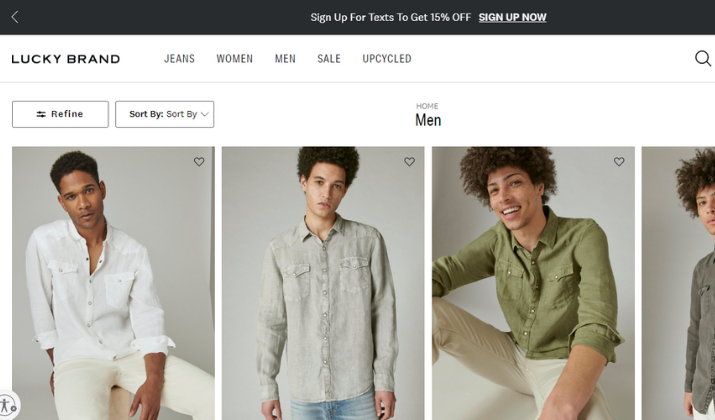 Lucky Brand gives you the best quality jeans plus other clothing items and accessories at the best price. I particularly love how the website is categorized such that you can filter your searches by size, color, price, collections, and other variables.
The most exciting part is that you get to see how best to style a pair of jeans, polo, or shirt. It shows you the colors to combine and other accessories like a belt or cap that will go with a particular product.
That's a huge benefit to customers who are clueless about fashion and styling. Shein doesn't have such a feature so it's a big plus.
There is also a size chart that helps you compare EU, UK, and US sizes and pick what's best for you plus you can read reviews from other buyers.
Lucky Brand offers a 15% discount to students and upon creating a free account on the website, you can easily add products to your basket, check out, and track your order, all while enjoying a personalized shopping experience.
In addition, you are getting free shipping on orders over $75. There is a store locator that helps you locate the nearest Lucky Brand store if you ever have issues with your order or would rather check out products physically before purchasing them.
Overall, Lucky Brand is an affordable clothing website like Shein and delivers to countries worldwide.
J.Crew Factory is another website like Shein built to deliver timeless men's clothing at a reasonable price. You will get all kinds of stylish clothing plus shoes and accessories.
The website is easy to navigate. Products are properly categorized according to styles, sizes, colors, patterns, and prices.
With J.Crew Factory, your best deals are just one click away. You will get a 15% discount on your first purchase once you sign up for their newsletters.
I love how the platform constantly runs promos. Mouth-watering deals are awaiting you each day including discounts of up to 70% off.
Alternatively, you can filter your searches and choose the discount you want. It's that easy! Once you visit the website, you'll see the sales and offers for the day.
It's beautiful how J.Crew Factory introduced an avenue to reward loyal customers. When you apply and use the J.Crew credit card on all your purchases, you will get an extra 15% off the day's purchase.
You will also enjoy 24/7 free shipping throughout the year plus exclusive access to sales and offers. The best part? There is no annual fee attached to the card application.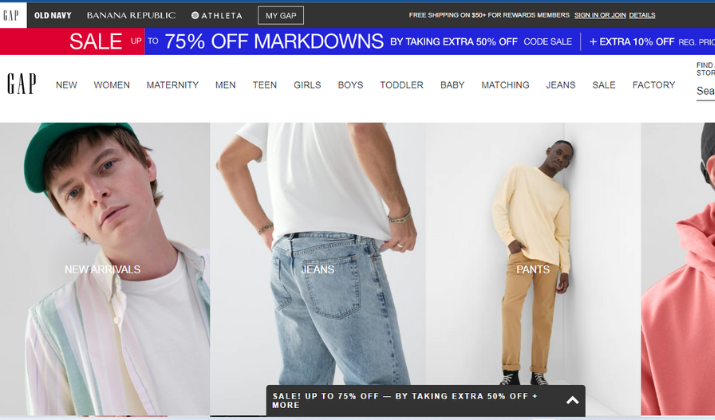 Gap is a great Shein alternative to check out as well. The platform houses clean, confident, and modern men's apparel.
You will find varieties of men's styles in all sizes and colors at an affordable price, like Shein. Gap's website is well-designed, responsive, and easy to navigate.
The categories are well spelled out from the new arrivals to outerwear, shorts, shirts, graphic tees, underwear, activewear, jeans, and much more. All you need to do is to click on the style category you want and choose your desired outfit.
Gap's products are highly affordable, particularly because of the constant deals and discounts they offer every day. The website offers as high as a 75% discount on sales.
Customers are allowed to rate and leave reviews after buying and testing the products which I think is a great feature. Gap also allows you to shop for women and children.
Once you sign up on the platform, you won't be charged shipping fees on your first purchase which is up to $50. Lastly, Gap's mobile app can be downloaded from the Apple store and it's free.
You should check out the H&M website if you are looking to stock up your wardrobe with fresh and affordable clothing styles. This website has everything from your everyday apparel like tops and T-shirts, comfy lounge sets, and underwear to formal event wear like suits and blazers.
You will also find other accessories like caps, wallets, belts, wristwatches, and many more. All items can be sorted by size, color, and pattern.
The website also offers a variety of fits to suit your body style, including skinny, slim, tapered, and straight. H&M also shows you other items or accessories that you can pair with each product you buy.
The major difference I noticed between Shein and H&M is that the former allows customers to rate products and leave reviews after their purchase but H&M doesn't allow this, which is still fine.
The website rewards you with 10% off your first purchase when you sign up for their newsletters. You can easily get the app from Play Store or Apple Store and begin your online shopping!
Nordstrom has to be the oldest online clothing website for men on this list. The platform has been in existence since 1901 which is more than 100 years!
That goes a long way to showcase their credibility and experience in delivering high-quality clothes to all genders, including men. You will get not only the most stylish clothes but also accessories, shoes, and designers – all at an affordable price.
If you don't know how best to style for an occasion, Nordstrom has made it easier by providing a section on their website that allows you to shop by occasion whether it's for sports, vacation, or simply as a guest.
You can also shop based on products currently trending, new arrivals, or bestsellers. Like Shein, Nordstrom allows customers to rate products and leave reviews after purchase.
In addition, you will see product specifications including size info and care guides. You can shop on the website from anywhere in the world and have your clothing items or accessories delivered to your doorstep.
Their customer service is available 24/7 to attend to all your inquiries or you can use the chat box on the website to leave your comments.
We all know how buying a suit online can be utterly gruesome. You may place your order and it turns out that the suit isn't your size. That's heartbreaking!
This was until Suitsupply finally cracked the code of taking measurements and having a well-tailored suit delivered to your doorstep. That's one feature that sets it apart from Shein.
Suitsupply, like the name indicates, caters just to men's suits. And it does so at an affordable price.
You will also get other accessories like belts, socks, suspenders, cufflinks, ties, and pocket squares to go with your suit. When placing your orders, you can either place orders for already made suits, alter existing sizes, or even create custom-made ones from scratch.
All you need to do when altering suits is to purchase ready-made wear either online or in-store, choose the changes you want, and then walk into any Suitsupply store to get the perfect fit.
Suitsupply's website is clean, highly responsive, and easy to navigate. Finally, all your need to register on the website and begin shopping is your email.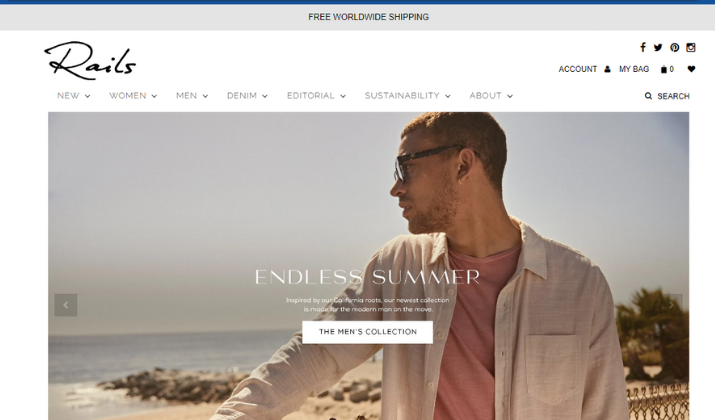 Rails is another website, like Shein, perfect for all kinds of menswear and accessories. You will find both casual and corporate wear including T-shirts, polos, shirts, trousers, jackets, underwear, sweatpants, and sweatshirts.
These items won't cost you an arm and a leg. They are quite affordable and of great quality. You can shop based on new arrivals, summer collections, or best sellers.
Each product has detailed info like the size, color, and the best way to care for it. The platform's Instagram handle is embedded on the website, so you can easily see some style inspiration for each product that you are purchasing.
Upon signing up for their newsletter, you will get 10% off of your first purchase plus free shipping to anywhere you are in the world. I love that Rails allows customers to pay in installments in situations where they can't afford to pay all at once.
Rails' size chart will help you pick perfect and stylish clothing for yourself and your girlfriend, wife, or kids.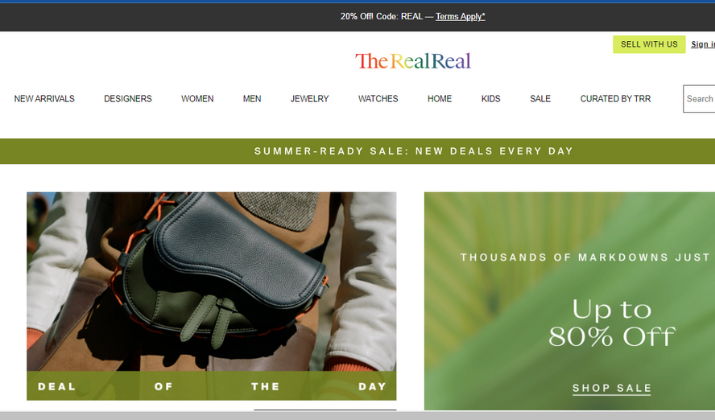 The RealReal is a mega online clothing store, like Shein, where you get a variety of items like shorts, polos, suits and blazers, outerwear, sweaters, pants, and many more.
Shein and The RealReal are similar in so many ways, especially with the clothing styles, prices, and quality. Even the platforms have similar features like a search box that simplifies your searches and well-categorized products.
Before shopping on the website, you have to first sign in with your name and email address. Not just that! You will also be granted a $25 site credit which can be used for any item purchase.
The RealReal has top fashion brands like Chanel, Louis Vuitton, Prada, Christian Louboutin, and many more. So, be rest assured that you will be getting quality items.
Lastly, if you want, you can sign up to become a full member of the platform. That gives you access to 24-hour sales and special invitations to monthly promotions. The subscription goes as low as $10 per month.
COS is a one-stop-shop for menswear. The website offers affordable and high-quality products including accessories like sunglasses, belts, caps, multipacks, shoes, and much more.
I love how the website is designed and products are categorized. You can shop for items based on new arrivals, online exclusives, trending now, essentials, the linen collection, and more.
Each item is accompanied by a product description, delivery estimate, and payment details including other helpful info such as what the item is made of and how best to take care of it.
COS pairs you with matching outfits or accessories to boost your stylish look. Upon subscribing to the platform, you will get a 10% discount on your first order which is such a sweet deal.
COS is a clothing platform for women, girls, boys, and children as well. There is a size guide to help you choose the right size when placing your order.
Their website has a magazine section that reviews lots of style inspiration and fashion guides which are helpful especially if you are not fashion-inclined.
Wrapping Up
Honestly, my overall best website like Shein is Bonobos and that's because of its robust web features. First, you are not breaking the bank to buy your favorite clothes plus the quality is top-notch.
In addition, I love how the website went the extra mile to help customers who are looking for stylish items but have no idea where to start.
In this case, Bonobos' well-trained style team will step in and help them pick the perfect jeans or shirt to wear to summer, teach them how to style their suit, and make sure that they are always well-dressed.
To sum it up, the website offers free shipping, exchanges, and returns to all customers and orders made in the United States.