Perhaps you're a dad seeking some enjoyable things to do with your children, like a father don't worry; there are men like you who have blogs that share tricks, teaching, guidance, and DIY to being a better dad.
Also, there is always room for improvement in the knowledge and skills you acquire on the path to becoming a parent. Lucky enough, this is regardless of how many times you've been through the process already.
While dad books are one option, dad blogs focus on the peculiarities and up-to-date happenings in the life of a single father that can be of assistance to a large number of other fathers.
Besides, there are other blogs that address issues of marginalized communities such as LGBTQ, the colored, dads with conditions, etc. So, you won't miss finding a blog that speaks out about your plight.
By following these blogs, you'll be extremely active with your family and know how to handle your children.
We have compiled a list of our favorite blogs and bloggers who are fathers for you to check out.
Also Read: Best Indian Makeup Bloggers
Best Dad Bloggers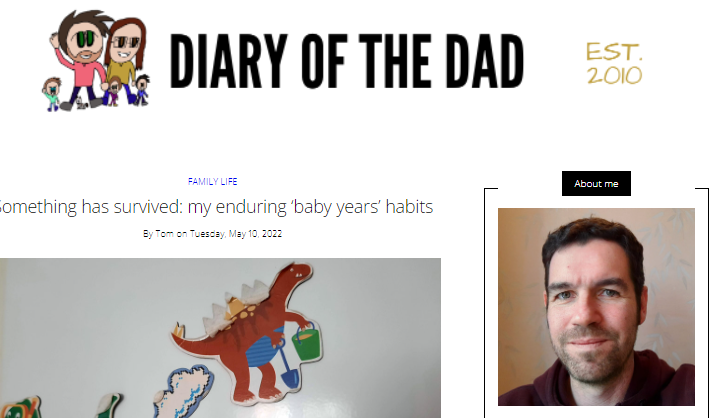 Tom Briggs' contribution to the realm of daddy blogging began with creating The DIARY OF THE DAD. He started writing it on his blog in 2010.
It offers stunning perspectives into the day-to-day experience of living with children, from the highs to the lows that accompany that experience.
You'll find content that ranges from amusing to enlightening, and if you're searching for something humorous to read, you should check it out.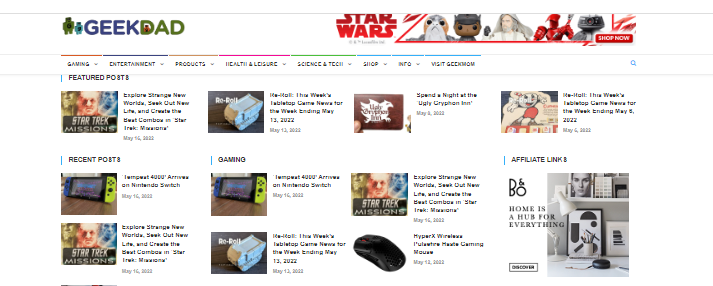 GeekDad is a parenting, tech, and culture site maintained by a varied team of contributors. These contributors work together to teach, educate, and entertain parents worldwide who have a geeky inclination and wish to raise their kids in the same manner.
Geek culture is quite popular with fathers. As a result, the existence of a blog with the name GeekDad is not unexpected.
You won't find much advice on parenting here, but there is no shortage of nerdy games and activities. Your wife may also benefit from visiting the GeekMom website, one of their partner sites.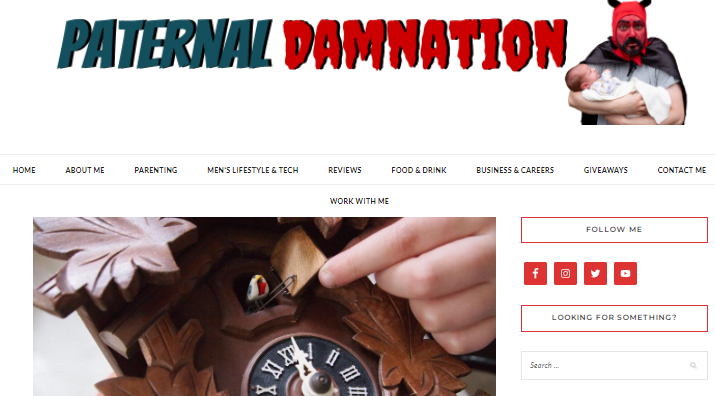 Robbie from Paternal Damnation dives deeply into parenting humor, even though no one has ever claimed that having children would be simple. The content of Paternal Damnation is an assortment of many things.
There is a wide variety of content, including articles ranging from reviews to financial guidance and assistance. There doesn't appear to be any particular line. Rather, the artist is just writing down whatever ideas come to mind.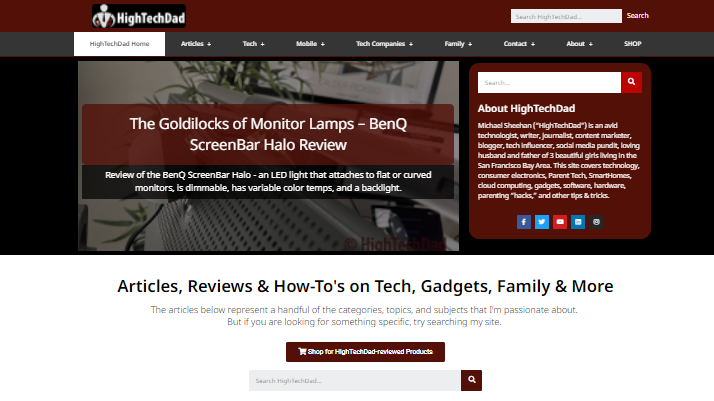 This blog written by Michael Sheehan and titled HighTechDad is, as the name implies, focused on cutting-edge technology and other electronic devices.
This blog discusses objects used daily and ways to reduce the amount of stress associated with parenting and maintaining a home. Mike also shares several outstanding how-to guides and repair manuals in keeping with this theme.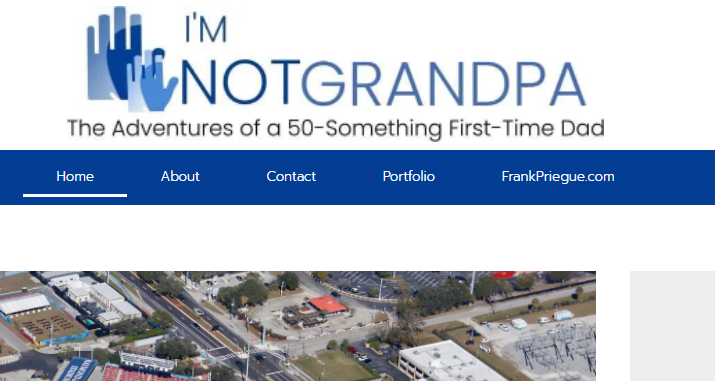 When Frank came up with the idea for 'I'm Not Grandpa,' he was undoubtedly sick of being asked the same subject repeatedly.
Even though he does not publish frequently, his articles are usually interesting to peruse. This is a great site to follow whether you are an older parent or have a child with special needs since he and his spouse are champions for autism.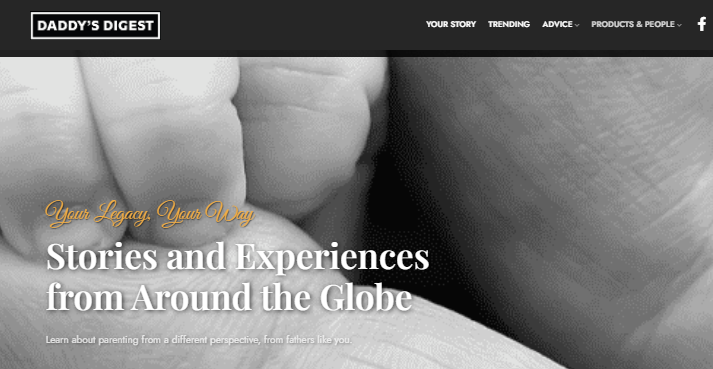 DADDY'S DIGEST emphasizes fatherhood and family life in general. The blog investigates current events, popular culture, and the dynamics of human relationships.
Additionally, most of the editorials and opinion articles published were written by actual fathers. Before settling on a course of action for either your child or yourself, it is best to discuss it with a trained expert.
This section of DADDY'S DIGEST is dedicated to providing you with motivation and sound advice so that you may become a better father.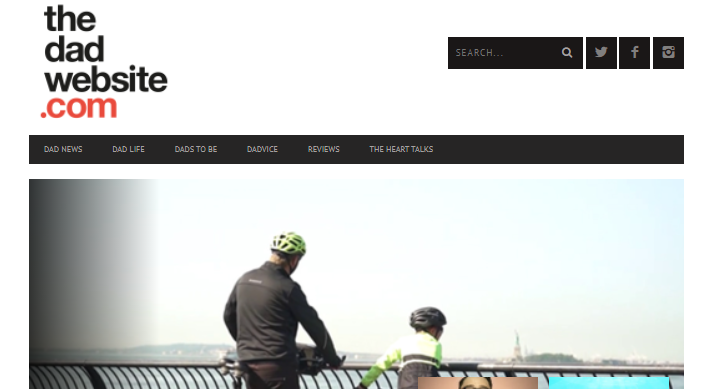 You'd never believe it, but The Dad Website is a site dedicated to fathers. Ferg, Lewy, and Phil were the first team members, but more people have joined since then.
There are a lot of dads with a lot of children and a lot of stories to tell about the highs and lows and merry-go-rounds of becoming a contemporary, hands-on parent.
They impart everything from enlightening anecdotes and sound advice to humorous stories and dad jokes designed to brighten your day.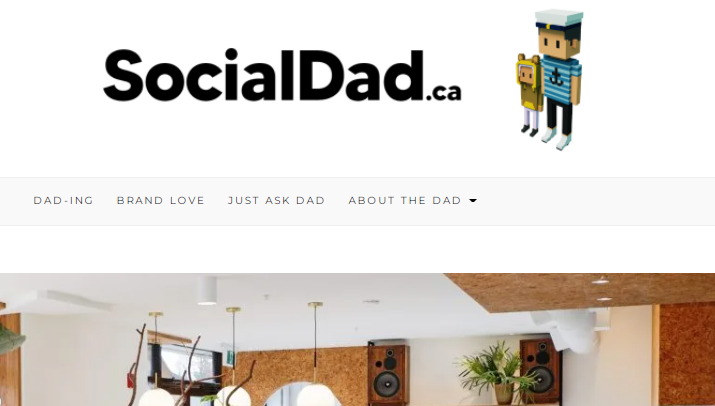 Because James is an expert in Social Media and Digital Marketing, it shouldn't come as a surprise that he runs a blog with the fitting moniker SocialDad. James is much like a lot of the other fathers on this list.
It is undoubtedly one of the best websites since, in addition to having a gorgeous layout, it provides a vast amount of assistance and information, and James updates it weekly.
In addition, if you are concerned about the state of the planet, then reading SocialDad is an absolute need for you.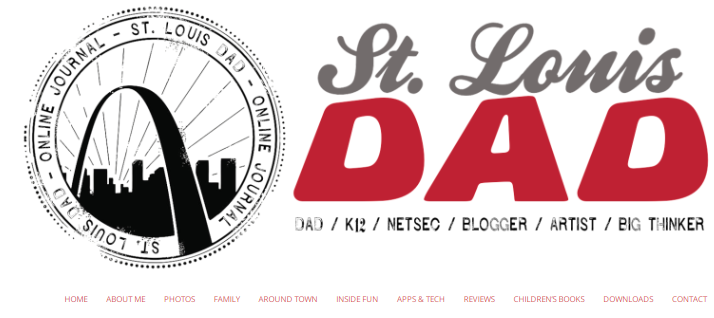 Do not be deterred by the fact that Richie Williams is originally from St. Louis. In "St.Louis Dad," he offers financial advice on various topics, including childcare and money.
If you're in the St. Louis area, there is added value, but this is an excellent blog regardless of where you are located.
When it comes to fatherhood, here is when things become interesting! You are welcome to read about other people's experiences of becoming a parent, particularly a father.
This website is geared most towards other parents looking for alternative points of view on various topics.
This website aims to encourage new and experienced parents and other caregivers to become the best parents they can be. You are not the only one going through the experience that is parenthood!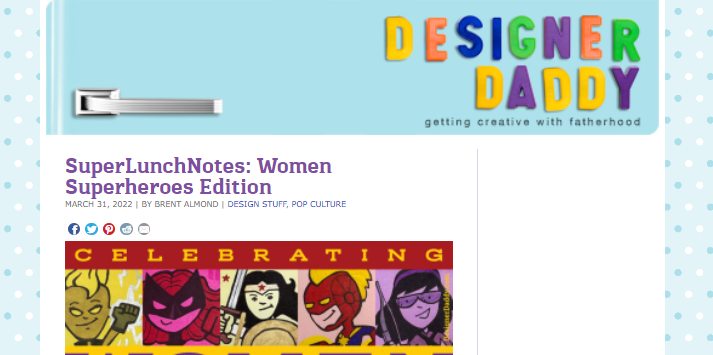 Brent Almond manages the Designer Daddy website and the Super Lunch Notes Instagram profile. Because Brent is a gay father, his website has an abundance of LGBTQ-related information, and all of it is presented in a respectful and instructive manner.
His goal, which he has been working toward for many years, is to write children's books geared at youngsters who have parents of the same gender and any family interested in teaching their children about the delightfully varied world.
Although there are some fantastic books, there are still not nearly enough of them to speak to and reflect the ever-increasing number of diverse families.
In addition to this, there is a wide selection of educational articles for parents. In general, this is a really interesting and entertaining site to read.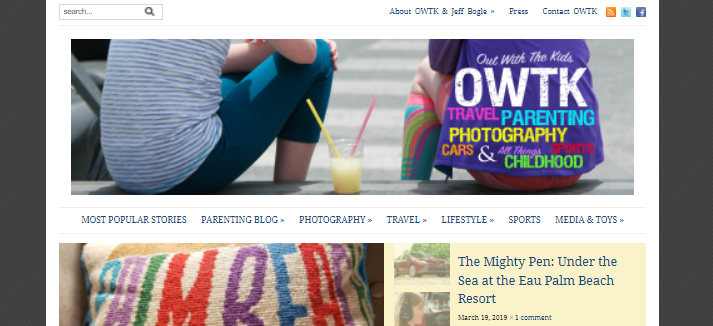 On the site "Out With the Kids," seasoned author, photographer, sports fan, and traveler Jeff Bogle, discusses his experiences as a dad.
The website, which has been recognized as one of the greatest dad blogs by Mashable and The Huffington Post, offers guidance on a wide variety of topics, including photography, lifestyle coverage, travel, and finances.
It also provides a glimpse into Jeff's world, as he and his family travel to different places worldwide. Consider the blog "Out With the Kids" to constantly remind you that the fun and excitement are just starting once you have children.
Wilderdad's mission is to provide supportive fathers with a break and a life jacket that will help them keep their heads above water in the stormy seas of parenting. However, the waves can get very turbulent.
They use tales to stimulate, advise, and direct to inspire others. The web series Wilderdad attempts to figure out a path that connects parenthood with exploration.
Numerous studies have demonstrated that both of these are essential for the development of your children. Therefore, it would be better if you read this blog.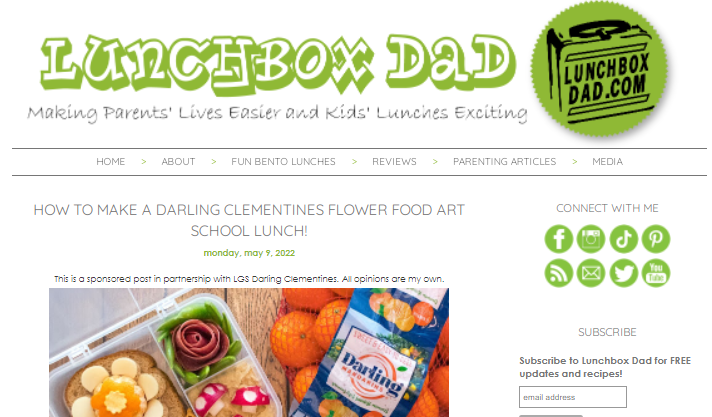 The idea came to Beau Coffron to make his children's Monday meals stand out from the rest of the week. From Disney to Star Wars and everything in between, themed merchandise was available.
He helps you make lunchtime enjoyable, connect with your children, and he demonstrates things that simplify your life as a busy parent.
Every week, you can expect to discover original recipes, hilarious images, and reflections on parenting and life generally here on Lunchbox Dad. You can find some of the most popular blogs in the sidebar to the right. They will make you laugh, but they will also give you some new ideas.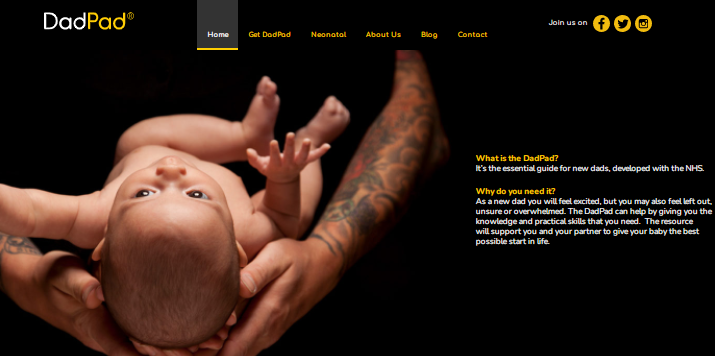 The blog known as The DadPad was released after being created with the assistance of the National Health Service in the UK and with the involvement of expert practitioners. On the other hand, their blog has not attracted any professional notice. This means it is still really good.
In a nutshell, their mission is to give fathers blog entries that are engaging and well-written, covering all elements of fatherhood and parenting, including nursing and bonding and all other parts of caring for babies.
Also, it teaches the transitions and difficulties that both the mother and the father will experience as the perinatal period progresses.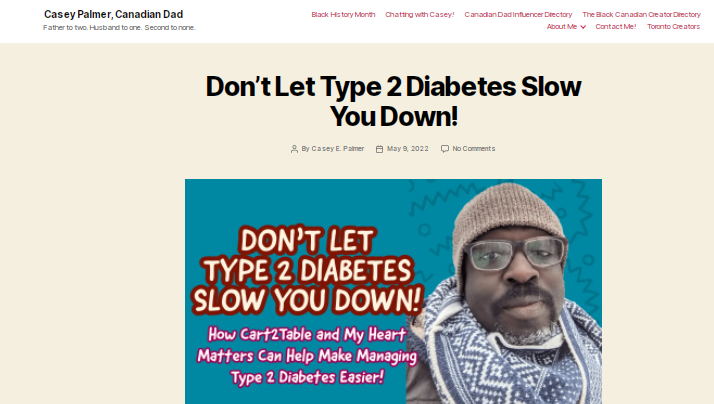 Casey Palmer is the only one on our list who can claim to be a Black Canadian Dad, which immediately sets him apart from the other men. He proudly embraces his background and was recently one of the contributors to creating the Black Canadian Creators' Directory.
In addition to that, his website features subsections such as Canadian Dad Influencer Directory, Black History Month, and Chatting with Casey.
However, he wouldn't be on our list if he wasn't a wonderful parent and didn't give helpful advice, so you should pay attention to what he has to say.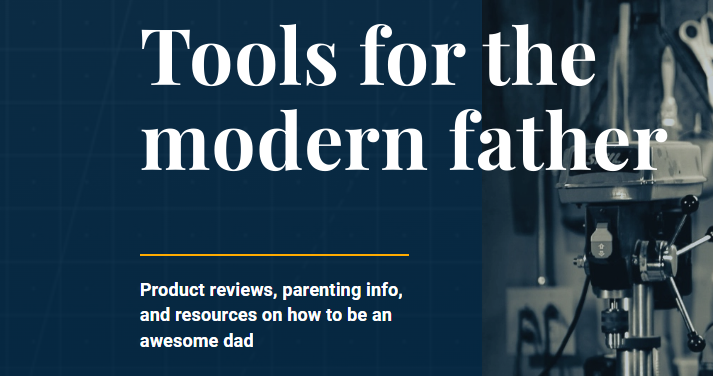 Fathercraft is dedicated to assisting fathers. They provide many resources and tools for the contemporary father, such as product evaluations, advice on parenting, and personal anecdotes from the authors' own lives.
Their objective is to significantly improve the quality of life for dads who are interested in developing themselves further and, in turn, improving the quality of life for their children.
The development of Father's Ed took the team a total of 18 months, during which time they traveled to New York City to speak with a pediatric sleep expert and a fireman, and also did a great deal of other research.
This is one of the greatest dad blogs out there since it has received a lot of helpful comments from first-time and soon-to-be parents.
The author of "How to Be a Dad" is in the same position as you are. He is still gaining experience in the art of parenting. Nevertheless, the website is more than willing to entertain and share various insights, which is one of the many reasons it is an excellent first-time dad blog.
You should come for the laughs but stay for the lessons. Remember that life does not come with a guidebook or effective parenting. The only thing you can do is learn as you go.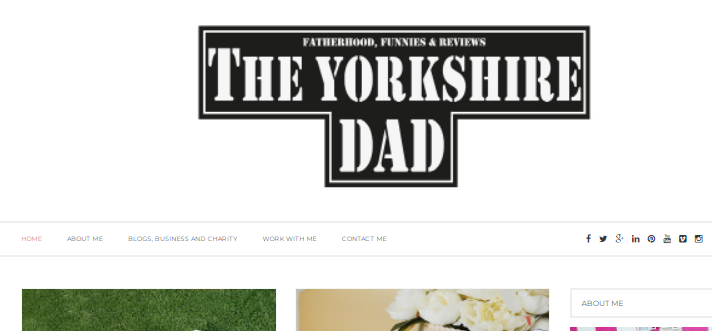 A dad who has lived in Yorkshire since 2013, Karl Young, the writer behind The Yorkshire Dad, has shared family-friendly activities in the region.
Day by day, this individual works as a senior digital PR manager, and by night, he blogs about parenting and outdoor adventures. He defines himself as a "restless father, husband, joker, and golfer."
Even though he is so busy, Karl enjoys spending time with his family checking out the many local parks, nature trails, events, and attractions in his area.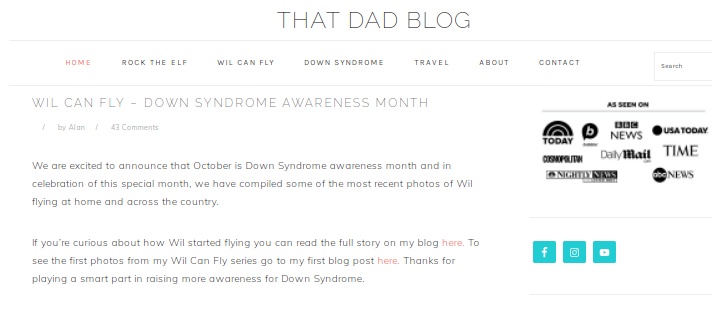 This blog's author is a man of many commitments. In addition to being a dad to six children, running a blog, and devoting time to other interests, such as photography and videography, in his spare time, he works as an art director and web designer.
His blog is all about being a dad, being creative, and having exciting adventures. As a result of the blogger's youngest kid's Down syndrome, there is a significant amount of advocacy directed toward that particular topic, as it is very close to the blogger's heart.
Tom is the owner of this website. He contributes articles on various subjects including Parenting, Home & Garden, Tech, Family, Finances, and Health.
Spending time with your family while also tending to the day-to-day responsibilities of your job is part of what it means to be a working father.
These are Tom's top recommendations for transforming your garage into a do-it-yourself workshop and suggestions for individuals who work from home to create a more efficient working environment.
Also Read: Best Life-changing Life Hacks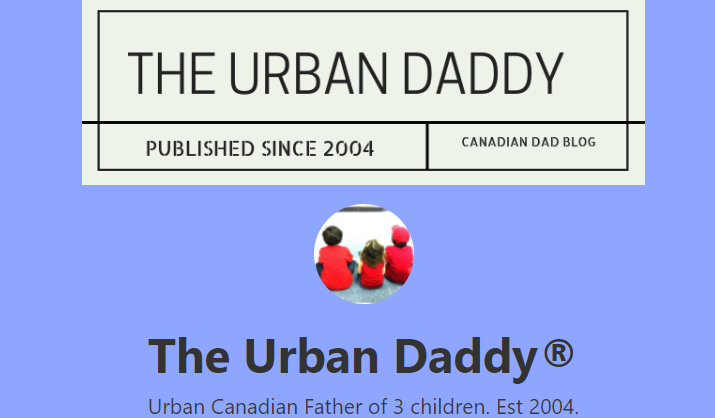 The Urban Daddy is a site that offers a variety of items and helpful recommendations, including suggestions for what to do when your children are giving you a run for your money.
The blog is written by Warren Orlans, a parent from Toronto. He describes himself as "not your normal daddy." However, he is a father of three children and maintains two careers.
Both he and his wife are in the same boat in that the odds are stacked against them. He is exceptionally knowledgeable on "juggling," particularly useful to readers who make their homes in densely populated areas.
Don't kid yourself, the world outside is a jungle, and The Urban Daddy is an excellent guide for navigating the perils of the environment, such as bear traps, snake nests, and poison darts.
In addition to providing pointers on how to be a better father, Dad's Life Blog also provides guidance and information on how to pursue your aspirations and what you're passionate about.
The idea of starting your own company to devote more time daily to your family is yet another significant issue that you will cover in this blog.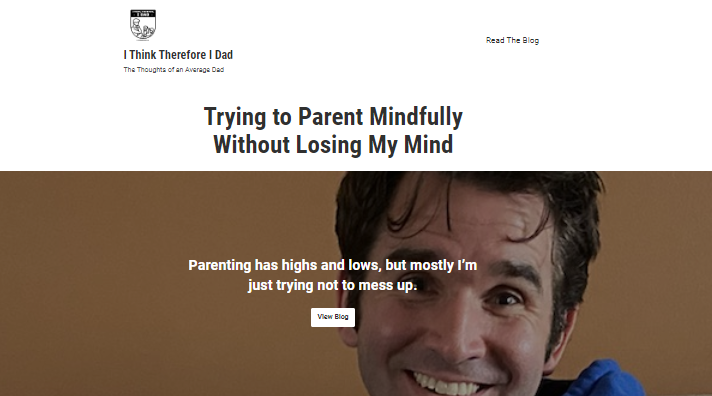 The "I Think Therefore I Dad" blog discusses the challenges of fatherhood that every father will face in being a parent at some point or another.
It offers reassuring guidance on how to persevere through difficult times and avoid repeating the same errors. You may also discover discussions on managing your finances and making a budget.
Failure is an inevitable aspect of parenting. This site will help you pick up the pieces without being injured if you stumble along the way.
The blog, ThatAwayDad, places a strong emphasis on travel. Its primary themes revolve around appreciating new vistas and making the most of one's life by participating in exciting activities with children.
Stories of being a parent are told in many different countries worldwide, including Germany. After reading about these new locations, you might feel motivated to get out and explore them for yourself.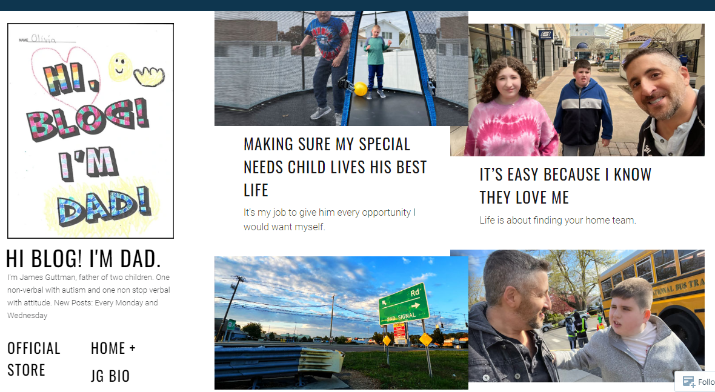 This blog truly stands out for fathers navigating the challenging role of parenting a disabled kid.
Hi Blog! I'm Dad. takes extra thought into account in these unusual circumstances. An informed approach is taken based on the first-hand experience found here.
This is a subject discussed using an approach that is both sensitive and effective.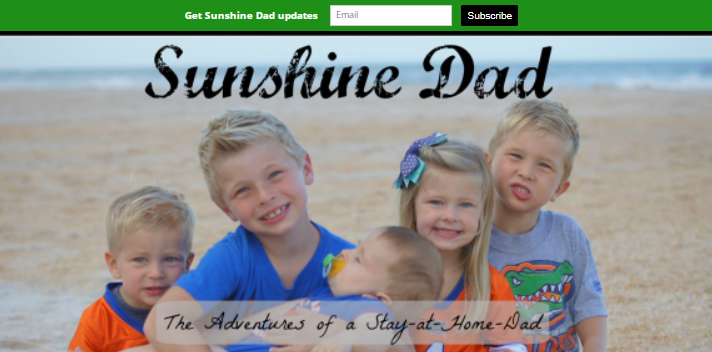 Being a father comes with many new experiences to write about. The Sunshine Dad does an outstanding job of providing do-it-yourself options and enjoyable projects to share with his readers.
The fact that you may receive the viewpoints of children and gain some helpful knowledge is a distinctive feature of our website. This article describes the typical difficulties of becoming a father in-depth and addresses them.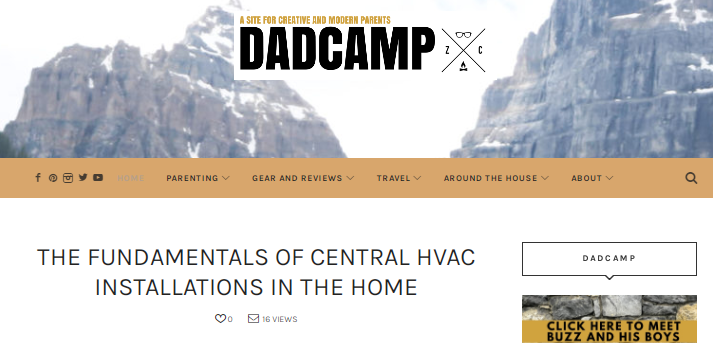 Buzz Bishop, a father from Calgary, established DadCAMP in 2009 to facilitate connections amongst local fathers.
However, it rapidly became a site where parents of children of different sexes could speak with one another and share their personal experiences and useful advice on negotiating "the parenting minefield."
He is not afraid to "go there," such as when he says he has a favorite child, although none of his children receive special treatment from him.
As a reaction to recent news such as when he saw the backlash he received for his tweet, "Father Admits to Having a Favorite Child, Faces Backlash," he responded with the following: "I am not scared to speak what everyone believes deep inside."
It's the blogging equivalent of the Simon Cowell technique. If you say you don't have a favorite, you're not being honest.

Daddy Style Diaries covers a variety of intriguing themes, the most popular of which include parenthood, automobiles, travel, and a general discussion of lifestyle.
Both fatherhood and fashion are forms of art. If you read through this extensive diary of events while enjoying the whole lifestyle, you will learn how to use both of these arts in your own life.

The owner of this blog is a parent. He has an educational background in the nuances of dealing with children, which is quite helpful to other people.
There are endless anecdotes and touching articles on this website that might spark new ideas for activities and serve as a source of inspiration for your personal family life.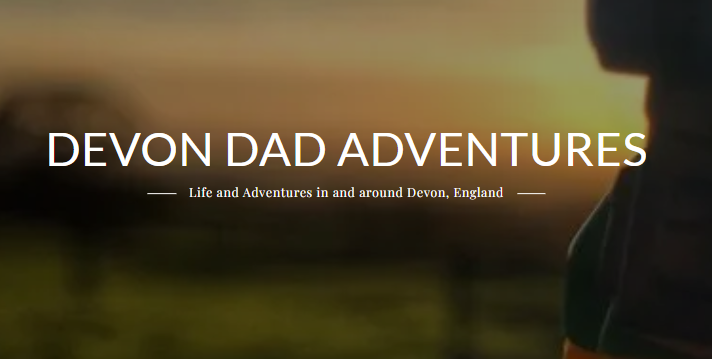 Andy M. "blogs, tweets, and clicks much," and his writings are about his "life and travels in and around Devon, England."
You may get caught up on what he and his family have been doing by reading his daily updates entitled "That Week Just Gone."
You can also read his musings on the spiritual father of anybody who grew up watching The Simpsons in his series entitled "In Defense of Homer Simpson."
There are also some thoughts on Mario, Google Classroom, Star Wars Rebels, and more stuff that you can enjoy while sitting on the sofa or getting up and moving about the house. If the residents of Springfield aren't your thing, check out the other content.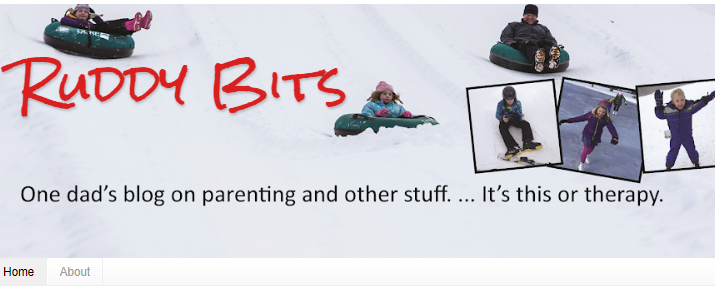 One of the distinguishing features of Ruddy Bits is that it was founded to cover every conceivable issue relating to parenting. This is one of the most distinctive aspects of Ruddy Bits.
It is straightforward and approachable, with no self-improvement sermons. Instead, it focuses solely on true tales and the exchange of personal experiences, which may appeal to some fathers.
Conclusion
Each of the sites that we have included here has many wonderful advantages. Although some of us read more than others, how you read depends on your character and the kind of father you are.
The blogs listed above are not presented in any particular sequence. We strongly suggest that you read each of them to determine which of them most strongly resonates with you.