Besides sushi and other Japanese delicacies, candy and snacks are the next-in-line favorites of Japan.
Whether you like discovering wacky Japanese snacks or want to try out new candy and snacks from Japan, getting a Tokyo Treat or a Japan Crate box is a must. These snacks are the most fun and unique treats you'll ever taste.
Japan Crate has been supplying Japanese fun snacks to local and international consumers for a long time. It's been the preference for most snackers because it packs a punch for snack variety.
Then came another contender, Tokyo Treat, and many snacking enthusiasts turn to it when they need to experience a more diverse taste of Japanese snacks.
Both companies have excellent snack options to give you the whole experience of Japanese culinary culture, even if you aren't there in person. But which of the two is better?
Come on, let's find out.
Also Read: Best Junk Food Subscription Boxes
What is Tokyo Treat?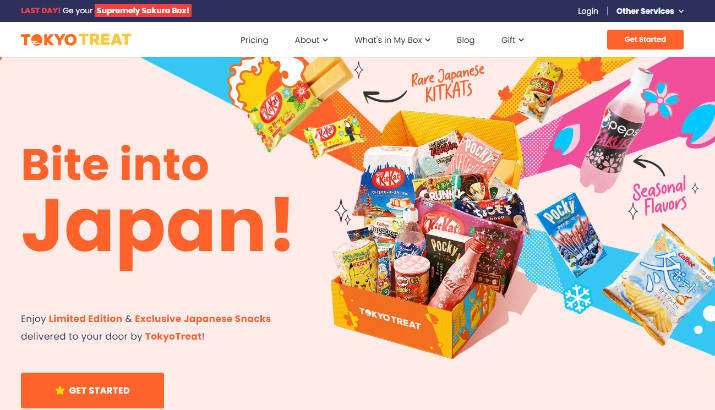 Tokyo Treat is a subscription box for Japanese candy and snacks. It sends you the treat box monthly, delivering snacks from Japan to your doorstep. In addition, you can order a subscription to gift someone else – it could be a friend or family member.
Tokyo Treat is an international snack subscription service that offers unique treats you wouldn't find in your local store. The Tokyo-based online subscription service gives you a taste of Japanese cuisine.
The company was founded in 2015 by Ayumi Chikamoto. Ayumi loved sending Japanese tresubats to her friends abroad. Later she expanded this idea and started a treat box that would help everyone experience the Japanese snack world.
The snacks contain unique Japanese flavors and textures.
Tokyo Treat supplies treat boxes to more than 150 countries worldwide every month. You can get your treats monthly or have the three, six, or 12-month subscriptions with a discount.
Each treat box has 15 to 20 different snacks weighing approximately 1.3kg. In reality, this is more than a candy box where you can feel the real taste of modern Japanese life. Its treat boxes are influenced by the current season and include some Japanese classics.
What is Japan Crate?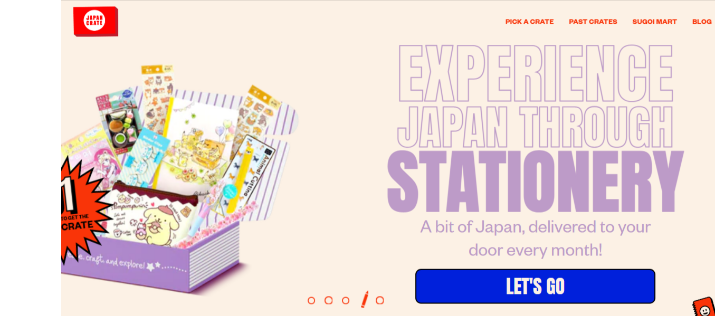 Japan Crate is another online snack and candy subscription box. The Tokyo-based company also supplies some of the craziest and most incredible Japanese candy and snacks each month.
Japan Crate handpicks unique snacks, drinks, candy, DIY kits, and more to give you the whole experience of Japanese culture. It is an excellent option, especially if you want to try out different treat varieties.
Hank Rao founded the company in 2014 to help people experience the fun and excitement of Japan through snacks and candy. Its products are sourced directly from the source, allowing you to taste authentic treats.
Japan Crate boxes contain much more than just candy. They let you enjoy some of the country's popular products. Its monthly packages can have food such as noodles, ramen, and hot beauty products.
Its crate options vary every month, giving you the chance to try something new with each subsequent monthly delivery. Besides handpicking the goodies, Japan Crate collaborates with companies like Crunchyroll, Kodansha, Comics, Funimation, Bandai Namco, and more, so you can have a monthly box full of variety.
It also has a community of subscribers where members connect and share videos and photos.
What I love most about Japan Crate is its free shipping services. Regardless of the size of the treat box, you'll not incur any local shipping costs.
It delivers five different types of crates – the Japan Crate, Doki Doki Crate, Umai, Gacha Gacha, and Inku. These contain 18 to 20 full-size candies and snacks, one drink (exclusively Japanese), and a monthly bonus item. You also get booklets with instructions to build your DIY projects.
Also Read: Snackcrate vs Universal Yums
Packaging
Tokyo Treat
Tokyo Treat's premium box will always include:
Rare KitKat Party Pack
Assorted popular Japanese snacks (2.7 pounds / 1.2kg) made by renowned brands like Calbee, Pocky, Glico, and KitKat.
Cookies and bread
Japanese instant ramen
Crazy Japanese candy kit with crunchy chips, candy, salty snacks, and more
One drink exclusive to Japan: The drink is made with exciting themes and flavors.
A 24-page English guidebook describing the Japanese culture
A reward or particular contest
Japan Crate
Japan Crate boxes are divided into:
Premium Japan Crate: The Premium Japan Crate includes candies and snacks. It features 18-20 full-size Japanese candy and snack items, a custom magazine featuring translations, fun facts, one exclusive drink, a monthly bonus item, and a DIY candy notebook.
Doki Doki Crate: The Doki Doki Crate has Kawaii lifestyle treats, including apparel, plush toys, travel accessories, etc.
Umai Crate: The Kira Kira Crate contains beauty items from Japan. They include eight to ten unique, tasty instant noodle types and garnishes exclusive to Japan, one culinary bonus item, a full recipe card, and a guide with translations and instructions.
Gacha Gacha Crate: The Gacha Gacha Crate transports you to the world of Gachapon, where there are tiny toy capsules filled with joy from Japan. You'll get eight to ten Gachapon collectibles, toys, figures, etc.
Inku Crate: Inku Crate contains eight to ten Japanese stationery items that are carefully curated just for you. The items include pens, double-sided markers, fun accessories, notebooks, planners, Sakura & animal postcards, pencil cases, wrapping stickers, etc.
Verdict
When it comes to packaging, Japan Crate is the winner. First, it has excellent crate designs. We can't simply forget the outstanding presentation of items and the wide snack varieties.
Also Read: Bokksu vs Tokyo Treat
Features
Tokyo Treat
The best features of Tokyo Treat are:
A variety of traditional treats, snack kits, drinks, and snacks from Japan
Gifting packages
Offers quality treats: Their items are sourced from renowned Japanese Konbini (convenient stores)
Fun packaging
Monthly shipping with various payment models
Perk points: It has a streak code that you use to earn points that may land you bonus items or discounts on your next delivery. You can use them as a credit to purchase things like Japanese Kit Kats and toys from the company's store.
Community trade-ins and connections: Tokyo has a community of active subscribers who are crazy about Japanese snacking. They meet and connect with others to exchange opinions and swap items.
Free shipping with coupon
Japan Crate
Japan Crate has a whole lot of features to offer, including:
Variety: Japan Crate leaves you in suspense, not knowing what you'll be getting in your next subscription. Apart from the advertised DIY kit and drink in each box, its five crates come with different items each month.
The best part is that the boxes are curated with something for everyone. It has an excellent variety, be it toys, candy, snacks, or other items. And the rare flavors are unique.
Uniqueness: It's sometimes tough to judge originality, but it is all spelled out with Japan Crate. The company takes away your search burden to bring you a surprise in exchange. It's like a candy Santa delivering your gift box every month.
Japan Crate frees you of the research, work, and effort to handpick exclusive Japanese candy for yourself. It also introduces you to the underground candy and snacks only cool people know about.
Crate Presentation: The presentation of each of Japan Crate's boxes is excellent. You'll find tissue paper inside, with all the snacks and candy packed neatly. No one box is inadequately filled, and most of them arrive intact.
You can spot your Japan Crate from a thousand feet away. The crate itself is decorated with custom artwork inside and out. All boxes have booklets with detailed product descriptions, subscriber fan pictures, Japan Crate manga series, and Sugoi Crates advert.
Quality & Value: Japan Crate offers high-quality candy sourced directly from renowned Japanese confectioners like Morinaga, Fujiya, Glico, and Calbee. The company provides value for your money, especially when it shoulders the shipping cost and maintains product quality. Plus, we can't forget the surprise element. Purchasing one Japanese snack at your local store cannot compare with receiving a whole box sealed with mystery.
Japan Crate also offers monthly perks.
Verdict
Japan Crate bags the trophy when it comes to features. Besides variety, it brings quality, uniqueness, and value to its customers. It has everything from free shipping, personal and corporate gifting, and monthly bonuses to fair price value.
Explore: Best Keto Subscription Boxes
Customer Service and Support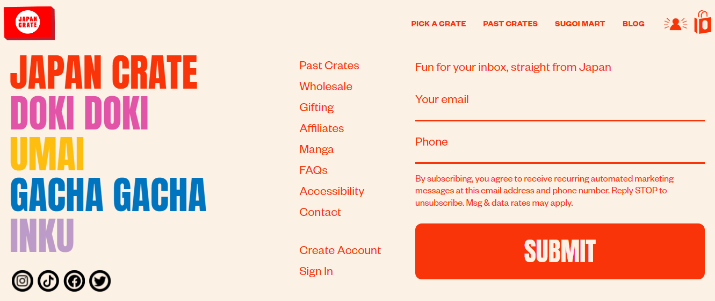 Tokyo Treat
Tokyo Treat offers excellent customer service and support. Its representatives are courteous and helpful to customers who have concerns or queries. They often reply within 24 hours. You can contact them through the customer portal, contact form, or social media.
Japan Crate
Japan Crate responds within 24 hours with friendly and very informative feedback. Japan Crate will address your queries and concerns via phone, email, social media, and the contact form on its website.
Verdict
Tokyo Treat vs. Japan Crate in terms of customer care and support is a tie. Both companies are amazingly responsive to customer queries and concerns. Each one of them has communication channels through which they interact with customers.
How it Works
Tokyo Treat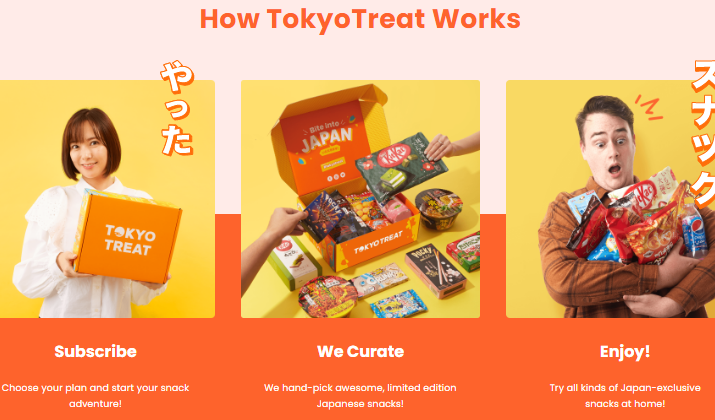 Tokyo Treat lets you receive a snack box each month when you're subscribed like any other subscription service.
The company gives you the flexibility to select your subscription's duration. Before your first box arrives, you'll need to choose the length of your subscription.
These are the subscription options offered at Tokyo Treat:
1-month subscription
3-month subscription
6-month subscription
12-month subscription
Once you've chosen a plan, the company will send you a confirmation for shipping, followed by the delivery of your first Tokyo Treat box.
Also Read: Best Protein & Nutrition Subscription Boxes
Japan Crate
Japan Crate has five different crate subscriptions to choose from, and you also have to subscribe to one of them to start receiving your box.
They include;
Japan Crate
Gacha Gacha
Doki Doki Crate
Inku
Umai Crate
Japan Crate, an auto-renew subscription service, allows you to choose from monthly, 3-monthly, 6-monthly, or 12-monthly subscriptions. Remember that your membership rolls over automatically at the expiry of each subscription.
The company doesn't allow buying a one-off box, but you can terminate your monthly subscription directly if you no longer need it.
As a subscriber, you also receive monthly draws as perks for the Sugoi Crate, where subscribers are selected randomly to become winners.
Once Japan has curated and packed your box, it ships it directly to your address. They offer free shipping to any destination in the world.
Verdict
Both companies work practically in a similar way, so this is a tie. You have to subscribe to a plan before you start receiving your goods and you can cancel your subscription at will.
Shipping & Refund Policy
Tokyo Treat
Tokyo Treat charges shipping fees depending on the destination and includes tracking to help you know when your shipment will arrive.
The company uses Express Shipping and Japan Post Priority Shipping services to send its packages. Express shipping takes two to five days to deliver, while Priority Shipping is for long-distance deliveries, and it will take 14-28 days to receive your shipment.
Tokyo Treat offers refunds if some items get damaged or are missing from your box, but items damaged during shipping or due to theft or natural disasters are not refunded.
Japan Crate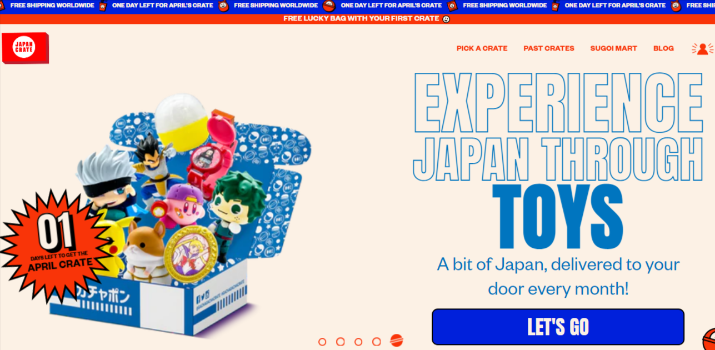 Japan Crate provides free shipping in the U.S through DHL Express services, Japan Post Priority Air, and more to deliver the goods. They ship in many parts of the world.
Shipment delivery time varies depending on available shipping services and destination country.
The company offers free shipping to all destinations, except for some regions in South America and various other areas where you have to pay a small fee of $9.95.
It has a missing or damaged items policy that ensures you receive credit compensation. When an item is crushed or missing, they'll replace it. Only when this doesn't work will they issue a credit as a last resort.
Visit the shipping page for more details.
Verdict
On shipping, Japan Crate wins. It offers free local shipping, which entices most customers to buy.
Pricing
Tokyo Treat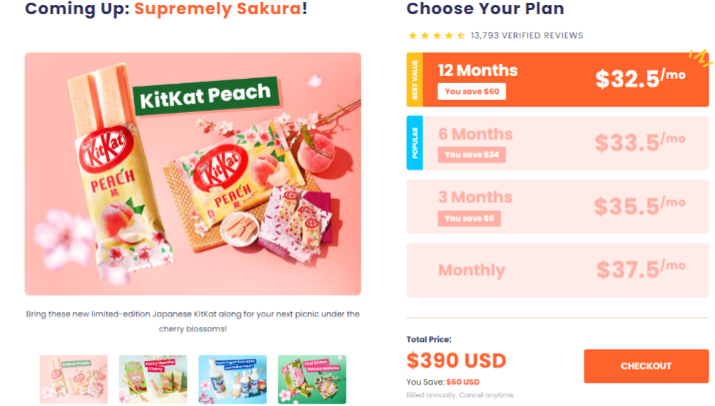 Tokyo Treat's pricing varies based on how long you subscribe.
Its subscription plans are as follows;
Monthly subscription – $37.50/mo
3 Months subscription – $ 35.50/mo
6 Months subscription – $33.50/mo
12 Months subscription – $32.50/mo
You can cancel your subscription at any time.
Prices may be subject to change from time to time. Be sure to check their website for the latest pricing.
Japan Crate
Japan Crate offers five types of subscriptions as follows:
$49.95 for a monthly subscription
$47.95 for 3 months prepaid
$46.95 for 6 months prepaid
$45.79 for 12 months prepaid
$45.95 for monthly payments
$43.95 for 3 months prepaid
$43.45 for 6 months prepaid
$42.62 for 12 months prepaid
$49.95 for monthly payments
$47.95 for 3 months prepaid
$46.95 for 6 months prepaid
$45.79 for 12 months prepaid
$38.95 for monthly payments
$37.95 for 3 months prepaid
Gacha Gacha doesn't offer six-month or 12-month subscriptions.
$35.95 for monthly prepay
$34.95 for 3 months prepay
$34.28 for 6 months prepay
$33.87 for 12 months prepay
At Japan Crate, prices become cheaper as plans increase. There are no subscription refunds, and if you don't cancel your subscription, the charges will automatically recur.
Also, note that pricing may be subject to change over time. Thus, keep checking the website to stay updated.
Verdict
It's fair to say that Japan Crate is the winner when it comes to pricing, considering crate packaging and the variety of items included.
Similarities & Differences
Similarities
They are both online subscription service providers
They offer similar products (Japanese snacks, candies, and treats)
They ship locally and internationally
You can cancel your subscription at any time
They both have a refund policy
With both providers, the longer your subscription plan, the cheaper it gets
Delivery periods are nearly the same
Excellent perks from both companies
Both have a gifting package
They both offer information booklets
Differences
Tokyo Treat offers a tracking service, but Japan Crate doesn't
Japan Crate provides free shipping, while Tokyo Treat ships at a cost in all locations
Japan Crate has more subscription options compared to Tokyo Treat
Japan Crate collaborates with various brands to deliver themed boxes
Japan Crate also offers anime collectibles
Pros & Cons
Tokyo Treat Pros
Has a variety of unique and exciting Japanese snacks (sweet, sour, and salty options)
Ships worldwide
Authentic Japanese snacks
Offers an option for insured shipping
Excellent reviews from customers
Offers point perks
Fun packaging, making it great for gifting
Works with well-known snack companies
Cons
You have to purchase a subscription
Charges shipping fee
Not many subscription options
Booklet explaining the box contents
Japan Crate Pros
A wide variety of Japanese treats
Includes an informational booklet
Each box contains different flavors
It includes ramen and a Japan-exclusive drink
Offers personal and corporate gifting options
It offers signup bonuses and a reward system
Monthly bonus item
The element of surprise – Changes items every time
Partners with renowned snack brands
Excellent customer service
It will let you know what's coming in the next month's delivery
Great for Anime and Manga fans
Collaborates with popular brands to ensure themed boxes
Easy to cancel a subscription
Contests that may land you a Sugoi Crate with big prizes
Nice packaging and presentation
Cons
Repeated snacks
You can't order or get the particular snacks you want
Doesn't offer many options for vegans
Doesn't ship to 16 countries
Few savory flavors
Frequently Asked Questions
Does Tokyo Treat Offer Free Shipping?
No, Tokyo Treat is not currently offering free shipping of its products.
How Long Will It Take to Receive My Japan Crate?
Japan Crate sends packages within two to five days from the order date for local deliveries. Depending on the destination, international shipping may take between two to six weeks.
How Does Tokyo Treat's Reward Program Work?
Tokyo Treat's reward program, Streaks, is a unique bonus program that earns you points every month for renewing your subscription. Your streaks keep growing as long as you don't skip a month or cancel.
Accumulated streaks will earn you great rewards like discounts, shopping on Japan Haul, or exclusive items from Tokyo Treat.
As your streaks accumulate, you will earn awesome rewards, which you can redeem for exclusive items, discounts, or shop on Japan Haul.
Conclusion – Japan Crate vs Tokyo Treat
Japan Crate is better for its variety, quality, customer care, price, and value. The company offers five tiers of boxes at reasonable rates. Each crate includes different snacks and collectibles.
The higher tier you subscribe to at Japan Crate, the cheaper it becomes. What gives it an edge over Tokyo Treat is its free shipping services, value for money snack options, excellent customer service and support, and various crates to choose from.
If you are the person who quickly gets bored with the same product, Japan Crate offers you different items with every subsequent delivery.